Description
My Masterclass series is an opportunity for me to share my expertise on specific subject matters. In each Masterclass I teach high level content in an interactive workshop format. My Masterclass is built around personal and business experiences that I've never shared publicly. Attendees gain knowledge, skills, and practical tools that can be implemented immediately to increase results.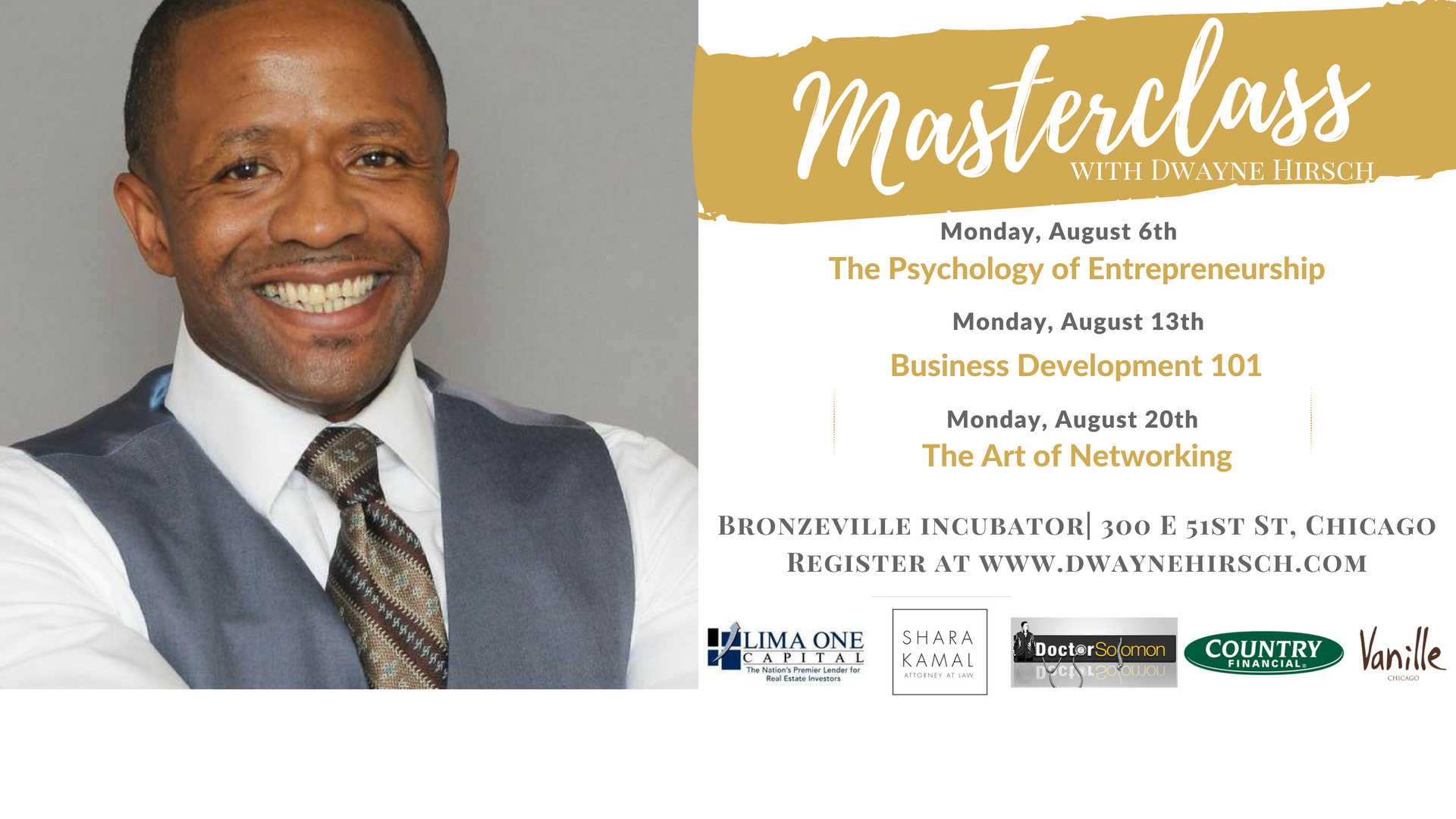 The Psychology of Entrepreneurship
What is unique about an "entrepreneurial" mindset? Studies show that the most critical distinction between an entrepreneur and a non-entrepreneur is the intentional pursuit of opportunity. The depth of our intention is what determines the degrees to which we can succeed. We achieve that depth by understanding that entrepreneurship demands a heightened level of self-awareness, resolve, flexibility, and fortitude.
In this Masterclass I will:
• Disclose confidential details of my professional experience that will connect all three of my masterclass subject matters.
• Offer cognitive exercises that increase focus and assist with daily distraction management.
• Discuss how your mindset impacts the correlation between your personal, business, and romantic relationships.
• Help you define the "why" behind your entrepreneurial pursuit and identify the best approach to your business.
Business Development 101
Now that you've assessed and/or adjusted your mindset, we delve into the methods required to pursue strategic opportunities for your business or organization. Entrepreneurs must operate with defined objectives to build your business in alignment with your vision. Cultivating relationships, building strategic partnerships, creating a sales strategy and marketing plan are key components in business development.
In the Masterclass I will:
• Assist you with creating a model for your new or existing business.
• Provide a detailed process of basic business development including market analysis, product development, and expanded value propositions.
• Discuss the difference between marketing and branding, and how to use both to increase visibility and revenue in the modern economy.
• Prepare your business for capital acquisition i.e. equity crowdfunding, venture capital, and bank financing.
The Art of Networking
Networking was the catalyst that shaped who I am today. Networking is more than an information exchange between you and another person. It involves genuine engagement, follow-up, and establishing lasting relationships with people. Learning the proper networking strategy can increase your confidence, create organic marketing, and raise your professional profile.
In This Masterclass I will:
• Reveal how networking accelerates the Law of Attraction
• Facilitate an interactive networking etiquette exercise to increase your ROI per event.
• Teach my "Shoes and Ties" networking concept to unlock the residual and often intangible value of every contact.
• Demonstrate effective "posture vs. pitching" techniques to enhance your impact on people.
Cost: $199 (entire series) or $79 (per/class)
Masterclasses Include:
 *Supplemental Workbook for each class (must purchase 3-part series)
 Class Materials (Pen, Notepad, Additional Handouts)
 Catered Lite Bites and Refreshments
 Discounted products/services from our Sponsors
*Due to the nature of personal information that will be disclosed by the host and attendees, class participants must sign a nondisclosure agreement. Documents and details will be sent after registration and must be signed before attending.