Description
A feature-rich International conference designed for:
Entrepreneurs & Executives:
Business Malta is an exclusive conference showcasing the best of local and foreign businesses, creating a platform for new business ideas, collaboration, joint ventures, investment and more!
We will have international speakers sharing their knowledge and expertise in the areas of business and leadership. The conference concludes with a private dinner for delegates and promises to be a unique networking opportunity for executives and entrepreneurs in Malta and overseas.
This event is not to be missed!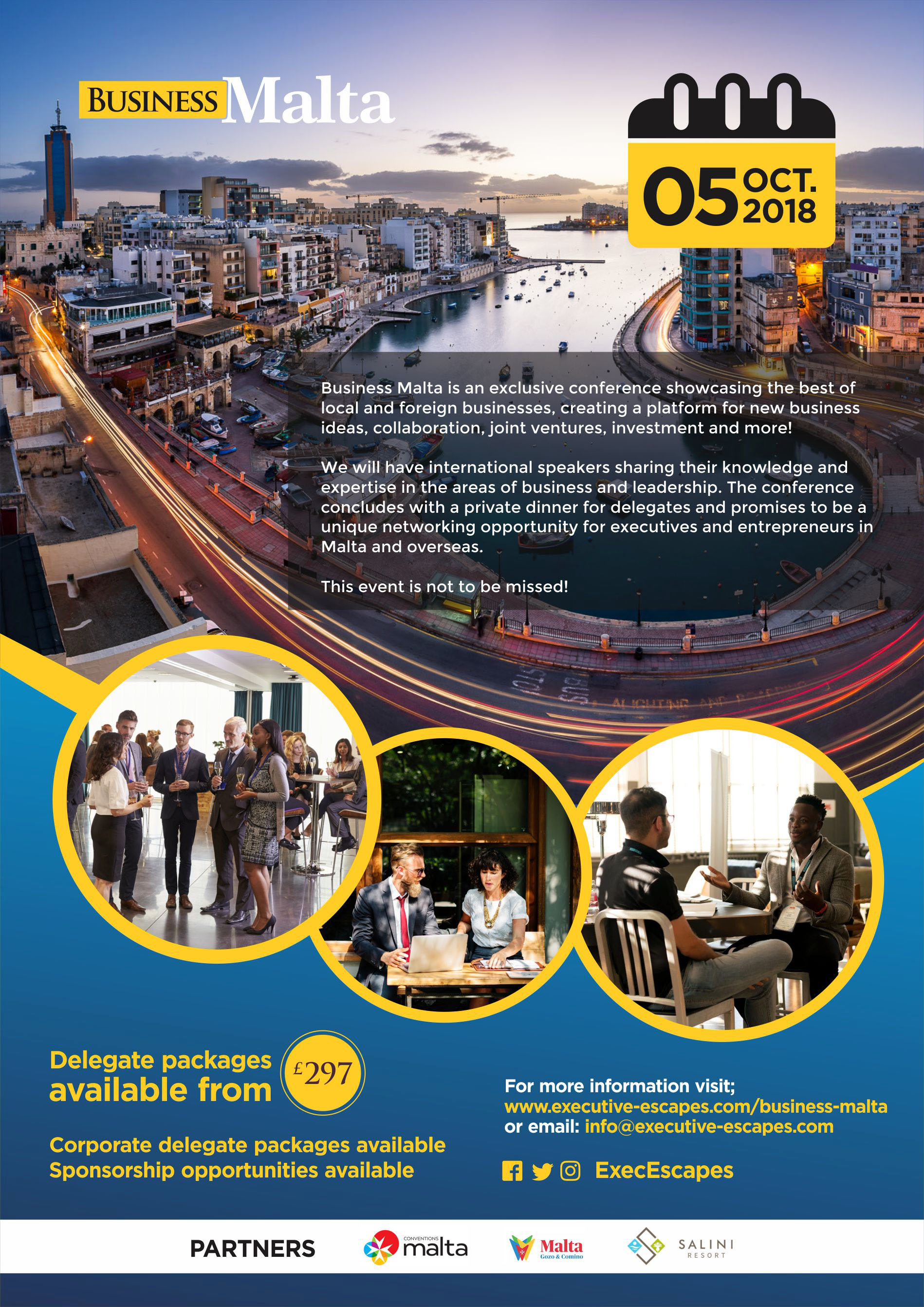 Speakers are as follows:
Kerry has combined her lengthy career in the Financial Services Industry with being an NLP Master Coach and Trainer.
She coaches executives and provides NLP training for teams and individuals both privately and within a Corporate environment.
Kerry believes in unlocking potential and developing self-aware leaders that in turn develop leaders rather than followers. She drives a new era of quick decision making, focusing on the value created – truly outcome driven.
Naggib Chakhane is a business strategist, certified coach and international speaker. His areas of specialism are leadership development, corporate strategy, and executive coaching. Naggib has worked with leading multinational corporations such as Novartis Pharmaceuticals, AstraZeneca and SC Johnson.
Evadney Campbell MBE is a former journalist with almost 30 years at the BBC in a variety of roles including radio presenting and TV news reporting. She is a lecturer at the University of Arts, London and Morley College, London.
In 2012, Evadney launched Shiloh PR, alongside her daughter Karen. They now offer PR services, and media training to corporations and persons in senior management carrying out broadcast interviews.
Evadney is listed as one of the Top 100 Most Influential British Entrepreneurs. (Richtopia.com) She's frequently featured in the media, having appeared on national television across the UK, Jamaica and on radio stations in Nigeria and the Caribbean, as well as being featured in dozens of magazines and newspapers.
Catherine Labinjo is a multi-award winning business consultant and certified executive coach. She has spent over a decade working in the banking sector in the UK (notably with Royal Bank of Scotland, Octopus Investments and most recently with Deutsche Bank) and over 15 years in people management. She is presently working at government level with MPs in the UK on initiatives to enhance entrepreneurial diversity.
Catherine is the founder of the largest global network for Part-time Entrepreneurs.
Her passion is to help people climb the ladder of personal and professional achievement by promoting excellence.
Christian is a digital strategist and IT consultant. He maintains an impressive portfolio of over 200 successfully executed projects within various disciplines encompassing; business analysis, marketing, digital advertising, social media, design, mobile and web development.
He is passionate about exploring modern technology and the new possibilities created by IT.
A firm believer in knowledge & skills transfer, Christian travels around the world educating business leaders on cost-effective IT strategies for achieving excellent customer services, brand awareness, maximum productivity and profitability.


Steve Conley is an eminent British businessman and philanthropist who campaigns for higher standards of professionalism in the financial services industry. He argues that society's first priority is to lift people out of poverty, the second is to improve their well-being. The ethos of the age dictates that wealth makes us happy, and the purpose of financial services is to make people wealthy.
Steve is the leader of the Market Integrity Team of the Transparency Task Force, he runs the 2017 Codes of Conduct Audit of over 70 professional bodies, trade associations and standards boards across the Financial Services Industry. Founding chairman of Values Based Adviser and Master Life Planner, this former head of investments of HSBC, RBS Group and Santander currently runs a portfolio of directorships of values based organizations and community projects aligned with his aim, to promote greater well-being in the world.
Former cabinet office Social Enterprise Ambassador, author, inspirational speaker & Leadership coach, with over 20 years experience as co-director of a multi-award winning London based social enterprise, operating across key sectors including care, education, enterprise support, personal development, and recruitment.
Claudine believes that the balance of fitness, faith, family & finance are key to advancement.
Mr. Tony Zahra is the Chairman founder of the Alpine Group, having set up the first company in 1967. During the past 40 years, aside from leading the Group through its successful growth, he has also been a leading figurehead in the Malta driving momentum on policymakers through the various appointments with Constituted Bodies as well as holding various Governmental appointments.
He is currently also the Chairman of the Malta Industrial Parks (MIP) being responsible for the management and the administration of all government-owned industrial zones and estates in Malta and Gozo, and the allocation of sites and factories for new economic investment projects.
Simone Vincenzi, known as The Experts Strategist, is the co-founder of GTeX, Forbes and Huffington Post contributor, TEDx speaker, Host of the podcast Explode Your Expert Business, author of 3 life-changing books.
Simone is passionate about turning experts into authorities using his signature EXPLODE YOUR EXPERT BIZ programs.
Following his passion for making an impact on the younger generation, he also partners with the largest youth organizations in the UK, helping them deliver more effective courses and training.
Find out more about speakers here: Speakers
Book your tickets here: Business Malta