Description


Are you a business-owner who VALUES their business assets, such as:
business name, logo, tagline, website URL
business and marketing plans
customer and client lists and identities
vendor and supplier lists and identities
software codes, programs and manuals
unique marketing secrets and sales scripts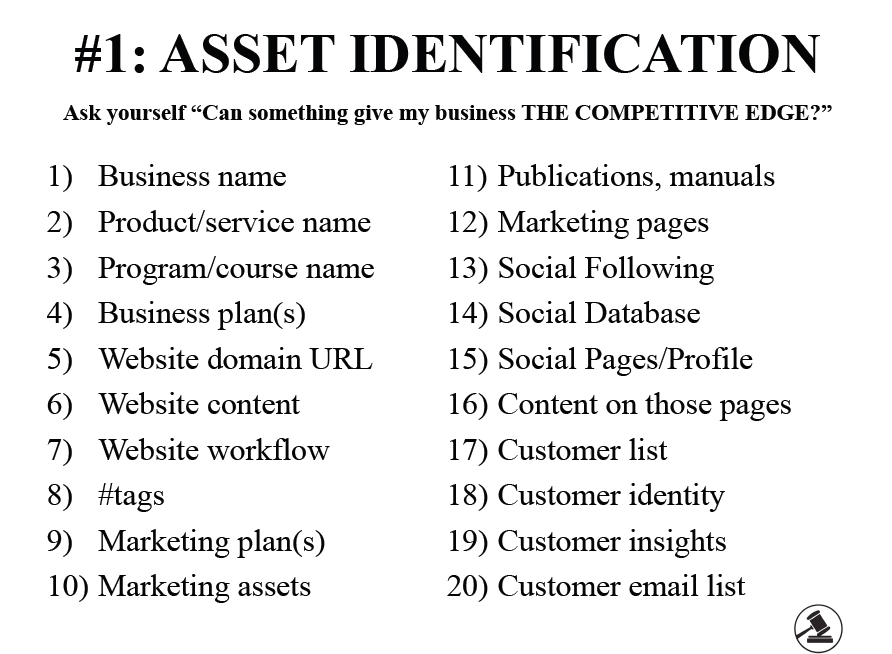 These are just a few of the many different "ASSETS" that your business contains.
So it's important for you to understand HOW to protect these assets - INTERNALLY and EXTERNALLY.
INTERNALLY refers to things like:
Your LLC or incorporation documents which reflect the "assets" that your business possesses
Operating agreements that define how these "assets" are allocated and managed
Understanding how "partners or co-founders" should split the business assets, and what happens in the event of a dissolution
Prediction of risks and conflicts ahead of time so you can incorporate alternatives remedies that mitigate potential loss
EXTERNALLY refers to things like:
The contracts that you have with your clients or customers, specifically regarding the protection of your assets
The contracts and agreements you have with your strategists, consultations, coaches or marketers - with special attention to asset protection
The ability to "control" competitor behavior by creation, registration and enforcement of trademarks, copyrights and other IP protection clauses
Employee and contractor contracts which have strong non-competition, non-disclosure and confidentiality clauses
Whether you JUST STARTED your business or if you ALREADY OPERATE a successful company - these "INTERNAL and EXTERNAL" forces impact your bottom-line 24/7, 365 a year.
Well..we are going to explore these strategies in more depth and figure out how YOU can ARM your business™ with the strategies, tools and mechanisms that protect everything you own.
I call it the "ARM Business Strategy" which stands for:
R = Risk Prediction and Mitigation
M = Monetization of Assets & Intellectual Property
If you are READY TO ARM YOUR BUSINESS....then this is the workshop for you.
DISCLAIMER: Attorney Advertising Material. Please note that no legal advice will be provided during the workshop - we cover "general" strategies so always consult an attorney for more particular and specific advice and to that effect no attorney-client relationship will be formed by attending the workshop.
HERE ARE A FEW OF THE SLIDES THAT WE WILL GO OVER IN DETAIL....