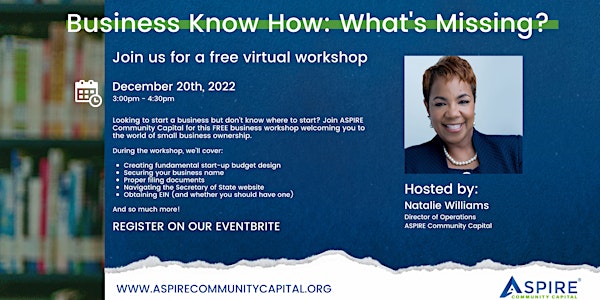 Business Know How: What's Missing?
If you are interested in establishing a business but aren't sure where to start, this workshop is for you!
About this event
Looking to start a business but don't know where to start? Join ASPIRE Community Capital for this FREE business workshop welcoming you to the world of small business ownership. You'll leave this class with the to-do's needed to successfully establish your business. Hosted by Natalie Williams, ASPIRE's Director of Operations and a Business Development Executive, Business Advisor & Coach, and Strategic Thought Leader in her own right.
During the workshop, we'll cover:
Creating fundamental start-up budget design
Securing your business name
Proper filing documents
Navigating the Secretary of State website
Obtaining EIN (and whether you should have one)
And so much more!
-
Leverage Your Resources - Choose ASPIRE!
ASPIRE selected as one of the Premier Technical Assistance Providers for the Beyond Open Grant
-
ABOUT ASPIRE:
ASPIRE Community Capital specializes in creating opportunities for self-sufficiency through financial independence, business development, and entrepreneurship training through our strategic wrap around business programs such as: Business Readiness, Community Business Academy, Business Accelerator Services and Access to Capital. Join us today as we CHANGE THE WORLD one business at a time.
www.aspirecommunitycapital.org