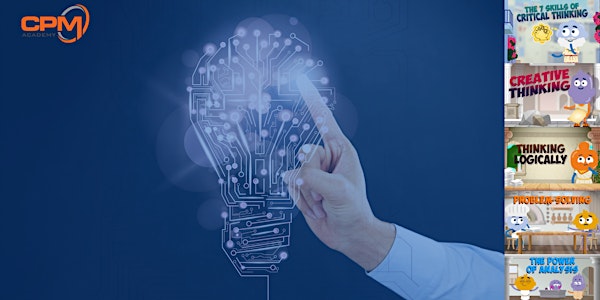 Business Innovation - Bundle of 5 Courses
Online Course. Study at your own pace. Bundle of 5 Courses.
About this event
362 days 8 hours

Mobile eTicket
CPM Academy and TalentLMS bring 100% Online Courses for your professional development. Receive a Certificate of Completion from CPM Academy after each course.
This Bundle includes the following 5 Courses:
The 7 Skills of Critical Thinking
In business, critical thinking is vital to keep innovating and stay ahead of the game. The business world is moving faster than ever before, so the need for critical thinking at every organizational level is growing. But despite this, these skills seem to be lacking.
By the end of this course, you'll be able to:
Identify the 7 skills of critical thinking
Use techniques to improve critical thinking skills
Use the RED model to assist decision-making
Creative Thinking
Creative Thinking in Business is the process by which individuals come up with new ideas or new approaches in order to solve problems.
Whether it's inventing a new product or finding ingenious ways to cut costs and improve quality – like a bagless vacuum cleaner, for example – creative thinking underpins development and innovation. And now, more than ever before, the ability to think outside the box is necessary right across organizations, in order to keep pace and push business forward.
By the end of this course, you'll be able to:
Define the meaning of creative thinking
Identify the benefits of creative thinking in business
Practice strategies to improve your own creative thinking skills
Encourage teams to think creatively
Thinking Logically
Logical thinking requires reasoning and facts. It's needed to instill sensible strategies, resolve problems quickly, and ensure that any bad or crazy ideas don't get out of hand.
Even in the most creative of companies, a lack of logical thinking within your teams and your business can be disastrous, leading to inefficiencies and bad business decisions.
By the end of this course, you'll be able to:
Identify the different types of thinking needed for successful teams
Understand the benefits thinking logically can have on your business
Use techniques to encourage logical thinking at every level of your organization
Problem-Solving
Problem-Solving is all about using logic and imagination to make sense of a situation and come up with an intelligent solution. And it's vital in the business world, too.
It encourages you to find fresh perspectives and come up with innovative solutions, so that you can formulate a plan to overcome obstacles and reach your goals.
By the end of this course, you'll be able to:
Define the term "problem-solving" within business
Identify the benefits of effective problem-solving
Demonstrate strategies that can improve your team's problem-solving skills
The Power of Analysis
Modern companies the world over are using the power of analysis to become more efficient. A great business analyst increases profit margins and identifies compliance gaps, ultimately paving the way for businesses to beat their competition.
By the end of this course, you'll be able to:
Define and identify the benefits of business analysis
Recognize how analysis can support and encourage business innovation
Demonstrate ways of levering business analysis to drive your company forward