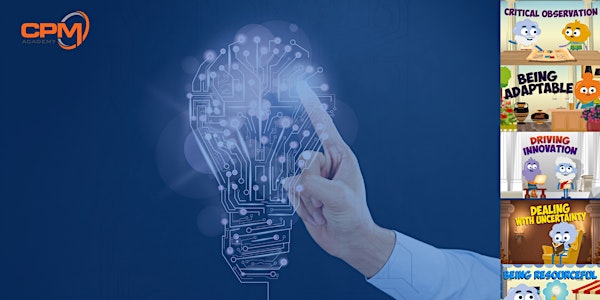 Business Innovation 2 - Bundle of 5 Courses
Online Course. Study at your own pace. Bundle of 5 Courses.
About this event
365 days 8 hours

Mobile eTicket
CPM Academy and TalentLMS bring 100% Online Courses for your professional development. Receive a Certificate of Completion from CPM Academy after each course.
This Bundle includes the following 5 Courses:
Critical Observation
In business innovation, becoming a critical observer can help you recognize problems before others do. It allows you to predict obstacles on the horizon. And, by heightening awareness of the unexpected, and plotting and analyzing data, you can provide original solutions to problems that would otherwise be unforeseen.
By the end of this course, you'll be able to:
Identify the need for critical observation in innovation
Describe the principle of critical observation
Practice critical observation techniques to improve problem-solving
Being Adaptable
In business, being adaptable is the only way to keep moving forward. By getting too comfortable and not adapting to changing markets, businesses fail to keep pace. And in today's fast-moving world, companies that stand still can fade away very quickly. Because of this, adaptability is vital.
By the end of this course, you'll be able to:
Identify why adaptability is essential for success
Identify how your business could become more adaptable
Cultivate an adaptable culture throughout your business
Driving Innovation
Driving innovation is about steering the processes and practices of an organization as a whole. This creates a "thinking outside the box" mindset at every level, and keeps businesses building and growing.
By the end of this course, you'll be able to:
Describe what is meant by "Intrapreneurship"
Create an innovation strategy
Use techniques to encourage innovation at every level of your organization
Dealing with Uncertainty
As businesses, we take risks all the time. Risks are about probabilities that can be reasonably assigned. But uncertainty is trickier – it's about futures for which a probability can't be determined. It's fear of the unknown. And that very fear can prevent us from making bold choices, initiating change, and innovating in our businesses.
By the end of this course, you'll be able to:
Differentiate between uncertainty and risk
Identify tools for dealing with uncertainty in the workplace
Demonstrate what's needed from an innovation strategy when facing uncertainty
Being Resourceful
From delegating and improvising, to thinking on your feet, being resourceful is more than just a skill, it's a mindset. It's the ability to think differently, generate new ideas, and visualize all the possible ways to achieve your desired outcome.
By the end of this course, you'll be able to:
Define what is meant by resourcefulness
Understand the benefits being resourceful can bring to business innovation
Demonstrate resourcefulness in the workplace