Description
**No matter your ethnicity, if you support black owned businesses, we need you at this event. Please share!**
Welcome To Urban Atlanta...
Atlanta's Fastest Growing Networking Event For Black Professionals & Business Owners!




***Save The Date***
2nd Annual Black Professionals/Business Conference & Expo.
Event Features:
Exhibitor Showcase
Breakout Sessions
Panel Discussions
Great networking
Free Food
Raffles and Prizes
and more...


ATTENTION ALL FOODIES - FREE FOOD!!!!!!!
Are you ready for food for a varitey of vendors? Local black caterers, bakers, and cheifs will be providing a free tasting of some of their greatest creations.


LOOKING FOR SERVICES?
Want to do business with black business owners but can't seem to find them? Find them here! Service based companies will be exhibiting and spotlighting their offerings.


PROFESSIONAL ORGANATIONS?
Come find out about some of Atlanta's great organizations for black professionals. Whether you are looking to network with others in your same profession or looking for career advancement, they will be here for you.
Attention Black Owned Businesses: Exhibit for FREE!!!
Introducing our 'Community Rebate Program'
Because this is a community event, we want you to invite your community. If you do, your table could be free.
Here is how it works:
1. Purchase your level of exhibitor or sponsorship.
2. We give you a flyer with a custom discount code which will reduce attendee tickets by $5. They pay $10 instead of $15.
3. You use this flyer to invite your circle to come see you at the event.
4. Every attendee that uses your code, the $10 they paid will be rebated back to you, up to your exhibitor/sponsorship price.
5. Refer another exhibitor/sponsor, receive a referral fee of 20% of their purchase price.

It's that simple…



If your table was free, would you participate?
If yes, then there is no reason for you not to participate…
For more information and table purchases, contact Corey @ corey@pronetworker.com or 678.637.9406




February Black Business Forum 2018
Were you one of the 300 ppl that attended our 2018 Black Business Forum in February at the Center for Civil and Human Rights? It was absolutly amazing...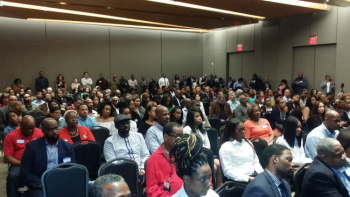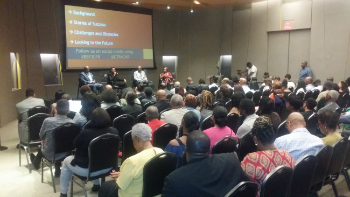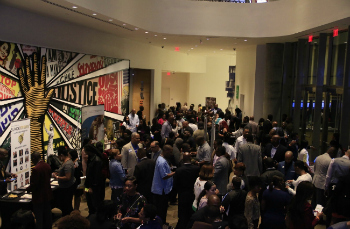 ---
Why is Urban Atlanta so important...
The Problem:
According to a 2015 Nielsen report, the percentage of African-Americans earning more than $50,000 a year increased from 30 to 36 percent from 2005 to 2013, and those earning more than $75,000 increased from 15 to 20 percent. That growth has translated to $1.2 trillion in annual buying power for Blacks.
But the same study shows the average Black dollar lasts only hours within our community, and that lack of reinvestment—i.e., not supporting Black-owned banks and businesses—has bolstered the wealth gap between us and other ethnicities. Staying "community poor" is a choice.
The Solution:
We can change our collective financial standing by following the successful models of other racial groups and directing spending into our own pockets via investing in African-American-owned companies, venture capital and private equity firms and high-growth entrepreneurship opportunities.
The How:
Urban Atlanta is a social mixer where supporters of black owned business can come and physically meet entrepreneurs in their community. As they build rapport, owners can now introduce thier products and services. Based on the initial interaction with each other, this increases the chances of them doing business with each other in the future. Our goal is to continue inspiring consumers to consistently support black-owned businesses.