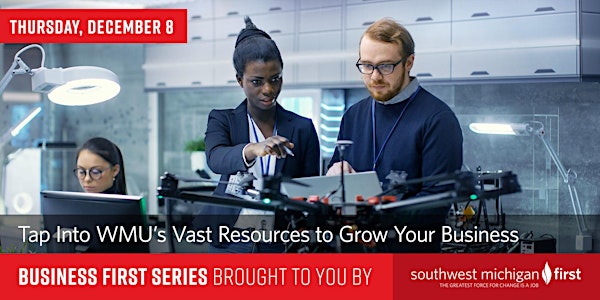 Business First | Tap Into WMU's Vast Resources to Grow Your Business
Learn how WMU can help your business ignite innovation, create collaboration and community, support students and fuel economic development
About this event
Have you ever thought about how your business might tap into the vast resources that are available on the Western Michigan University (WMU) campus? As the university works to broaden their research work and capabilities, they are very interested in partnering with area companies to develop new and innovative products and processes.
Join us on Thursday, December 8 for the final Business First session of 2022 to hear from Dr. Remzi Seker, Vice President for Research and Innovation; Lisa Garcia, Assistant Vice President of Community Partnerships; and Jim Burns, Assistant Professor in the department of Industrial and Entrepreneurial Engineering and Engineering Management.
Dr. Remzi Seker will share ways to connect with WMU professors, researchers and staff and tap into WMU's research and innovation capabilities.
Here are some examples of projects the WMU Research and Innovation Department is working on with companies and agencies in our region:
Research underway at WMU could revolutionize the future of testing for drugs, which is subject to abuse. The research, which began in 2019 and is expected to continue until August 2023, is funded by a grant from the National Institute on Drug Abuse. Dr. Magura's team has partnered with Forensic Fluids Laboratories, a Kalamazoo-based drug testing laboratory, to test oral fluid and urine specimens collected in 11 different methadone clinics in multiple states. (Source: 2022 WMU News)
The historic Bipartisan Infrastructure Deal is billed as a "once-in-a-generation investment" in the nation's infrastructure, creating millions of jobs to innovate and rehabilitate crumbling roads and bridges and transportation networks. Research underway by Western's renowned Center of Excellence for Structural Durability will play an integral role in the future of infrastructure — not just in the U.S. but around the globe — as several students are working with the Michigan Department of Transportation (MDOT) on a project to rebuild the Second Avenue bridge over Interstate 94 in Detroit. It is the first network arch bridge in the world that will be partially completed off-site and moved into place using self-propelled modular transporters. (Source 2021 WMU News)
Lisa Garcia will share more about the opportunities available to engage with the Haworth College of Business for marketing, branding and supply chain students/programs, as well as the overall University Community Engagement strategy of WMU.
Jim Burns will share how to leverage the recently received WMU STEM Workforce Collaboratory (STEM-WC) grant to benefit regional businesses. The STEM-WC, is a partnership between the College of Arts and Sciences and the College of Engineering and Applied Sciences, and is designed to enhance the ways in which diverse members of southwest Michigan's academic and business communities come together and help develop solutions to a pressing problem of the day — advancing and enhancing the pipeline of STEM workforce. The WMU STEM-WC will be creating training and micro-credentialing opportunities (both non-credit and for credit) with business and education partners. The program will also make connections between faculty and industry partners to develop innovative research experiences for undergraduate students to ensure graduates are workforce ready. With the backing of a $1.5 million grant from the U.S. Department of Education, WMU will be able to improve its STEM programs and expand the STEM pipeline and workforce.
You don't want to miss this discussion regarding resources that may change the course of your business, our community and the world.
Presenters from Western Michigan University:
Dr. Remzi Seker | Vice President for Research and Innovation
Lisa Garcia | Assistant Vice President for Community Partnerships
Jim Burns | Assistant Professor in the department of Industrial and Entrepreneurial Engineering and Engineering Management
Join Zoom Meeting:
https://us06web.zoom.us/j/95759943579?pwd=eGVHN3hGZjZrQmZsNmNiOU51bjdXdz09
Meeting ID: 957 5994 3579 and Passcode: 910797
One tap mobile
+13092053325,,95759943579# US
+13126266799,,95759943579# US (Chicago)
About Southwest Michigan First's Business First Series
WMU Research & Innovation | Tap Into WMU's Vast Resources to Grow Your Business is part of our Business First Series of discussions hosted by Southwest Michigan First. These sessions are designed to strengthen and grow businesses of all sizes in our community by focusing on the topics most important right now. These virtual Zoom sessions bring together the knowledge of experts, as well as foster discussion between community leaders and small business owners. Learn more about Southwest Michigan First.
Reserve your spot today!
The Business First Series is brought to you by Blue Cross Blue Shield of Michigan.