Business Fireside Fiesta

Friday, December 2, 2016 from 6:30 PM to 9:30 PM (EST)
Event Details
Save The Date - Next Event
Friday, December 2, 2016 - 6:30 pm - 9:30 pm
Business Fireside Fiesta
Sights and Sounds Museum

 
North Dekalb Mall, 2050 Lawrenceville Hwy,Decatur, GA 30084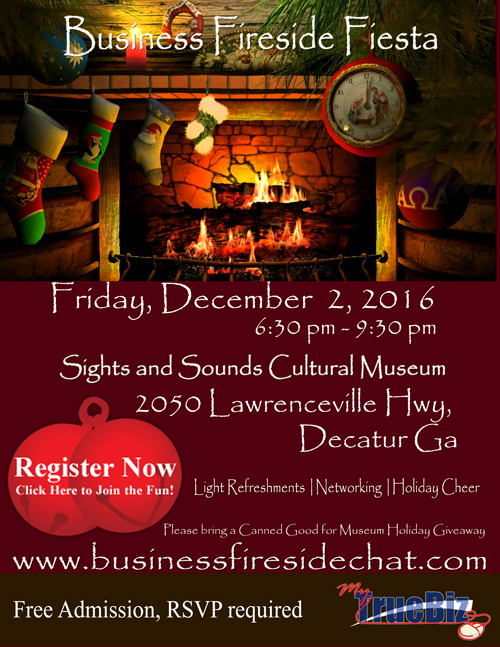 ---
    PAST EVENTS - 2016
********************************************** 
 September 23, 2016 - Hot Topic:  Leveraging Technology to improve business productivity - ITProAct Technology Solutions, LLC
Guest Presenter: Mr. Mark McDonald, CEO, ITProAct Technology Solutions, LLC. has been in the Technology Industry for over 20 years. He started his career as a programmer in the insurance industry and gradually transitioned his role to Managed Technology support. He played an integral part in leading and participating in several major corporate technology projects, which are still being used to date. His in-depth knowledge of technology and business procedures has enabled him to be a key participant on several SME (Subject Matter Expert) teams, often representing his region and championing their issues. As Founder/CEO of ITProAct Technology Solutions, Mr. McDonald continues to add value to his industry by helping small businesses in Metro Atlanta to optimize their business productivity, reduce cost and ensuring that they have a stable working environment. 
**********************************************
 July 29, 2016 -  Hot Topic:  Effective Hiring & Team Building Strategies - Daily Works Workforce Solutions
Guest Presenter: Ms. Shaunna Tyus is the owner of Daily Works Workforce Solutions, Inc., an employee and workforce development company. She has over 15 years of human resources and training experience primarily in the electric utility and home security industries. Her experience encompasses performance management, recruitment, talent development, employee relations, and program development. Shaunna holds a Master's degree in Urban Studies-Human Resources from Georgia State University and a Bachelor of Science in Accounting from the University of Missouri- Columbia. Shaunna is also a certified Senior Professional in Human Resources (SPHR) and a Registered Corporate Coach (RCC). She is a member of the Society for Human Resource Management (SHRM) and is active in community organizations that focus on student education and life skills and job readiness. Shaunna also serves on the New Life Community Center board of directors.
**********************************************
 May 20, 2016 -  Hot Topic: Creative Sales Success Strategies for Entrepreneurs - Oneda Golf
Guest Presenter: Mrs. Oneda Castillo is a much sought after Coach and Golf Consultant from Fayetteville, GA. Oneda serves as Director of Golf for The Women In Golf Foundation. The Foundation's main focus is to empower women and girls in their private and corporate lives through the game of golf. She is a Class A Ladies Professional Golf Association Teaching Professional and African American Golfers Hall of Fame Member. Oneda was named 2012 LPGA Southeast Section TEACHER of the YEAR and serves as a Global Education Instructor for the LPGA, teaching the teachers how to teach golf. She is a certified Club Fitter and was named Club Fitter of the year by African American Golf Digest in 2015. Oneda teaches and helps to guide the members of national associations such as LPGA Golf Clinics for Women, The Executive Women's Golf Association, and Golf Women Mean Business. She has been featured on local and national television, radio and print medias such as; the Atlanta Journal, The Wall Street Journal, Atlanta Magazine, The Golf Channel and many others. 
**********************************************
March 18 - Hot Topic: New Age Marketing Techniques - The Dr. Walter Sims Show 
Guest Presenter: Dr. Walter H. Sims, Jr., is a dynamic motivational speaker, certified spiritual life coach, author, and the host of the inspirational tv show: The Dr. Walter Sims Show. During Dr. Sims' two decades plus career, his ministry has touched thousands of lives as well as provided life coaching to current respected life coaches and individuals. He has recently started a virtual church, The First Church of Periscope. Since the beginning of the church (June 14, 2015) online membership has grown to 7,400 and twitter following is 15,200. A spiritual leader by profession, Dr. Sims holds a Master of Ministry degree, Doctorate of Divinity degree, as well as professional life coach certification. Dr. Sims aims at empowering persons towards significant increase in self esteem, focus, clarity, and productivity. Dr. Sims message to you: "Your situation is not your destination; it OUGHT to be your motivation."
**********************************************
January 29 - Hot Topic: Business Credit Fundamentals and Your Credit Score - BestBank
Guest Presenter: Mr. Tosin Fashina is a financial manager for Best Bank/ Guaranty Bank with nearly a decade of experience working in the financial industry. Tosin has worked with thousands of professional clients helping them achieve their financial goals anywhere from credit consulting to investments. Tosin and his staff offer "real world" advice and help layout the best course of action consumers need to follow in order for them to achieve their financial goals. He and his staff help business owners, students, first time home buyers and many more get back on track and build their credit. Tosin is a certified credit builder manager for Best Bank and has helped many people improve their FICO score. He has worked with people with scores as low as in the 400's to as high as in the 800's. Tosin's professional real world approach and product advice is 100% guaranteed to help any credit score improve.
When & Where

Sights and Sounds Museum
North Dekalb Mall, 2050 Lawrenceville Hwy,
Decatur, GA 30084


Friday, December 2, 2016 from 6:30 PM to 9:30 PM (EST)
Add to my calendar