Business Etiquette: Communication For Business Success Webinar

Multiple Dates
Event Details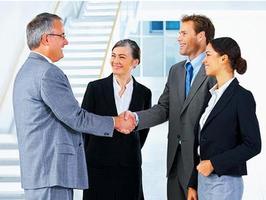 COMMUNICATION FOR BUSINESS SUCCESS -  WEBINAR

A successful business person needs to be comfortable making conversation.  Idle small talk will help break the ice and begin the conversation, but you must take the next step to transition the conversation to network and promote your business to clients and colleagues.  How you look, talk, walk sit, stank and even how you fell will always speak volumes about who you are and the impression you have on others.
In this 90 minute workshop we will cover communication in the business world.
Here are a few of the topics we will be covering:
Handling The Handshake
Electronic and Phone Etiquette
Breaking Into an Existing Conversation
The Art of The Business Cards
Rules of Introductions
Your investment for this event is $7.99

About The Presenter:

Etiquette Expert Jules Hirst  president of Etiquette Consulting, Inc & For A Jul Productions. She offers workshops on a variety of business, social and dining etiquette topics and is a contributing author of The Power of Civility. Jules has been interviewed by and quoted in a variety of media including NBC Nightly News, San Diego Tribune, Yahoo Shine, The Smart Show and Women's Online Magazine.  Visit her webiste @ www.juleshirst.com.
Organizer
Jules Martinez Hirst is a sought after speaker and co-author of  Power of Civility.  She conducts lectures, workshops, seminars and webinars specifically designed to elevate the lives and positions of  Youth's, Teens, College Students and Business Professionals Jules has been interviewed by and quoted in a variety of media including ABC World News, NBC Nightly News, Good Morning America, San Diego Tribune, Bravo TV to name a few