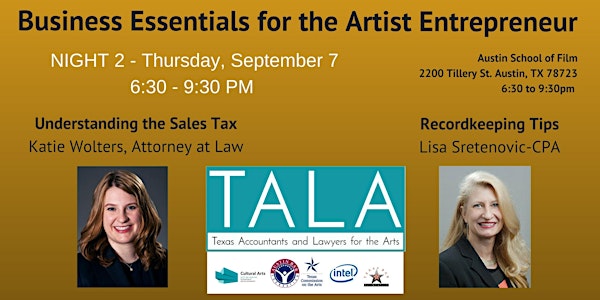 Business Essentials for the Artist Entrepreneur- NIGHT 2
Location
Austin School of Film
2200 Tillery Street
Austin, TX 78723
Description
Join TALA for a two night, four part workshop to gain important business knowledge.
Business Essentials for the Artist Entrepreneur -Sept 6 & 7, 2017
Free to Attend!
This is the registration page for NIGHT 2 of the two night series. You need to register for each night separately.
Click here to register for NIGHT 1.
Night 2 will cover:
Understanding the Sales Tax - Do you collect sales tax? Maybe you should? Attorney Katie Wolters covers when the State Sales tax applies and what to do to be in compliance.

Recordkeeping Tips - Lisa Sretenovic,CPA wraps up the series by sharing best practices and tips about how to organize your business records.
Katie Wolters bio at http://texastaxlaw.com/attorneys/katie-wolters
Lisa Sretenovic bio at http://www.mangoldcpa.com/about-the-mangold-group-cpa/cpa-management-team/#lisa
Supported by:

City of Austin Cultural Arts Division
Austin Bar Foundation
Texas Commission on the Arts