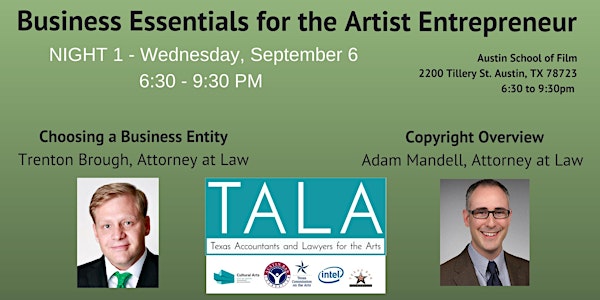 Business Essentials for the Artist Entrepreneur- NIGHT 1
Location
Austin School of Film
2200 Tillery Street
Austin, TX 78723
Description
Join TALA for a two night, four part workshop to gain important business knowledge.
Business Essentials for the Artist Entrepreneur -Sept 6 & 7, 2017
Free to Attend!
This is the registration page for NIGHT 1 of the two night series. You need to register for each night separately.
Click here to register for NIGHT 2.
Night 1 will cover:
Choosing a Business Entity - Do you know what type of business structure is right for your artistic pursuit? Attorney Trenton Brough sorts it all out and gives you the pros and cons of business models most used by artists.
Copyright Overview - All creative businesses have intellectual property. Attorney Adam Mandell reviews the importance of copyright registration and how you can protect your assets.
Trenton Brough bio at http://www.broughfirm.com/trenton-l-brough-founder/
Adam Mandell bio at http://mwzb.com/mandell.html
Supported by:

City of Austin Cultural Arts Division
Austin Bar Foundation
Texas Commission on the Arts