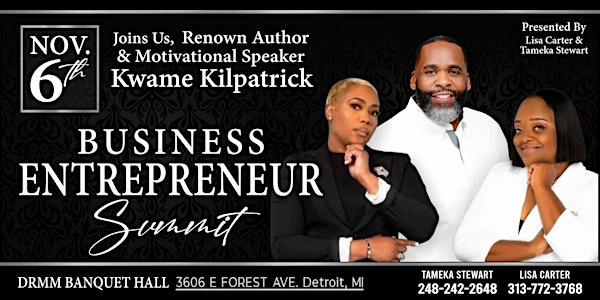 Business Entrepreneur Summit
Remove things that are stunting the growth of "your business" come gain the knowledge! Only YOU have the power to change your narrative!
When and where
Location
DRMM Hall 3606 East Forest Avenue Detroit, MI 48207
About this event
This Business Entreprenuer Summit is a 1-day event that will showcase serial and seasoned entrepreneurs giving you the raw truth about how to start, maintain and over stereotypes about being an entreprenuer.
This event will showcase motivational speakers, business coaches, business consultants who's experienced the ins and outs of being an entrepreneur while teaching you how to network and utilize your social media platforms.
It will also allow you to see the complete journey of the speakers and apply their realistic encounters good and bad to help ensure that you don't make the same mistakes. Teaching you the importance of business structure , business credit, business loans, grants and government contracts.
Make no mistake about it you will definitely understand that structuring your business is not just paper work it takes fundamentals, life unfortunates, perseverance and determination.