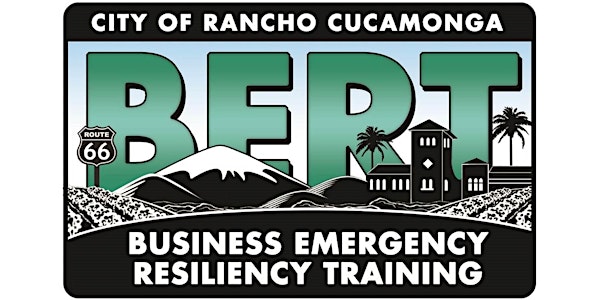 Business Emergency Resiliency Training Unit #2: Employee Preparedness
Event Information
Location
RCFD All-Risk Training Center
11285 Jersey Boulevard
Rancho Cucamonga, CA 91730
Do you & your employees have an emergency kit? Do your employees know hands-only CPR? Learn how you and your employees can be more prepared!
About this event
Business Emergency Resiliency Training (BERT) Unit 2: Employee Preparedness
Is your business ready for an emergency?
Learn how your business can be ready before, during, and after an emergency. 
In this course you will:
Identify who is responsible for employee preparedness
How to teach your employees preparedness
Learn how to create an emergency kit
Learn about ReadyRC
Learn Hands-Only CPR
Learn how to use an AED
About the BERT Program:
Business Emergency Resiliency Training (BERT) prepares businesses and employees for an emergency through a six-course series. Each session can be taken as a stand-alone preparedness course but forms a comprehensive training if completed in a series. Each course teaches a skill or adds another tool for building disaster resiliency.
Taking the classes in succession allows you to establish a cohort style relationship with fellow businesses in the community. Your participation will have a greater impact in building community preparedness and resiliency because businesses can help businesses in a time of disaster. BERT courses are FREE and offered every year in a sequence.
Business: All businesses are welcome. Your business does not have to be located in Rancho Cucamonga.
For additional information on the BERT program and courses visit: www.rcfire.org/readyrc
If you have any questions, please call 909-774-3020 or email ReadyRC@cityofrc.us
Date and time
Location
RCFD All-Risk Training Center
11285 Jersey Boulevard
Rancho Cucamonga, CA 91730