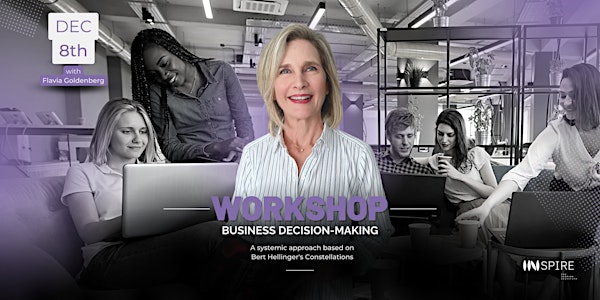 Business Decision-Making Workshop/Workshop Tomada de Decisão Empresarial
Attention! Date change. New date DEC 8. Imagine if you could see what is blocking your company's success in just a few minutes.
Refund Policy
Contact the organizer to request a refund.
Eventbrite's fee is nonrefundable.
About this event
Imagine if you could see what is blocking your company's success in just a few minutes.
That is possible by applying the systemic approach in a workshop applying Bert Hellinger's methodology, in which I am certified.
Through this technique, we will identify the unconscious movements that act powerfully in the company's day-to-day, allowing you to take essential measures.
We will leave the cartesian vision of the problem and change how you see the relationships with clients, employees, suppliers, and the market itself.
That is what we call Corporate Constellations.
The Business Decision-Making Workshop will be on Dec 8th.
Make the most of this opportunity!
Special Offer:
Choose the theme (Limited spots) - USD 98. Sold out
Listener - USD 26
Prepare your company for success in 2023!
Who can attend?
Entrepreneurs, decision makers, people in leadership positions, freelancers, people who want to learn more about business dynamics, therapists, consultants, and directors of NGOs and institutions.
How to join?
You can choose a theme or attend as a listener.
Listener or representative: participates in the workshop as an observer and can, if interested, act as a representative in one of the dynamics.
Who brings the theme: is the one looking for answers to their challenges in the company. Sold out , send your name by email to flavia@flavia goldenberg@gmail to be in the waiting list for the next event in January.
As always happens in the systemic approach, all participants benefit from the workshop, which will bring valuable insights.
Note 1: For better use, we recommend using a computer instead of a cell phone.
Note 2: For payment in Real, please contact us by WhatsApp: +1 (305) 394-1512 to send the Pix key. After the payment confirmation, I will send you a code to register here.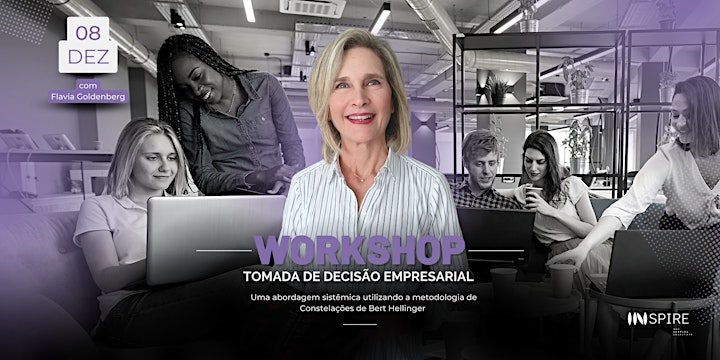 Imagine se você pudesse enxergar o que está bloqueando o sucesso de sua empresa em apenas alguns minutos.
Isso é possível aplicando a abordagem sistêmica em um workshop utilizando a metodologia de Bert Hellinger, na qual sou certificada.
Por meio desta técnica, identificamos os movimentos inconscientes que atuam fortemente no dia a dia da empresa, o que lhe permitirá tomar medidas importantes.
Sairemos da visão cartesiana do problema e mudaremos a forma como você vê as relações com os clientes, funcionários, fornecedores e o próprio mercado.
É o que chamamos de Constelações Corporativas.
Workshop sobre Tomada de Decisão Empresarial
Aproveite essa oportunidade.
Preço especial:
Colocar tema (vagas limitadas): de U$152 por U$98. Esgotado
Ouvinte/Representante: de U$35 por U$26
Data: 08 de Dezembro
Horário de Miami: 1pm to 4pm
Horário de Brasília: 15h às 18h
Para quem é?
Empresários, tomadores de decisão, pessoas em cargos de liderança, autônomos, pessoas que querem aprender mais sobre as dinâmicas empresariais, terapeutas da área, consultores, diretores de ONGs e instituições.
Como participar?
Você pode colocar tema (vagas limitadas) ou como ouvinte/representante
Ouvinte ou representante: participa do workshop como observador e se desejar pode atuar como representante em uma das dinâmicas.
Quem traz o tema: é aquele que está em busca das respostas para seus desafios na empresa.
Como sempre acontece na abordagem sistêmica, todos os participantes se beneficiam do workshop que trará insights úteis para todos.
Prepare a sua empresa para o sucesso em 2023!
Obs. 1: Para melhor aproveitamento, indicamos o uso de computador ao invés de celular.
Obs. 2: Para pagamento em Real, entre em contato pelo WhatsApp +1 (305) 394-1512 para que seja enviada a chave Pix. Após a confirmação de pagamento, um código será enviado para fazer a inscrição aqui.