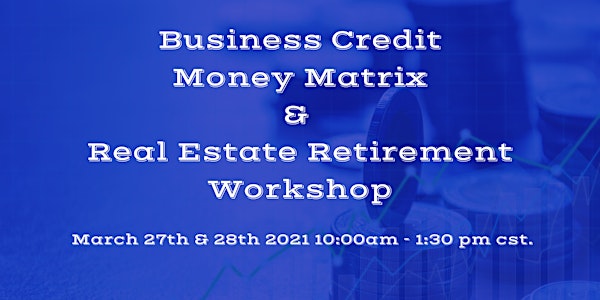 Business Credit , The Money Matrix, & Real Estate Retirement (Online)
Sales Have Ended
Ticket sales have ended
Thank you for requesting this amazing seminar. as we are already in motion and have given our all to support everyone...its over. If you have questions or would like the recording you can email becky@creditcoachqueen.com Or joanna@bottomlinewealth.net Trinity Wealth Academy
Sales Have Ended
Ticket sales have ended
Thank you for requesting this amazing seminar. as we are already in motion and have given our all to support everyone...its over. If you have questions or would like the recording you can email becky@creditcoachqueen.com Or joanna@bottomlinewealth.net Trinity Wealth Academy
Build Business Credit and Buy Real Estate to create generational wealth - even if you don't know where to start.
About this event
Don't let another year go by that ends with the frustration of not getting the cash flow credit & real estate investing plan you need to be successful.
While building your personal credit should always be on the forefront there is a path we take our clients on that builds:
Wealth
Multiple streams of income
Security
Time Freedom
Generational Wealth
If even one of these things are on your list, you are in the right place.
3 Captivating Reasons to Establish Business Credit
Protects Your Personal Credit Report.
Limits Your Personal Liability for Business Debts.
Make Your Business More Attractive to Lenders
5 Attractive Reasons to Invest in Real Estate
Real estate has a high tangible asset value
Real estate offers better returns than the stock market.
You can predict the cash flow of real estate investments.
tax benefits with real estate that you don't see elsewhere.
It's a good (forced) way to save for retirement.
How these two come together and why learning how to create your own economic independence will sky rocket your wealth.
It's all starts with knowing how the system works. The way money works.
We call this the web of the black widow. You know what she does right?
Traditional Financial Banking System - (aka Black Widow web)
Here's how easily the web seduces people into willingly enslaving themselves with debt.
That few people even understand it, let alone know how to resist it.
How to avoid our nations financial traps that keep you just above broke
So if you have been searching for answers, the good news is, it's time to share the billionaire secrets.
This awareness gives you the tools and principles to break free and create a life of abundance.
You will not want to miss this, so get your VIP Ticket now as this information is pure gold.
General admission ticket = is for the live On-line attendees only
VIP Ticket = Participate Live and receive recordings of the entire on-line Seminar. Plus Bonus coaching session with speakers.
Date and time
Location
Refund policy
Organizer of Business Credit , The Money Matrix, & Real Estate Retirement (Online)
I am a Published Author and Credit Expert that has had the pleasure of helping thousands of people achieve their financial dreams.
I have also been featured as an Expert Speaker on Fox 25 and have spoken Nationally about how to get Irresistible credit and find easy access to business funding.