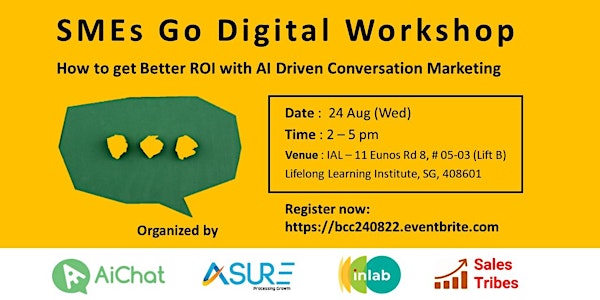 Business Connect & Collaboration @ Innovation Lab
Business Networking for Collaboration and Growth - August 2022 Event
When and where
Location
Institute for Adult Learning 11 Eunos Rd 8 # 05-03 (Lift B) Lifelong Learning Institute Singapore, 408601 Singapore
About this event
Business Connect & Collaborate
As the market slows down with major global crisis - it is time to develop new skills, network to get more leads and find new referral partners who can support your business.
VENUE : IAL – 11 Eunos Rd 8, # 05-03 (Lift B) Lifelong Learning Institute, SG, 408601
> This is an In-Person Event which you have to be double Vaccinated to join
Event Agenda:
1.45 pm - Registration and Coffee / Tea for Early Bird
2 pm - Welcome Address
Joseph Lee - Founder - Sales Tribes and SME Challenge
2.05 pm - Special Address
IAL sharing : innovPlus Challenge 2022
2.15 pm - Special Speakers Sharing
We have invited a few of the Sales Tribes business and industry leaders who will share with us their business model strategies
3.30 pm - Networking Tea Break
Continue to network with Fellow Business Owners over a refreshing tea break
Introduce yourself and your business so that everyone will get to know you
Find suitable business to collaborate and work with
Speak and network with our special speakers to find out how to leverage conversational marketing to boost your business
5.00 pm - End of Event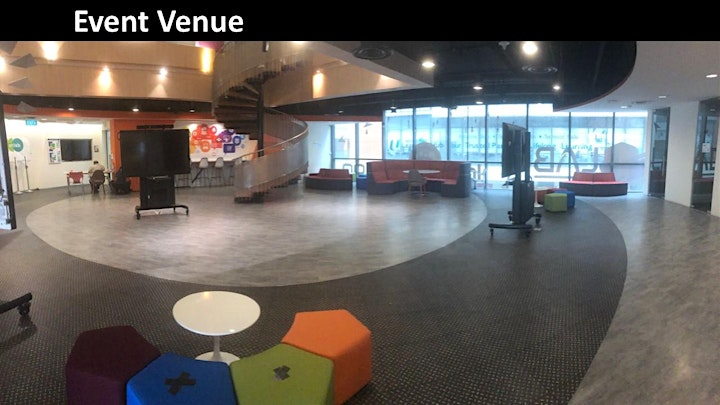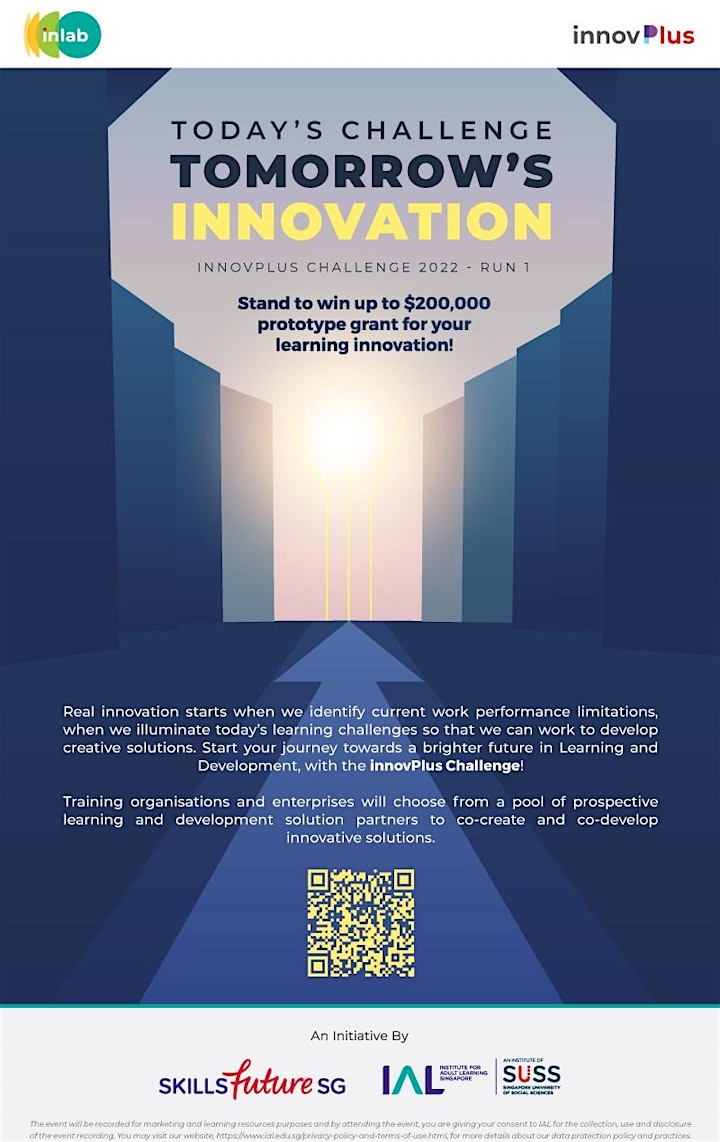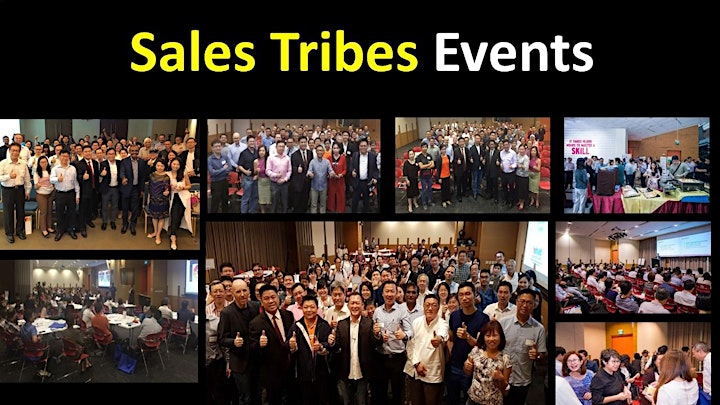 Digital transformation
Empowering companies to automate and scale business operations while creating concrete marketing ROI, turning every conversation into a sale.
Synopsis
Businesses today, from start-ups to SMEs and the big brands benefit from their online presence and brand experience customers received in their website and social media channels.
Ever since Covid-19 started, businesses have seen an even greater effect of digitalisation in their business. In the world now, consumers are exposed to endless products or services online, and more enquiries are made online than ever. handling online enquiries, and providing top-notch customer service in online platforms has become increasingly crucial to sustaining a brand's image, retaining customers and gaining new customers.
Key Takeaways of the Event:
The Rise and Importance of Conversations with Customers Online
We will share with you the latest trends pertaining to conversational marketing and why.
Who is using a Conversational Marketing Tool?
Find out how famous brands and Singapore Brands are using conversational solutions for their business, be it as a pure ecommerce business or a hybrid model covering both operational and marketing needs.
Conversational Platforms
We will share some platforms you need to have conversational solutions integrated. We will also discuss the pros and cons of each platform and how you can decide which one to use for your particular type of business.
Government Grants
Find out how to tap on the various grants to support your business for the digital transformation and get up to 80% support.
Sales CPR Framework to Grow Your Business
Speaker : Joseph LEE
Founder | Sales Tribes
Synopsis:
• Business Growth Overview
• 3 Ways to Grow & Scale Fast
• Practical Steps - Take Action
You can join Sales Tribes and get help to grow your sales at:
-----------------------------------------------
Post Event Webinar : Sales CPR Framework to grow your business
1. Right now, the # 1 challenge SMEs are facing is "How to grow their sales" in a post covid world.
2. SMEs biggest frustrations now is that Digital and Social Media Marketing is not as effective as before to generate qualified leads and the cost of campaigns have gone up by a lot.
3. Many SMEs are asking, what other ways or options do we have to help us generate more leads for our business without having to spend more money?
4. This sharing will show you a Framework you can use to Revive your Business and Grow your Sales.
Broadly, it covers 3 points to guide your own Sales Action Plan design and implementation:
Collaboration Marketing to Nurture your Leads and Engage your Clients
• How to develop strategic business marketing partnership to help each other business
Prospecting to generate Qualified Leads for your business using various tools like:
• Digital Marketing (Paid)
• Social Media Marketing (Paid)
• LinkedIn Marketing
• Email Marketing
• Event Marketing
• Messenging Marketing
• Business Networking
• Community Marketing
Referral to generate Warm Leads for your business consistently
• How to get good referral consistently
• Word of Mouth (WOM) Marketing
You can join Sales Tribes and get help to grow your sales at: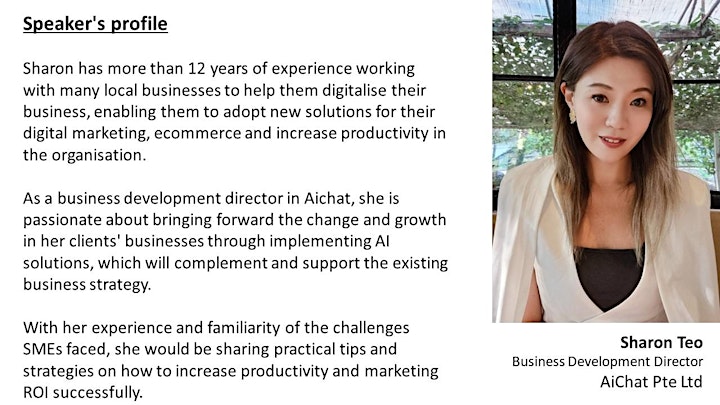 Company's profile
Aichat was officially founded in 2016 as a sophisticated AI-powered conversational experience platform. Beyond automated responses to FAQs, it has features that add value to real business goals and project a brand experience that won new customers and retained existing ones. Today, Aichat is the leading AI-powered conversational solution provider, working with many solution partners. Aichat is currently the service provider of many well known brands such as SISTIC, Marina Bay Sands, Kia Motors, Saturday Club, Bee Choo Hair Care.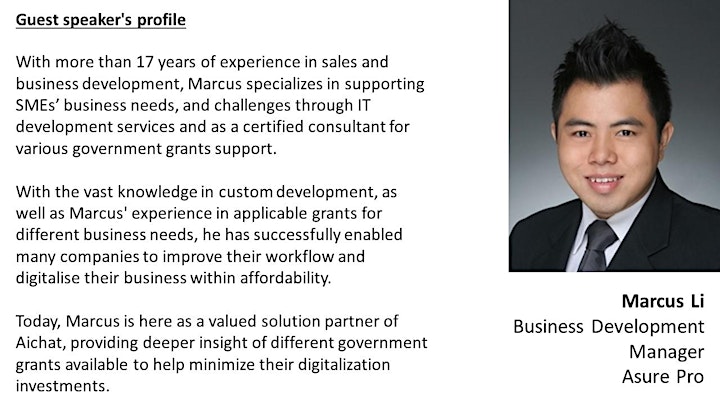 Company's profile
Asure Group was officially founded in 2020 as a one-stop digitalize transformation service platform. Everything from consultation, grant support, strategy planning, creative design, and execution of the project to reality. Asure group clients experience start-to-end projects and services able to win over new customers and retain existing customers. Today Asure group is one of the leading one-stop digitalized service providers of many well-known brands such as SISTIC, Republic Poly, Car times, and more.
-------------------------------------------------------------------------
Speaker's Profile
Joseph is the founder of the SME Challenge and Sales Tribes Global and has organized hundreds of workshops and networking events for SMEs over the past 3 years. Thousands of business owners and entrepreneurs have joined and benefited from the SME Challenge training programs and business networking events.
As a Business Consultant and Coach, Joseph has helped many SMEs transform their business via his consultancy services and he has in depth insight into how SMEs function and work, their frustrations and bottle necks.
Many SMEs faced cash flow and resource issues and could not afford to engage a Coach or Consultant to help them with their business. Joseph designed the SME Challenge Programs and Sales Tribes Platform to help SMEs get all the help they need to take their business to the next level.
Joseph is passionate about business coaching and consulting and enjoy the challenge of working with SMEs from various industries to restructure and remodel their business.
As many SMEs today are struggling with Sales, Joseph has also launched Sales Tribes, a Peer-To-Peer Networking, Collaboration & Resource Platform to help B-2-B Sales Professionals and Business Owners generate more qualified leads & sales for their Business.
You can join Sales Tribes and get help to grow your sales at: