Event Information
Location
Luther Burbank Center for the Arts
50 Mark West Springs Road
Santa Rosa, CA 95403
Connect with local businesses, organizations & community members to grow your business! Resume drop, Beer & Wine Garden, Special Performance
About this event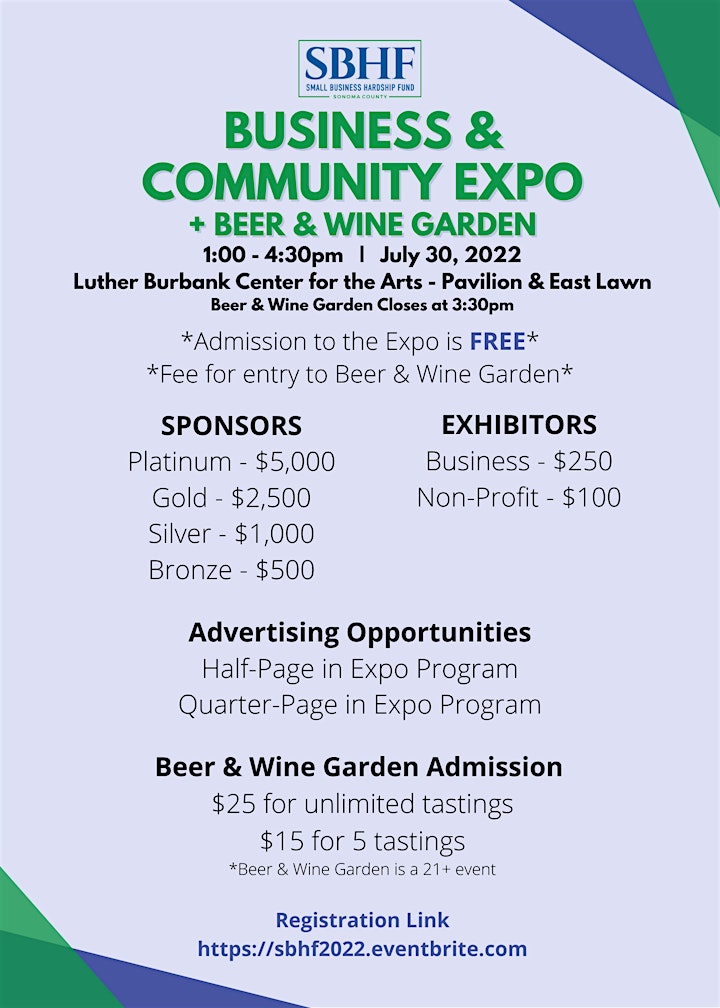 Business & Community Expo +
Beer and Wine Garden
Time & Location
1:00 PM – 4:30 PM
July 30, 2022
Luther Burbank Center for the Arts - Pavilion & East Lawn
Santa Rosa, CA
*Beer & Wine Garden closes at 3:30pm*
Guests & Special Performances at 3:30pm
About the Expo
*Admission to the Expo is FREE*
The Expo offers a great opportunity to showcase services and products and a place to network with local small, medium and large businesses, government agencies, and non-profits. Join us to learn about upcoming job opportunities and available resources to help start and grow your business! There will be exhibitor & vendor displays, guests & special performances and food sales from local food vendors.
This event is facilitated by The Small Business Hardship Fund - Sonoma County (SBHF). Sponsorship and exhibitor fees will be used to cover the cost of event and additional revenue will be used to fund the SBHF's local grant program. To learn more about the SBHF, visit our website.
For those businesses with less than 15 employees who would like to join us but the fee presents a hardship, we have a reduced fee application. Link to apply https://forms.gle/1eZ3Fkf5sUXtNNECA
For more information, please visit our website at https://www.smallbusinesshardshipfund.com/ or call Sally Lopez at (707) 483-4502.
Expo Features
FREE Admission to Expo
Over 100 Exhibitors
Over 800 Attendees
Guests & Special Performances
Exhibitor & Vendor Displays
Upcoming Job Opportunities
Food Sales from Local Vendors
Resources to Start & Grow your Business
Advertise Hiring Opportunities
If your business will be hiring as of July 30, 2022 we invite you to display a "We are Hiring" sign at your booth. It will be available to all exhibitors the day of the Business Expo.
About the Beer & Wine Garden
Enjoy 8 local breweries, 5 wineries, and a guest brewery!
$15 for 5 tastings
$25 for unlimited tastings
*Please drink responsibly
Why Attend?
Your attendance at this Expo will give you an opportunity to support Sonoma County small businesses all while enjoying everything that our amazing exhibitors and vendors have to offer. Local small businesses continue to face challenging times, and this event was created to further highlight our community's commitment to give back and contribute to our local economy. We look forward to having you join us!
Why Sponsor?
As an Expo sponsor, you will increase your company's exposure to hundreds of new local customers and partner organizations. Please see our Platinum, Gold, Silver, and Bronze sponsor packages for additional sponsor benefits. We also have add-on Advertising Opportunities via our Expo event program.
Why Exhibit?
The Expo provides a great opportunity for you to showcase your business or organization to hundreds of potential new customers. Showcase and/or sell your products or services at your booth. Please see our "Exhibitor" and "Non-Profit Exhibitor" packages for additional exhibitor benefits. We also have add-on Advertising Opportunities via our Business Expo event program.
To register as a Sponsor, Exhibitor or to purchase tickets for entry into the Wine & Beer Garden and pay with a credit card, please click on the green Register bar.
Please email sbhfsonomacounty@gmail.com or call 707 483-4502 for a registration code if your company prefers to mail a check.
Admission to the Business Expo is FREE.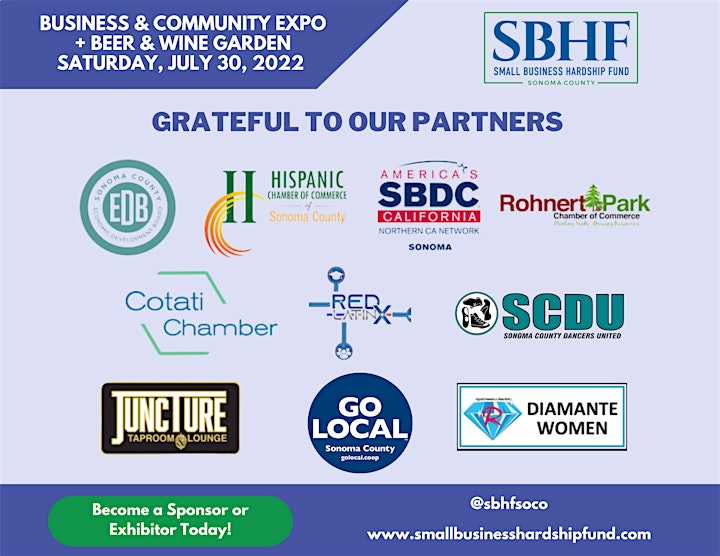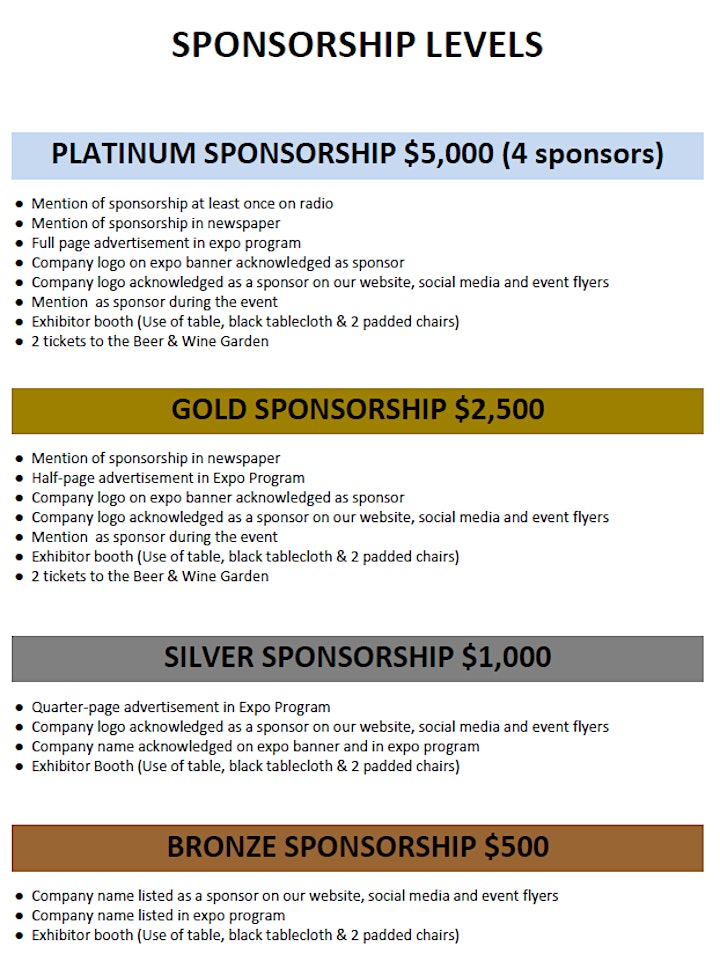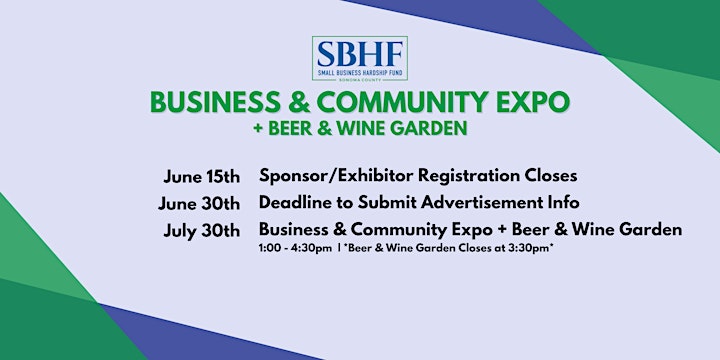 About The Small Business Hardship Fund
The Small Business Hardship Fund (SBHF) is a local non-profit organization in Sonoma County, CA. It was founded in May 2020 by a Latino small business owner during the midst of the pandemic and turmoil on our local business community. It was very difficult to see many local business owners lose their dream & livelihood and not be able to do anything about it. The SBHF was founded specifically to assist small businesses with hardships and to help prepare them for future emergencies, so that they may be in a better position to survive. We assist small businesses with less than 15 employees experiencing hardships with funds and emergency resources to assist them towards sustainability. Our focus is the needs of small businesses, their sustainability and growth.
During the public health crisis, continued economic challenges, and beyond, our dire mission is to assist small businesses with immediate and basic operational expenses by providing:
Mini-grants for basic operational expenses.
Small business emergency resources such as personal protection equipment, cleaning kits and emergency preparedness kits.
Funding for training/educational workshops that will benefit the overall well-being of the business, staff and patrons.
Resources for sustainability and growth of our local small businesses.
Reduced fee opportunities intended to help small businesses participate as an exhibitor/vendor at small business community events as well as at our large Business & Community Expo on Saturday, July 30, 2022.
Collaborating opportunities for businesses and other organizations to raise funds for causes for the benefit of our community needs.
Date and time
Location
Luther Burbank Center for the Arts
50 Mark West Springs Road
Santa Rosa, CA 95403