Description
Business Building Blocks Training
WHY? 'What would happen if you could avoid some of the common mistakes when starting a business? And if you're already running your business would you want to refresh your knowledge and get some inspiration.? That is why we created this programme

WHO? Start-ups founder's and Small Business owners
HOW? The workshops can be taken independently or as a complete Personal and Business development training programme.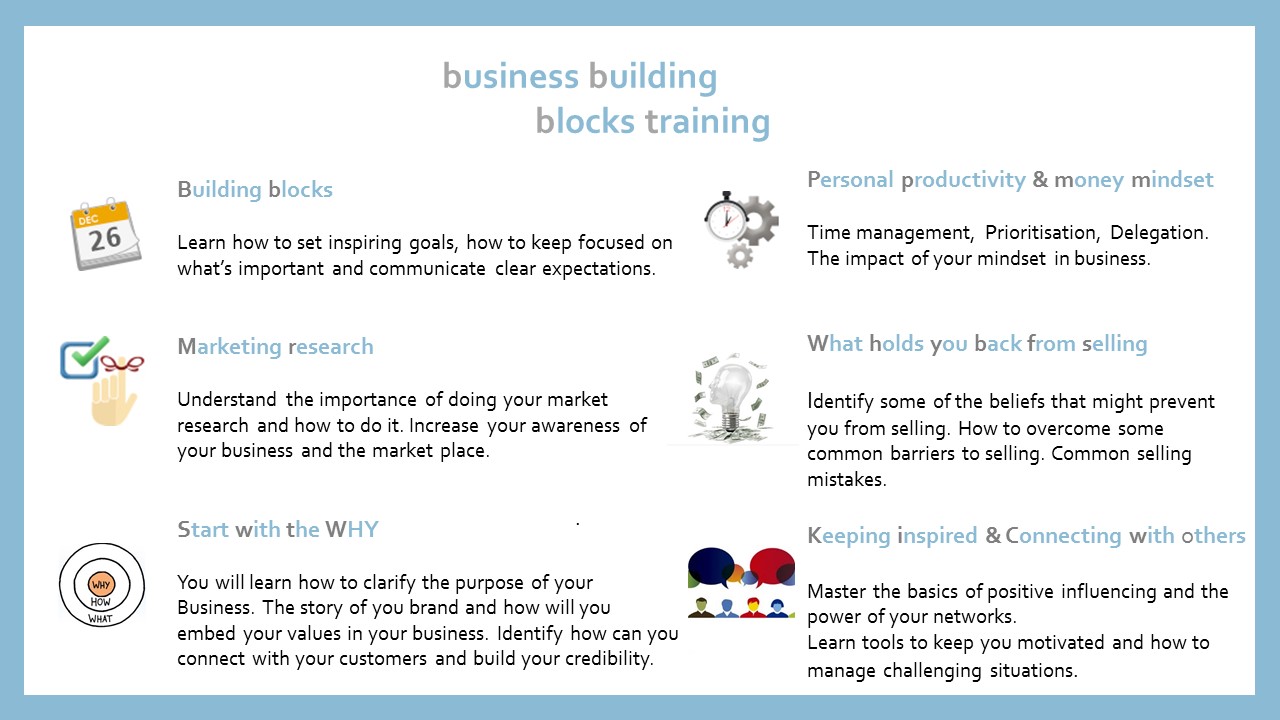 WHAT? A comprehensive personal and business development programme. These workshops are designed to give you practical tools to grow your business. They are interactive, providing practical opportunities for developing your business ideas/strategies as well as receiving feedback from other group members, which will help you to:
Raise your awareness to the importance of planning when running a successful business.

Self-awareness of the key strengths you possess to become a successful business owner and/or any areas that need development.





Workshop 3: Start with the WHY
Understand what is your business purpose and values, and how these are crucial when building your credibility and marketing strategy.
How to build your credibility.
How to build and use your networks more effectively.


SCHEDULE:
9:00 - 9:30 - Arrivals
9:30 -11:30 - Workshop
11:30 - 12:00 - Opportunity to network
12:00 - 14:00 Opportunity to join Canary Warth Athena meeting.***
**You would need to book your ticket separately for this event. Book here
IN COLLABORATION WITH



The Athena Network provides many opportunities for its members to connect monthly over lunch with a focused agenda, to be trained in networking and business skills, to be coached, mentored and trained in their business and personal development as well as providing additional business training workshops to provide even more value. All designed to help members move forward with practical steps designed to grow their business.
We work closely with our members and give them the platform to deliver their expertise through presenting talks and delivering business training workshops. This is one of our Athena aims –
• Developing members' business skills through a choice of interactive workshops and training courses.
Your Trainer: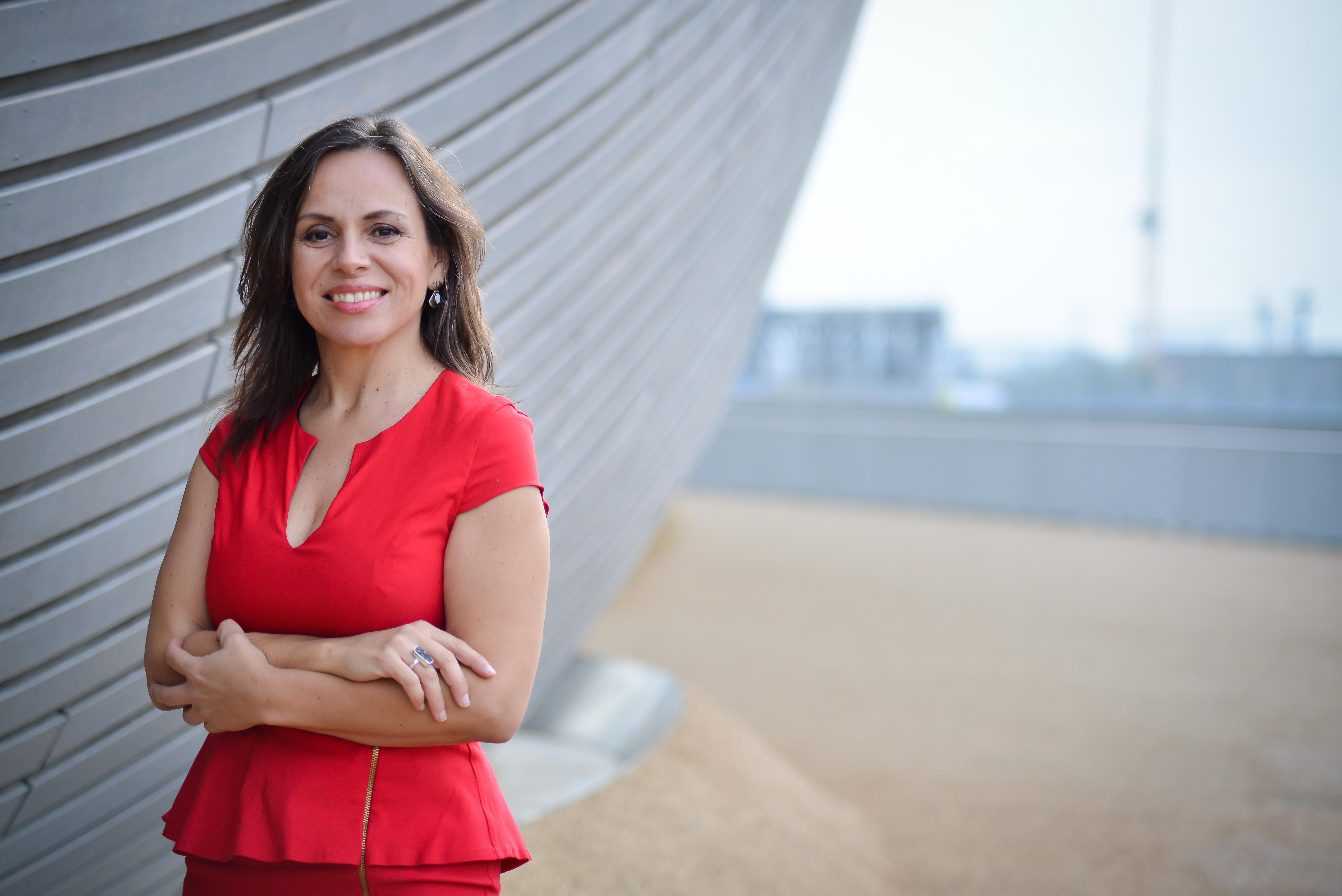 Tamara Medina is an Athena member, the founder of Sapovalova Coaching, a member of Tech London Advocates, Huffington Post blogger and author. She has written for various magazines and international publications. She has also been a judge in several technology start-up panels and is a mentor at MassChallenge, StartUp Chile, SUM (StartUp Mexico) and Major's International Business Programme.
For over fifteen years she has worked with renowned companies in Mexico, the United States, and England, where she worked for the BBC. In 2016 she launched the online program 10XProductive.
Tamara has delivered training to hundreds of entrepreneurs, corporate businesses and Tech start-ups.


Testimonials
Watch our video testimonial here
'Tamara has been the very first person that inspired me to start my own business. Through her support and guidance, I was able to have the courage to start and get rid of any fear during the crucial stage of my starting up. She has a big heart and an authentic passion for helping people like me who want to venture into the unknown world of self-employment. I wouldn't be where I am now without her initial inspirational influence! Forever grateful!'
Michelle Turpin Cope. Money Mentor & Head of Expansion
'I met Tamara when attending a 4 weeks self-employment course. She was the trainer and business coach for about 20 of us. One of the key outcomes was to create and deliver our business plan. Her knowledge in starting a business from scratch together with her multiple business connections in the field of marketing, finance, social media surpassed any other courses I attended in getting data, answers and fresh perspectives. During that time, she proved to be incredibly agile in engaging and connecting people from very different backgrounds. She not only demonstrated great listening skills, but was very comfortable with diversity and differences of opinion. Tamara is very gifted in bringing out the best in others, help them gain confidence and succeed. She is also somebody that seeks and look forward to opportunities for new learning experience in business and personal areas. I highly recommend Tamara if you are looking to partner with someone helping you building and growing your business.'
Odile Chefdor, Global HR