Event Information
Refund Policy
Refunds up to 7 days before event
Description
The future of the cannabis industry in Massachusetts and the northeast United States starts here. Northeast Cannabis Coalition (NCC) is a trade group that represents cannabis businesses and professionals. #BusinessBowl is the premiere business networking event for those looking to start a cannabis business or invest in one in the northeast corridor. Network with professionals, dispensary operators, entrepreneurs, and several members of the Advisory Board to the Cannabis Control Commission as NCC takes over MCR Labs in Framingham for an evening of conversation and refreshments.
Early bird tickets are $25.00. The price rises to $50.00 after August 17 or at the door.
The event is 21+ only and the dress code is business professional, for men collared shirts preferred and no baseball caps please.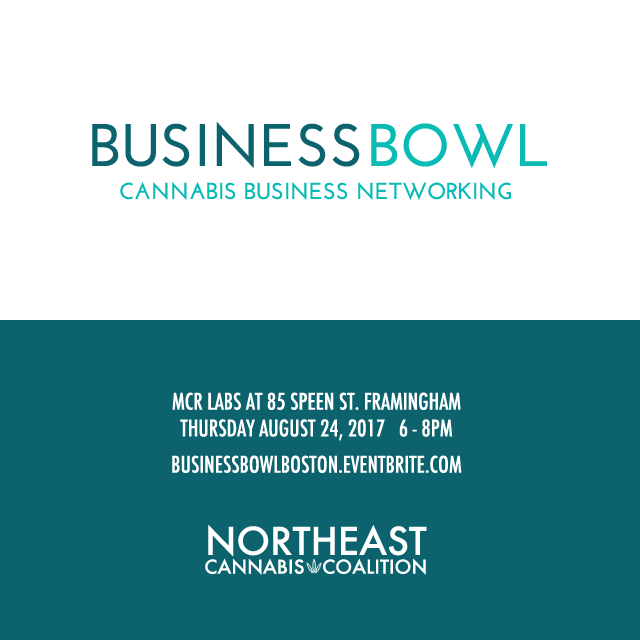 About Northeast Cannabis Coalition (NCC)
The future of the regulated cannabis industry starts here in the northeast. NCC is a non-profit trade group that represents the interests of marijuana related businesses and professionals in the northeast corridor of the United States. From NYC to Boston, the cannabis industry needs a voice to communicate with local, state and national stakeholders. The Northeast Cannabis Coalition strives to be that voice by encouraging new ideas within the cannabis community and creating a dialogue with established businesses as well as investment centers to bring more opportunities into the community at large. http://www.necoalition.com/

About #BusinessBowl
The northeast United States is the epicenter of finance, media, medicine, institutional knowledge, education and prudent entrepreneurs. Business Bowl networking events will bring together professionals from a variety of industries who use cannabis as well as local leaders in the cannabis industry.

About Cannabis (Marijuana)
Cannabis is well known as a beneficial drug for cancer treatment, psychological and physical disorders and muscular ailments. Over the last decade, cannabis' myriad medical uses have slowly lead to a broader acceptance of adult consumption for wellness and recreation. In the last few years, reform has swept the nation with the promise of more to come. This expansion presents unprecedented economic opportunity for innovators looking to make a splash in these uncharted waters. The Northeast Cannabis Coalition is a non-profit trade association dedicated to ensuring that the northeast corridor of the United States implements legalization in a manner that supports our local entrepreneurs and innovators while providing economic stability and safety for our communities.

Parking Options at MCR Labs
MCR Labs has a full parking lot in the back of the building. Feel free to park in any open spaces available.
Instagram / Twitter / Facebook Tips
One of the best ways to share our events is to use common hashtags when tweeting, facebooking, or instagramming about the event. Don't forget to take photos and share them with everyone using the hashtags below. #BusinessBowl #BusinessBowlBoston

This is a Non-Consumption Event...
No cannabis will be permitted during this event. This is a professional networking event and we want everyone to be in the right mindset to make lasting connections so Business Bowl's are non-consumption events. Bring your business card or a way for individuals who attend to get back in touch with you so the connections last.

Email List Disclaimer
If you RSVP for an NCC event we add you to our mailing list announcing future events and promotions from our organization. By attending a NCC event you give us permission to add your email contact information to our mailing list for future contact. For any questions related to our mailing list policy and user privacy please email board@necoalition.com.
Legal Disclaimer
Views or opinions expressed by speakers or sponsors at our local Northeast Cannabis Coalition community events do not necessarily express the opinion or views of the Northeast Cannabis Coalition organization and we do not take responsibility for the views expressed or the actions of speakers or sponsors at our local events. The Northeast Cannabis Coalition does not distribute cannabis.
The Cannabis Industry's Voice in the Northeast
The northeast while progressive follows the beat of a different drum. NCC is a trade group that represents the sensibilities of the northeast United States and the fast paced life we lead.

Date and Time
Location
Refund Policy
Refunds up to 7 days before event