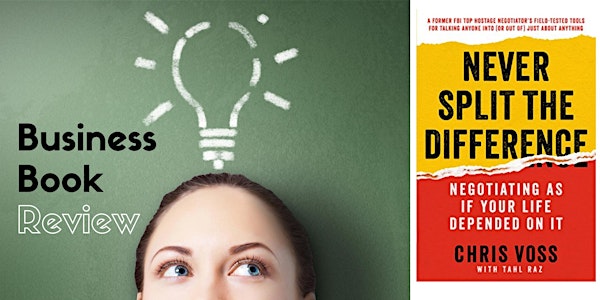 Business Book Review - Never Split the Difference
Want to be a better leader? Want to communicate more effectively? Be a better parent and spouse? Learn these negotiating tactics...!
When and where
Location
Sandler Training 10955 Lowell Avenue, Ste 110 Overland Park, KS 66210
Refund Policy
Contact the organizer to request a refund.
About this event
Want more success? Then Keep Learning!!!
Studies have repeatedly shown that the most successful business owners are those who are constantly learning new ideas. The good news is there are lots of great business books out there - the challenge for most of us is finding the time to actually read them.
That's where Aspire's Business Book Reviews come in. This is a regular event where you will be able to pick up the key ideas and themes from a great business book...and get some ideas on how to start applying those to your business right away.
And the best part? You don't even need to read the book! We'll cover the key points, have a great group discussion and get you on your way. You'll walk out with a several page summary, some new knowledge and introductions to like minded business owners and professionals who also want to learn and be successful!
It's kind of early - but we'll have coffee and breakfast for you and you'll be on your way, smarter, happier and better looking than you were before (well at least smarter and happier). We guarantee it!
This Month's Book - Never Split the Difference
High stakes negotiations don't get much more tense than what the FBI Hostage Negotiatiors deal with on a regular basis. Lives depend on them getting a deal done but how they go about doing that might be surprising. It turns out the FBI has developed a very specific approach to negotiations and it's based on Emotional Intelligence and what they call 'Tactical Empathy'.
Author Chris Voss spent a big part of his career helping the FBI develop their negotiation model (and using it out in the field). Now he's taking that expertise and working with businesses to help them succeed in their own version of high-stakes negotiations.
Negotiating as if your life depended on it
Your first thought (it was mine) might well be that this book might be interesting, but since you aren't playing on doing any criminal hostage negotiations, it's not really applicable. It turns out you (and I) would be wrong. We're doing some kind of negotiation almost every day - getting approval from your boss to start a new project, closing a deal with a client or a vendor, getting a raise, buying a car... getting your kid to bed at a reasonable time. And although none of those examples have you sitting across from criminals (except maybe the car-buying experience...) the same principles apply. Which is why Harvard, Wharton and other major universities have Chris Voss come in and teach classes and large corporations pay him to give them advice and to learn.
Never Split the Difference outlines a lot of science based ideas that you can start using right away - they'll improve your communication skills, help you get better deals and have better relationships. And what I really like about this book is that these are practical tried and true ideas that will resonate with you once you understand the approach.
This is a fantastic book and well worth your time to read and it's even better to discuss it with other business owners...and that's what Business Book Reviews are all about!
Here are a few comments from previous Business Book Reviews:
"I thought this was extremely valuable. It was very inspirational and my head is already spinning with ideas and things I want to implement."
"I've had the opportunity to attend many events and this was one of the more informative and relevant one's I've attended. The book had some great information, however, your insights and the way you presented the material were even more helpful. I have to be selective on how I spend my time and this was a great investment."
"This really added a dynamic to the way I would have been able to think about and comprehend the material on my own."
You'll get a lot out of reading Never Split the Difference but you'll get even more by joining into the Business Book Review discussion! Guaranteed! (And you don't need to read the book...).
Who Should Attend?
Business leaders and professionals who have a need to keep learning, but don't have the time nor the inclination to read...or just realize they will get even more out of the discussion of the material than just reading it (i.e. a lot of smart people we know)!
How does it work?
We'll keep it simple - we'll start at 8:00, grab some breakfast (something tasty - bagel, pastry, kolache...) and some coffee and we'll get rolling. You'll have a few minutes to meet the other attendees and then we'll dive into the review and discussion of the book. About 2/3's of the time will be spent covering the key ideas and the other 1/3 will be more of a group discussion.
This is a new space and it's a bit smaller, so we're limiting the group size to 20 or so, small enough so everyone can participate, but large enough to have a lively exchange with lots of different viewpoints and ideas.
We'll close on time and get you on with your day, secure in the knowledge that you know now more...and will be more successful.
Complete Guarantee
If for any reason you don't feel like you learned at least a couple of useful new ideas, then you will get a complete and cheerful refund...and get to keep your summary!