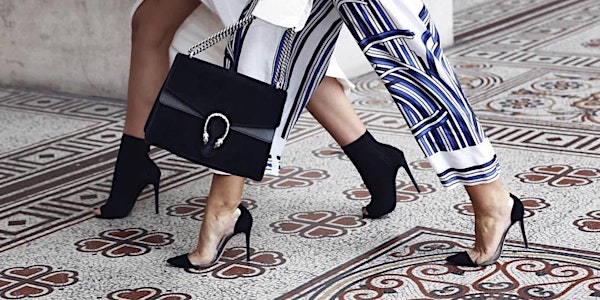 Business Besties: Grow your online Business & Surround yourself with women that get it
When and where
Location
Los Angeles Los Angeles, CA
Description
Are you looking to grow an impactful online coaching business and start making your yearly salary your monthly salary? Want to surround yourself with a group of high vibe women who are going to support you and lift you higher? Want to learn from leading experts who can take your online business to the top?
If so, then I'd to share about the Business Besties that is happening in LA this July.
Join Dani Watson, founder of The Clique and Reese Evans, founder of Yes Supply, entrepreneurs who have individually built their own multiple six figure online empires, doing the work that they love and travelling the world taking their work with them and connecting with other inspiring Girlbosses in the process. .
Business Besties LA is going to take you behind the scenes of their own coaching empires, showing you exactly how they got to where they are today whilst introducing you to a group of influencers and other girlbosses who will become an important part of your entrepreneurial journey.
Location: Venice Beach, Los Angeles.
Friday, July 14th- 6 PM- 9 PM
Welcome Party – Meet your new business besties and hear from industry leaders as you toast to your future success.
Dani and Reese will personally be matching you to your newest business besties, giving you the opportunity to connect, collaborate and begin the weekend with meaningful connections, and a bestie to take over the world with.
Curated Matches will be made between you and your new 'perfect' business besties and intimate groups of women will have Networking + Collaborationg 101 with Emily of Six Degrees Society
You'll Learn:
• How to network
• The art of the elevator pitch
• How to turn meeting someone new into a brand new client
• How to make lasting friendships as an adult
We will also have a session where your new business besties can see the projects you're working on, and submit ways to help and support you on your mission.
Beverages Refreshments provided.
Saturday, July 15th • 9 AM EST- 5 PM EST
Program your mind for success and abundance – Want to know the secret to success and a six/seven figure business? Your mindset.
You may have heard it before but success is 20% strategy and 80% mindset. If you really want to go big with your business in terms of the impact you want to make and the money you want to earn, everything hinges on the inner work.
During the Saturday of Business Besties, we want to share with you powerful tools that have helped ourselves and many of our clients witness huge wins within their business.
Increase your confidence, flip the switch on those limiting beliefs and start broadening your mind to the unlimited possibilities available to you as you as you grow your online empire.
One of the things we are eager to share with you during the day is the powerful money mindset work. Strengthening our own wealth consciousness has enabled us to start hitting incredible income goals within our business and have allowed many of our clients to make their yearly salary their monthly salary.
If you want to start hitting five figure months within your business and want to start manifesting money into your life with ease, then we can't wait to introduce you to this powerful, transformative inner work.
Trust us when we tell you that this is going to be a GAME CHANGER.
Saturday:
8:30 - Start of Day + Sign In
9:00 - Coffee + Settling In
9:30 - Mindset + Law Attraction Strategy- Learn How To Shift Your Mindset And Self-Image To Step Into The Successful Woman You're Meant To Be
11:00 - Breakout Session
12:00 - Lunch + Networking
1:00 - Wealth Consciousness Mindset Training- Learn How To Become Friends With Money and Easily Attract Wealth
2:30 - Breakout Session
3:30 - How To Turn Your Passion + Purpose Into An Online Business- Struggling To Find Ways To Monetize Your Passion? In this session, we'll help you align to your deepest purpose and then walk you through ways that you can monetize in a way that feels easy, fun, and natural to you.
After today, you'll realize that wealth creation and building a business online can come quite easily, and money can flow to you freely while doing what you love. We'll also
Coffee, Lunch and refreshments provided
Sunday, July 16th • 9 – 5pm
On Sunday 16th July we are going to be focusing on the business strategies to back up the mindset work.
If you want to create a steady stream of dreamy clients who are queuing up to work with you, bring an influx of passive income into your business, if you want to be able to sell in a way that feels empowering rather than spammy, if you want to build a huge engaged following online of people who cannot wait to invest in you, then we cannot wait to share our pearls of wisdom. This day is for you.
Between us, we have an online community of over 80k women, we have created sell out coaching programs, have consistent booked out months with our clients, we have hosted retreats in incredible locations and we have been featured in publications such as The Huffington Post, Elite Daily Flare Magazine and Nylon.
Now, we want to show you how we made all of this possible whilst introducing you to a network of women who get it.
Personal Branding, Online Branding, Social Media
Sunday:
8:30 - Start of Day + Sign In
9:00 - Coffee + Refreshments
9:30 - Personal Branding + Creating Your Compelling Story
11:00 - Breakout Session- How To Find Your Target Client + Niche
12:00 - Lunch + Networking
1:00 - How To Build An Authentic Online Presence + Stand Out Online
2:30 - Breakout Session- Growing Your Instagram Following and Attracting Ideal Clients
3:30 - Mediated Networking + Sharing What You Do To Make Business Connections and Help Eachother
4:00 - Q + A Session and Group Coaching With Dani + Reese
Coffee, Lunch and refreshments provided