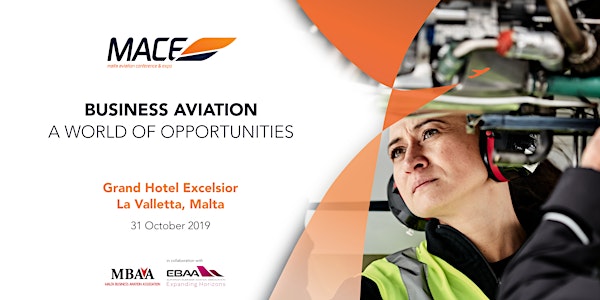 Business Aviation: A World of Opportunities
Come and discover the world of Business Aviation at Malta's largest aviation conference and exposition
When and where
Location
Grand Hotel Excelsior Malta Great Siege Road FRN 1810 Floriana Malta
About this event
BY INVITATION ONLY
As part of the first aviation conference & expo in Malta (MACE), the Malta Business Aviation Association (MBAA) and European Business Aviation Association (EBAA) invite you to attend dedicated presentations and receptions focused exclusively on business aviation.
On Thursday, 31 October 2019, from 9:00 am onward, these industry-specific sessions will uniquely offer national and European policymakers and the business aviation community a platform to discuss the industry's positive impact on corporate growth, local development and economic expansion, and debate how business aviation could be better integrated within Malta's transport and economic framework.
AGENDA
Opening and Plenary
08:00 Registration
Welcome Breakfast sponsored by Emirates Airlines
09:00 – 09:10 Welcome & Opening Remarks
09:10 – 09:30 Plenary Session 1: Aviation in Malta
Dr Ian Borg, Minister for Transport, Infrastructure and Capital Projects
09:30 – 10:00 Plenary Session 2: Aviation Industry Overview and Outlook
Eamonn Brennan, Director General of Eurocontrol
10:00 – 10:20 Keynote Speech: The Future of Malta as a Key Aviation Jurisdiction
Address by Dr Joseph Muscat, Prime Minister of Malta
10:20 – 11:00 Plenary Session 3: The Maltese Aviation Cluster
Captain Charles Pace, Director General Civil Aviation Directorate, Transport Malta
11:00 – 11:30 Coffee Break
Dedicated Business Aviation Conference Program
11:30 – 11:45 Contributing to a stronger Europe
Keynote address by Athar Husain Khan, Secretary -General of the European Business Aviation Association
11:45 – 12:00 Contributing to a stronger Malta
Keynote address by Stanley Bugeja, President of the Malta Business Aviation Association
12:00 – 13:00 Business Aviation in Malta: positive impact and challenges ahead
Miriam Dalli, Member of European Parliament, Razvan Stefan, CEO Emperor Aviation, Filippo Arcaleni, Partner DFS Advocates, Dr Katrina Abela, GVZH Advocates, David Grivet , Manager European Affairs EBAA, moderated by Stanley Bugeja, President, Malta Business Aviation Association
A dynamic panel discussion addressing the positive impact of business aviation on the Maltese economy. Panelists will address the main challenges facing the industry and will share proposals for how to make the Malta Aviation Strategy more inclusive of this essential sector.
13:00 – 14:30 Lunch
14:30 – 15:15 What future for Business Aviation in Europe?
Dr. Sebastiano Fumero, European Commission, Directorate Clean Planet, DG Research & Innovation, Dr. Anita Sengupta, Co-Founder and Chief Product Officer (CPO) of Airspace Experience Technologies (ASX), Paolo Sommariva, CEO, FL3XX, moderated by Athar Husain Khan, Secretary General of the European Business Aviation Association.
A panel of industry experts and regulatory officials exploring the influential role business aviation plays across Europe and addressing critical issues such as access to airspace and infrastructure, innovation & investment and sustainability.
15:15 – 15:45 Business aviation's competitive advantage for businesses
Presentations by Guillaume Chamoin, Jetcraft
The essential role business aviation plays in corporate productivity, security and competitiveness.
15:45 – 17:00 Business Aviation afternoon tea
Sponsored by Collins Aerospace
17:00 – 17:45 The future of urban air transport
Plenary Keynote by Dr. Anita Sengupta, Co-Founder and Chief Product Officer (CPO) of Airspace Experience Technologies (ASX)
19:30 Networking Dinner
*EBAA and MBAA will be taking photographs and video footage of the speakers and the audience. By participating in this event, you agree to be filmed and photographed and for your image to be used on EBAA's social media channels and website. An editorial video will be taken during the event, including shots of the participants. Should you wish not to be included, please inform us ahead of time at communications@ebaa.org