Event Information
Refund Policy
Contact the organizer to request a refund.
Eventbrite's fee is nonrefundable.
Planning and creating your guiding practice (Level-1)
About this Event
A 15-week nature-based exploration and comprehensive online course with instructor-led live webinar sessions and structured peer-to-peer working groups. This course is uniquely designed for trained guides who are interested in building, creating and tending their practice. Specifically for:
Forest Therapy Guides and Forest Bathing Guides
Mindful Outdoor Guides
Wilderness Guides
Backcountry and Registered Guides
and other kinds of Guides
What is included in this course:
1) Ongoing nature-based visioning support
2) Eight live zoom sessions with instructors, designed to serve the specific interests of those who sign up. Topics and themes covered will include:
Marketing & Promotion (websites, photography, newsletters)
Exploring different business models and your niche
Permitting, waivers and insurance
Networking with land managers and organizations
3) Ongoing self-directed small working groups with 4-6 peers (Optional and will be set up by the facilitators based on participant's interest, and level of availability. An agenda will be provided for working groups to follow or adapt as best suits.)
4) Access to a comprehensive online course that includes downloadable/printable PDFs, videos, readings, business resources for guides, forest therapy Invitations, self-directed nature connection, and guided explorations to support your own visioning.
5) Access to a privately hosted community forum on the same platform as the course to share photos, stories and resources.

Schedule:
15 weeks (every 2-weeks on Tuesdays)
Time: 10:00AM-12:00PM Eastern Standard Time
Starts: Tuesday, September 14, 2021
Ends: Tuesday, December 14, 2021
September 14 Orientation Session
September 28 Marketing - Exploring your niche and vision
October 12 Networking - Land managers, organizations, and other guides
October 26 Being realistic about your time and what you want - The journey of growing your practice
November 9 Promotion - Websites, Social Media and Newsletters
November 16 Money and You - Edges, How to charge, track and manage your practice's finances
November 30 Tending your guiding practice and yourself
December 14 Final Closing session
"Soon after completing my ANFT certification as a forest therapy guide, I enrolled in new training program, Building your Guiding Practice. Although my wife and I both have extensive career experience as senior non-profit organization managers, we have never owned and operated a private business before. The worksheets and other assignments has made a huge contribution to our business development and saved us days of wasted effort and conflict by making it fast and easy to clarify and concisely define our goals. We can't wait to gather all of the learning in this excellent program and put it to practical use as we build success in our new guiding business!" -Ted Kaiser, Forest Therapy Guide
Who is this class for:
Trained Forest Therapy Guides, Trained Forest Bathing Guides, Trained Mindful Outdoor Guides, Wilderness Guides, Backcountry and Registered Guides, and other types of Guides. If you have been trained in a similar modality and are interested in finding out if you are eligible for this course, please contact us at radicalhospitality4guides@gmail.com
You want your guiding practice and/or business to be in line with your authentic way of being in the world
You want to zero in on a niche that is most meaningful to you and how you will offer forest therapy or you have a clear vision and mission of what you want but could use some support professionalizing your practice and taking the next steps
You want an active guiding practice and are ready and willing to develop your practice and/or business
You don't necessarily want a business but you do want to guide walks more regularly
You want to connect with other professional guides in the field and are interested in being part of a structured peer-to-peer working group to work through challenges and share ideas

FAQs
Is there a minimum age requirements to enter the event?
18+
How can I contact the organizer with any questions?
Email us at radicalhospitality4guides@gmail.com
How many people will be in the course?
A minimum of 8 and a maximum of 20.
I'm still in training. Can I sign up or do I have to wait until I fully complete my training?
You must be at least 4 months into your guide training at the start of this course.
Can I sign up for just one of the Zoom sessions or part of the series?
If you feel called to take this course but can not come to every live Zoom session, you are fully welcome to register for the series and just come to what you can. All live Zoom sessions will be recorded. In an effort to create a container, there are no single tickets available.
What if I don't want to be part of a peer-to-peer working group?
That is totally fine. Participating in the peer-to-peer working is completely optional.
How much time is required to participate in the course?
6-8 hours per month
Live Sessions are two hours long and happen twice a month. (There are a total of eight 2-hour live session calls.)
(Optional)Peer to Peer Working Groups will meet 1-2 times per month for 2-hours depending on you and your groups availability and preference.
Online course work: This is a self-directed learning course. Spend the time you determine is appropriate for you.
What if I have never used Zoom?
Zoom is a free and user-friendly app. For each of our live Zoom sessions, we will send out a Zoom invitation link and password in advance. To join our scheduled "meetings" all you will have to do is click on the link and it will automatically bring you to the Zoom "meeting" where you will be prompted to enter the password and from there, you will automatically be joined into the group.
Leading up to our first session, we recommend that you download Zoom on to your phone and computer and you can do this here: https://zoom.us/.
What do I need to participate?
An internet connection and a device with the ability to use Zoom (computer, tablet, phone, etc.)
Your preferred writing or notetaking materials (pen, paper, tablet, notebook, colored pencils, etc.)
A willingness to explore and experiment
An open heart and a commitment of your time
We'd love to have you join us!
Sign up by July 1st to get the $100 Early Bird Discount. Click the green "Tickets" button above to register.
Who are your Instructors?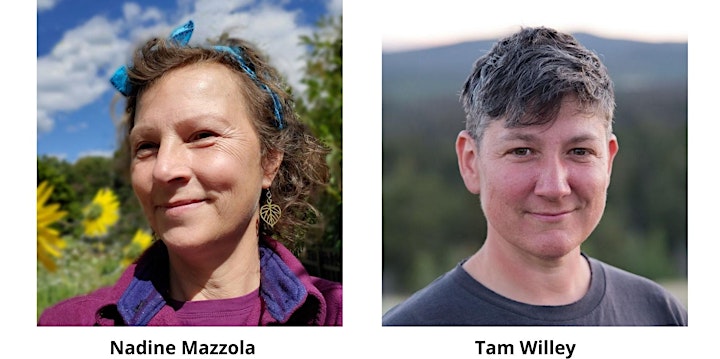 Tam Willey (they/she/he) is a Certified Forest Therapy Guide, trainer, mentor and teacher with the Association of Nature and Forest Therapy and is the founder of Toadstool Walks, a guiding practice based in Boston, Massachusetts. Tam has been self-employed since 2005 and brings 15 years of experience with marketing, self-promotion, website management, and administrative tasks that include everything from charging money, keeping track of income and expenses, paying quarterly taxes and general organizational professionalism.
Tam has guided forest therapy in collaboration with The Arnold Arboretum of Harvard University, The Emerald Necklace Conservancy, Mass Audubon, Peabody Essex Museum, Lesley University Holistic Psychology and Wellness, Boston University School of Theology, and more. Tam has designed and facilitated day long and multi-day immersion retreats, collaborating with organizations such as Boston Harbor Now, The Venture Out Project and other practitioners from a variety of modalities. Tam has been mentoring and serving LGBTQ Youth through various programs in Boston for the last decade and is passionate about the ways that forest therapy can build our collective empathy and compassion. Tam is motivated to explore how we can continually broaden and tend all our relationships, both human and beyond.
Nadine Mazzola (she/her) has been a Certified Forest Therapy Guide since 2015 based in Acton, MA. She founded her guiding business, New England Nature and Forest Therapy, in 2016. Nadine guides regularly and has formed partnerships with multiple organizations, She also does speaking engagements on forest therapy and occasional consulting with a variety of organizations. Nadine has also been a trainer/mentor with the Association of Nature and Forest Therapy and has a business and marketing background spanning twenty-five years.
In 2019, Nadine added award-winning author to her list of accomplishments. She wrote the book "Forest Bathing with Your Dog", which won four awards. The book combines the practice of forest therapy with our practice of walking our dogs and elevates the depth and meaning of both. She has been featured on PBS Windows to the Wild twice, ABC's Chronicle and in the Boston Globe and Boston Magazine. In addition to Nadine's business and marketing background, she was also formerly a world professional pocket billiards player competing on the Women's Professional Billiard Tour. Nadine has been guiding forest therapy walks since 2015. Also, an artist, she facilitates expressive arts classes often incorporating elements of forest therapy throughout.
Date and Time
Location
Refund Policy
Contact the organizer to request a refund.
Eventbrite's fee is nonrefundable.