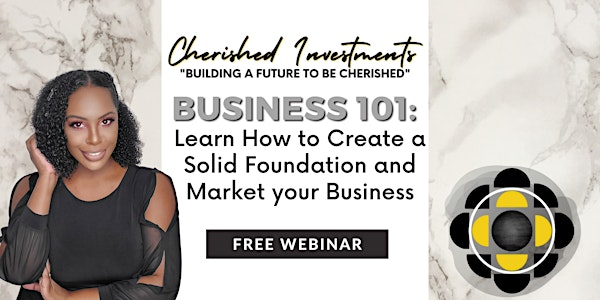 Business 101: Create a Solid Foundation
Join us for this free webinar to learn how to establish yourself as a leading expert in your industry.
About this event
Do you need to reach more customers but have found it difficult to grow and leverage social media with your current marketing plan?
Using ever-changing algorithms social media platforms make it hard for entrepreneurs to reach their target audience and develop a community around their brand.
Learn how to establish a stronger foundation for your current or future business allowing you to receive the full benefits of your marketing efforts.
You may be hesitating because you are not sure if you will get any "real" value from a FREE webinar. If you have reached a plateau with your business and are ready for a change but don't know where to start you are in the right place.
You will learn foundational business components like:
How to develop an entrepreneur's mindset
Goal setting and goal achievement
Elements of a successful brand
Identifying your target audience
As well as the essential marketing building blocks to place on your solid foundation like:
Marketing process structure
Content marketing fundamentals
Using social media to grow your reach
Creating content that converts
You will also walk away with resources to help you with research, content creation, and much more.
We realize how overwhelming it can feel to stay on top of all aspects of your business, often feeling like there are more things to do than hours in a day. We recognized how difficult it is to create a plan to accomplish your goals with the waterfall of information available on the internet.
Over a decade, LaShay LaRue has worked with more than 150 companies to grow their business and reach their target audience. She has worked with companies in various industries, including realtors, lenders, general contractors, restaurants, hotels, record labels, motivational speakers, etc. In her experience, she has learned the foundations of operating a successful business do not change.
This class was created to share the elements every business needs to be successful in any marketplace. This class aims to help entrepreneurs develop the skills they need to lay a solid foundation of marketing best practices to build the business of their dreams.
To get started all you have to do is follow a simple 3 step process:
Register for the class
Add the class to your calendar as a reminder
Attend class ready to take notes
That is all there is to it. It's time to go back to basics and lay a solid foundation for your business with digital marketing in mind.
Avoid wasting marketing dollars and wasted time on failed social media campaigns or posts that get little to no engagement.
Escape loss of revenue from decreased foot traffic from an unprecedented global pandemic.
Sign up for this webinar if you want to know what you can do to accelerate your business growth.