Busboys and Poets presents Comedy Night | Takoma | December 4, 2018 | Hosted by Allan Sidley

Tuesday, December 4, 2018 at 7:00 PM (EST)
Event Details
Why so serious?! If you are like us, you have found it hard to find things to laugh about. Working to change the world is grueling and daunting work, but the pursuit of happiness is what we are fighting for! So we are making time to LAUGH! Busboys and Poets is pleased to introduce COMEDY NIGHT in Takoma 
Come out on December 4th and get your ribs tickled, massage your funny bone, slap a knee or two. Because LAUGHTER is an act of resistance!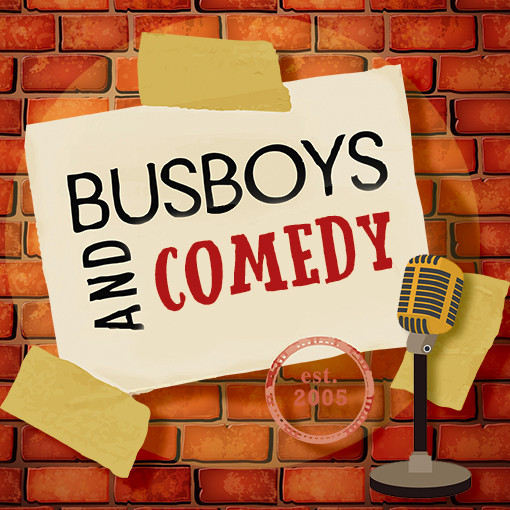 Produced by Allan Sidley:

As an only child, Allan was raised by his single Mother on the mean streets of Vienna, VA. She's still a single Mother...in case whoever is reading this is single and interested in dating an older lady. But let's not make this About Me about her. Allan journeys to bring laughter to those who need it, and a suitable step-dad to take home (hopefully).

An ex-improviser and lyricist, Allan is a jack off all trades. Allan's style is dry, and wet from perspiration, usually. He pokes fun at Jews, mostly his Mom & Grandma, and dissects cultural taboos like online dating while balding or enjoying the occasional funeral. Often serious yet silly, Allan manages to keep things light-hearted and his audiences on their toes with unexpected word play, misdirection, and other popular comedic devices. His comedy has been described as, "great for first dates" and "deprecation that doesn't make you feel bad."

He's opened (the door for) Sinbad, and toured throughout Eastern Europe in the summer of 2011 (not for comedy, just a fun fact). He did however recently feature at the DC Drafthouse, and was part of the Unkosher Comedy Tour.

About the Comedians:

Robert Mac: Robert is an award-winning comedy veteran with over two decades of experience in comedy clubs, casinos, cruise ships, festivals and the infrequent television appearance. His act has been described as clean, cerebral, silly, and a little self-deprecating. He was the grand prize winner of Comedy Central's national stand-up contest and the talent search winner for the Jerry Lewis Telethon, and has been invited to the Just for Laughs Festival in Montreal, the Boston Comedy Festival, and the inaugural Great American Comedy Festival. He's been seen on NBC's Last Comic Standing, Comedy Central's Premium Blend, and The Learning Channel as well. Robert enjoys long naps on the beach.

Dan Kapr: 
Dan
 was born with part of his face missing, and since then he's only gotten funnier. A cleft palate survivor, he was known to childhood friends as "the boy who can drink through his nose." 
Dan
 spent years working a variety of jobs: He ran youth programs, organized court files, and hassled senior citizens to make payments on their timeshares. He even spent one summer chasing bears away from campers (seriously!). Then one day, while handling urine samples for carnival employees, he thought to himself, "Now that I've achieved all my dreams, how can I give something back to the world?" Soon after that, he became a stand-up comedian. Inspired by comics like Mitch Hedberg and Steven Wright, 
Dan
 specializes in one-liners with an absurdist edge. He was was
recently featured in the Burbank Comedy Festival's "Best of the Fest" showcase. Those who see him perform are guaranteed a memorable, bear-free experience.
Charity Sade: Charity has performed at NYC's Stand-Up NY, and won a new comic competition at Greenwich Village Comedy Club. Most recently, you may have seen Charity at the DC Comedy
Festival,
or the Chicago Women's Funny Festival. On stage, she takes her difficult life experiences and turns them into relatable, humorous tales. Her comedic superpower is her ability to make you simultaneously laugh and cringe. You can catch Charity hosting open-mics at the DC Comedy Loft and DC's Wonderland Ballroom, and performing all around the DMV.
Loy Lee: Loy is an American Asian stand up comedian that hails from the far off and distant land of Boston, MA. Loy is a gifted writer, comedian
and
actor who continues to entertain audiences from coast to coast with his unique brand of comedic snark that is firmly planting him as one of the best comedians to look out for today.
Mark Mensh: Mark was born in DC and raised by a single mother in Alexandria, Virginia (which was cool) and by a single father in La Plata, Maryland (which was less cool, but totally unsupervised). After a full career in technology helping lay the groundwork to strip global citizens of their privacy AND their attention spans, he's decided to atone for those poor choices by entertaining strangers with his comedy. You may find him funny; you may not. He doesn't care, he has a 401k.
Kwame Amponsem: Kwame is a D.C. based comedian seen on various showcases and stages in the DMV and NYC notably including the DC Comedy Loft, Drafthouse Comedy Theatre, Tysons Comedy Cellar, Grisly Pear, Klimat Lounge, and as a regular host at The Pinch. His unique perspective combines with
sharp
wit to form a refreshingly modern, smart and entertaining routine enjoyed by a variety of audiences across the Mid-Atlantic. 
Seating is first come first served. Full menu & bar will be available throughout the event.
Have questions about Busboys and Poets presents Comedy Night | Takoma | December 4, 2018 | Hosted by Allan Sidley?
Contact Busboys and Poets
When & Where

Busboys and Poets
235 Carroll St NW
Washington, District of Columbia, 20012


Tuesday, December 4, 2018 at 7:00 PM (EST)
Add to my calendar
Organizer
Busboys and Poets is a community where racial and cultural connections are consciously uplifted... a place to take a deliberate pause and feed your mind, body and soul... a space for art, culture and politics to intentioanally collide... we believe that by creating such a space we can inspire social change and begin to transform our community and the world.