Busboys and Poets presents Comedy Night | Shirlington | March 19, 2019 | Produced by Allan Sidley

Tuesday, March 19, 2019 at 7:00 PM (EDT)
Event Details
Why so serious?! If you are like us, you have found it hard to find things to laugh about. Working to change the world is grueling and daunting work, but the pursuit of happiness is what we are fighting for! So we are making time to LAUGH! Busboys and Poets is pleased to introduce COMEDY NIGHT in Shirlington.
Come out on March 19th and get your ribs tickled, massage your funny bone, slap a knee or two. Because LAUGHTER is an act of resistance!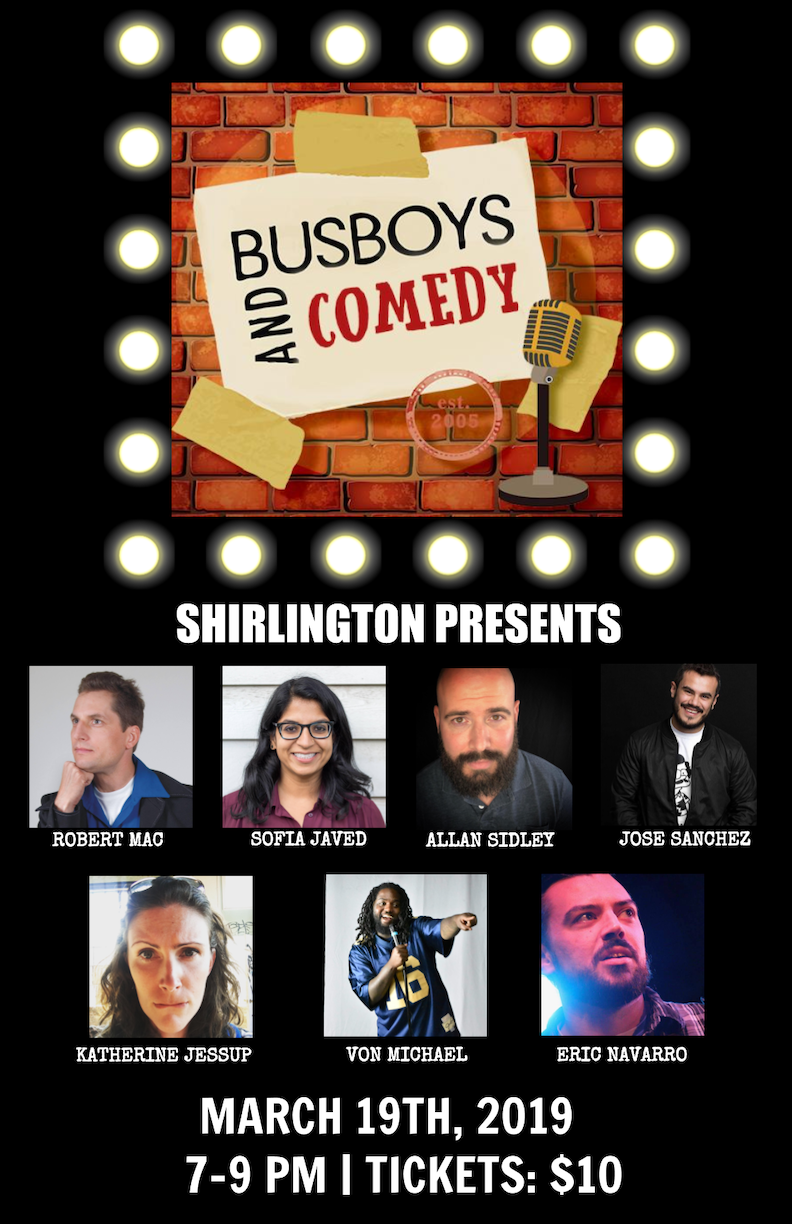 Produced by Allan Sidley:
A comedian, improviser and lyricist, 
Allan
 is a jack off all trades. 
Allan
's humor is dry, and a little wet from perspiration, usually. He pokes fun at Jews, mostly his Mom & Grandma, and dissects cultural taboos like online dating while balding or being a great +1 for a funeral. Often serious with hints of silly, 
Allan
manages to keep dark topics light-hearted and his audiences on their toes (so bring comfortable shoes). His comedy has been described as, "great for first dates." 
He's opened (the door for) Sinbad, and toured throughout Eastern Europe in the summer of 2011 (not for comedy, just a fun fact). He did however recently feature at Cozzys Comedy Club, and was a member of the 
Unkosher
Comedy
Tour
. In addition to running comedy shows at 
Busboys
 & Poets in Takoma, Shirlington, and 14th & V, he manages the Tysons Comedy Cellar and shows under his production company Sidley Standup.
About the Comedians:
Robert Mac: Robert is an award-winning comedy veteran with over two decades of experience in comedy clubs, casinos, cruise ships, festivals and the infrequent television appearance. His act has been described as clean, cerebral, silly, and a little self-deprecating. He was the grand prize winner of Comedy Central's national stand-up contest and the talent search winner for the Jerry Lewis Telethon, and has been invited to the Just for Laughs Festival in Montreal, the Boston Comedy Festival, and the inaugural Great American Comedy Festival. He's been seen on NBC's Last Comic Standing, Comedy Central's Premium Blend, and The Learning Channel as well. Robert enjoys long naps on the beach.

Sofia Javed: 
Sofia
can make at least one person laugh. She honed her skills on unsuspecting co-workers and metro riders for an undisclosed amount of time before hitting the stage as a comedian last year. She delivers tightly-worded, thought-provoking jokes around the DC-area and has also performed in Seattle, Chicago, and New York. Sofia's comedy is inspired by her life as a woman of color in America and her career as a cubicle bureaucrat. She enjoys steak.
Jose Sanchez: Jose performs in the nation's capital, Washington D.C. every day to hone his comedic talents. Armed with a vivid blend of real life observations and growing up Salvadorean in the United States, he has won audiences over from coast-to-coast. Known for his high energy, on and off the stage, Jose is a comic that is sure to make a name for himself. He has performed at The State Theatre, The Laugh Factory & was part of the Underground Comedy Festival last year.
Katherine Jessup: 
Katherine hopes you like her comedy, but it's cool if you don't. (You probably will though.) Commanding stages with the winsome charm of your slightly too honest best friend, her comedy's been described as sublime, profoundly relatable, and also available for birthday parties.
Von Michael:
Von Michael's been ripping up the stage from Newport to Baltimore for years opening for DC Legend Tony Woods and other greats like Deion Cole. He's got a laid back style but a sharp eye and keen mind. He's also one of the hardest working guys on the local scene. We love this dude and feel lucky to have him on our stage.
Eric Navarro: Eric Navarro is a comedian from Baltimore who recently relocated to central PA. Eric is a writer and editor for the satire website The Hard Times and the host of the Eric Tries Too Hard Podcast.
Seating is first come first served. Full menu & bar will be available throughout the event. 
Have questions about Busboys and Poets presents Comedy Night | Shirlington | March 19, 2019 | Produced by Allan Sidley?
Contact Busboys and Poets
When & Where

Busboys and Poets
4251 S. Campbell Ave
Arlington, VA 22206


Tuesday, March 19, 2019 at 7:00 PM (EDT)
Add to my calendar
Organizer
Busboys and Poets is a community where racial and cultural connections are consciously uplifted... a place to take a deliberate pause and feed your mind, body and soul... a space for art, culture and politics to intentioanally collide... we believe that by creating such a space we can inspire social change and begin to transform our community and the world.