Busboys and Poets presents Comedy Night | Shirlington | February 19th, 2019 | Produced by Allan Sidley

Tuesday, February 19, 2019 at 7:00 PM (EST)
Event Details
Why so serious?! If you are like us, you have found it hard to find things to laugh about. Working to change the world is grueling and daunting work, but the pursuit of happiness is what we are fighting for! So we are making time to LAUGH! Busboys and Poets is pleased to introduce COMEDY NIGHT in Shirlington.
Come out on February 19th and get your ribs tickled, massage your funny bone, slap a knee or two. Because LAUGHTER is an act of resistance!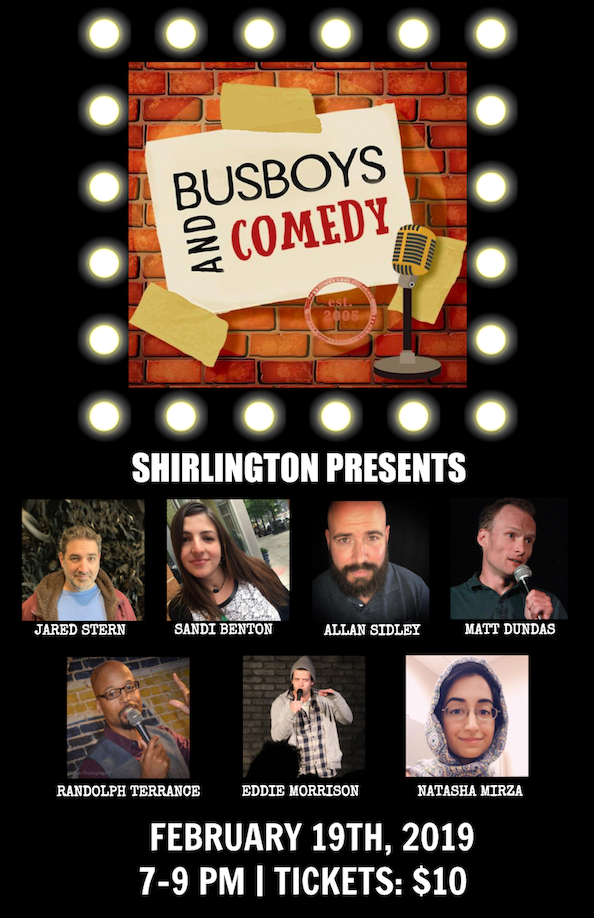 Produced by Allan Sidley:
A comedian, improviser and lyricist, Allan is a jack off all trades. Allan's humor is dry, and a little wet from perspiration, usually. He pokes fun at Jews, mostly his Mom & Grandma, and dissects cultural taboos like online dating while balding or being a great +1 for a funeral. Often serious with hints of silly, Allan manages to keep dark topics light-hearted and his audiences on their toes (so bring comfortable shoes). His comedy has been described as, "great for first dates." 

He's opened (the door for) Sinbad, and toured throughout Eastern Europe in the summer of 2011 (not for comedy, just a fun fact). He did however recently feature at Cozzys Comedy Club, and was a member of the Unkosher Comedy Tour. In addition to running comedy shows at Busboys & Poets in Takoma, Shirlington, and 14th & V, he manages the Tysons Comedy Cellar and shows under his production company Sidley Standup.
About the Comedians:
Jared Stern
: Jared has been making complete strangers laugh at him for over a decade. From humble beginnings at a hole-in-the-wall club in Baltimore, he is now the most humble person in the world, not that he's one to brag about it. He was recently told that his comedy was "top drawer", which is where he keeps his socks and underwear, so that makes sense. In 2013 he was voted best comedian in DC by readers of the Washington City Paper. He featured for What A Joke Fest (2017) & Laughfest (2018). His album, Strangers Laugh at Me, has been transcribed in the Library of Congress.
Sandi Benton: Sandi is a kind and charismatic panic attack. Like a chipmunk getting ready for the prom, Sandi is squeaky, anxious, and ready to dance. Her comedy has been described as "controlled chaos" (by a drunk guy at a show once) and touches on everything from ponies to prison. Her unique voice (both comedic and actual) can be heard all over the DMV.
Matt Dundas: Matt is a Washington, DC-based comedian. He's performed comedy at clubs and festivals across the country and once wrote a song about the NSA surveillance program that Glenn Greenwald called "quite pretty." Matt currently produces shows across DC with Capital Laughs and is co-founder of Grassroots Comedy DC.
Randolph Terrance: 
DC-based comic Randolph Terrance has worked with some of the biggest names in stand-up, and is a consummate professional with the ability to make any group of people laugh. His comedic style is described as "strictly for the grown and sexy," pairing a smooth delivery with sharp, funny material that engages your mind while tickling your funny bone! Personal observations, family encounters, strong opinions, life experiences both good and bad all find their way into routines that are as hilarious as they are smart and universal.
Eddie Morrison: A DC based stand-up comedian and actor. A native of the area, he regularly performs all over the DMV (as well as all over the country). His appearances include The Comedy Store (LA), DC Improv, and the Kennedy Center as part of the District of Comedy Festival.
Natasha Mirza: 
A recent player in the DC comedy scene, is a Muslim female comic (which feels weird to point out but kind of racist to ignore so here we are). Her comedy is often personal and involves universal everyday topics like arranged marriages, destroying female friendships and the occasional grand theft auto. Her performance style has been described as dry and "weirdly mean, like she thinks she's better than us". Past performances include the DC Improv and Chinese Disco.
Seating is first come first served. Full menu and bar will be available throughout the event. 
Have questions about Busboys and Poets presents Comedy Night | Shirlington | February 19th, 2019 | Produced by Allan Sidley?
Contact Busboys and Poets
When & Where

Busboys and Poets
4251 S. Campbell Ave
Arlington, VA 22206


Tuesday, February 19, 2019 at 7:00 PM (EST)
Add to my calendar
Organizer
Busboys and Poets is a community where racial and cultural connections are consciously uplifted... a place to take a deliberate pause and feed your mind, body and soul... a space for art, culture and politics to intentioanally collide... we believe that by creating such a space we can inspire social change and begin to transform our community and the world.