Busboys and Poets presents Comedy Night | Shirlington | December 19, 2018 | Produced by Allan Sidley

Wednesday, December 19, 2018 at 7:00 PM (EST)
Event Details
Why so serious?! If you are like us, you have found it hard to find things to laugh about. Working to change the world is grueling and daunting work, but the pursuit of happiness is what we are fighting for! So we are making time to LAUGH! Busboys and Poets is pleased to introduce COMEDY NIGHT in Shirlington.
Come out on December 19th and get your ribs tickled, massage your funny bone, slap a knee or two. Because LAUGHTER is an act of resistance!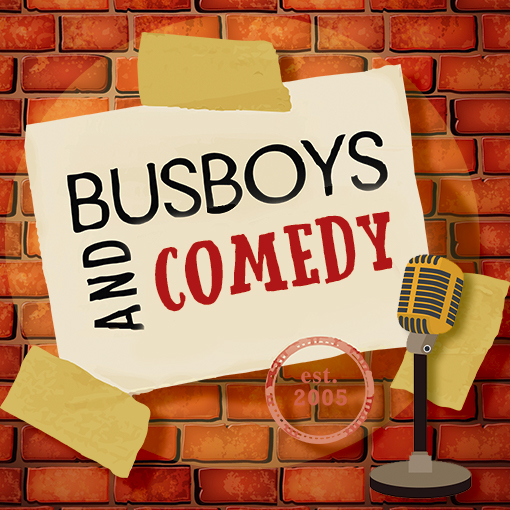 Produced by Allan Sidley:
As an only child, Allan was raised by his single Mother on the mean streets of Vienna, VA. She's still a single Mother...in case whoever is reading this is single and interested in dating an older lady. But let's not make this About Me about her. Allan journeys to bring laughter to those who need it, and a suitable step-dad to take home (hopefully).
An ex-improviser and lyricist, Allan is a jack of all trades. Allan's style is dry, and wet from perspiration, usually. He pokes fun at Jews, mostly his Mom & Grandma, and dissects cultural taboos like online dating while balding or enjoying the occasional funeral. Often serious yet silly, Allan manages to keep things light-hearted and his audiences on their toes with unexpected wordplay, misdirection, and other popular comedic devices. His comedy has been described as, "great for first dates" and "deprecation that doesn't make you feel bad."
He's opened (the door for) Sinbad, and toured throughout Eastern Europe in the summer of 2011 (not for comedy, just a fun fact). He did however recently feature at the DC Drafthouse, and was part of the Unkosher Comedy Tour.
About the Comedians:
Andrew Cook: Andrew is a DC based stand up comedian and performs all over the area, including the Kennedy Center and DC Improv. He is a regular at the Big Hunt and has also performed for the Underground Comedy Festival and the District of Comedy Festival. Andrew comes from a big Boston family -in both girth and number. If you're looking for someone to commiserate over spilled milk, diarrhea that comes out of nowhere, or inebriated McDonald's runs, he's your (fat)man.
Natalie McGill: Natalie is a D.C.-based stand-up comic who is an on-air correspondent and writer for the political satire show Redacted Tonight on RT America. She has opened for comics such as Judah Friedlander, Sasheer Zamata and Gilbert Gottfried, and has performed for the 2 Dope Queens podcast and District of Comedy Festival.
Keith Correy:  Keith is known for being a kid with a shy attitude from Washington DC, Keith Correy started Stand Up comedy at the age of 16, merely to prove something of himself. While lying to his single mother about working a normal job every night, his quiet but weird demeanor gave him the opportunity to observe his surroundings and present them on stage every night. Keith Correy's sense of humor is a deep abrupt weird aspect of his life, surroundings and even issues of today. His truth in every joke brings light and appeal to smiling faces to stages and venues around the country.
Jamal Russel: Jamal Started performing comedy in college in Boston, and has been doing it for about a year now. He recently moved back to DC. On stage, he's self-deprecating and tells stories about his family and life adventures. Offstage an avid movie watcher, football buff (49ers fan), and enjoyer of naps.
Christine O'Dea: Christine is honest, irate, and bold. Christine O'Dea is a new comic from the DC area, performing in shows around DC, Maryland and Northern Virginia. Christine is a member of the comedy group The Pinch Hitters and regularly hosts their open mic at The Pinch. Her comedy is composed of absurd commentary, unique observation and irreverent statements.
Jamie Benedi: Jamie is an imploding star on the DC comedy circuit. His comedic acumen is not limited to the stage, but is also used at home to annoy his parents who forgot he's still living in the basement. As seen on the DC Improv, Comic Strip NY, and Laughing Skull Lounge in Atlanta.
Seating is first come first served. Full menu & bar will be available throughout the event.
$10 tickets available online!! [full menu + bar available throughout the event]
Have questions about Busboys and Poets presents Comedy Night | Shirlington | December 19, 2018 | Produced by Allan Sidley?
Contact Busboys and Poets
Save This Event
When & Where

Busboys and Poets
4251 S. Campbell Ave
Arlington, VA 22206


Wednesday, December 19, 2018 at 7:00 PM (EST)
Add to my calendar
Organizer
Busboys and Poets is a community where racial and cultural connections are consciously uplifted... a place to take a deliberate pause and feed your mind, body and soul... a space for art, culture and politics to intentioanally collide... we believe that by creating such a space we can inspire social change and begin to transform our community and the world.