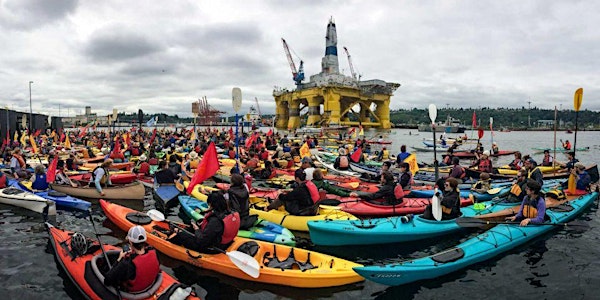 Bus from Newark, Delaware to "Stop Offshore Drilling" March in Washington D...
Location
Lafayette Square
Washington, DC
Description
On May 15th, grassroots leaders and climate activists will rally in Washington DC and call on President Obama to stop all new offshore drilling in the Arctic, Atlantic and in the Gulf of Mexico.
Over the next few months, the Obama administration will be working on their 5 year offshore drilling plan. A draft of the plan was released in March, and removed plans to expand drilling off the Atlantic seaboard. The current version of this plan still allows drilling in the Arctic and off the Gulf Coast. And that's still unacceptable.
We're calling on President Obama to say no to all new offshore drilling. That includes zero new drilling in the Arctic and zero new drilling off the Gulf Coast. This action is part of the international day of action to #BreakFree from fossil fuels. Join us in Washington D.C on May 15!
Here are the details:

WHAT: Stop Offshore Drilling! A rally and action calling for an end to new offshore drilling.
WHEN: May 15th, 2016 at 1:00 PM ET.
WHERE: Washington, DC.

TRAVEL: From Delaware our bus will depart at 10am from UD's Trabant Student Center. Trabant is on the corner of Main Street and South College Ave. in Newark. There is a parking garage directly next to the Trabant Center which you enter from Main Street (left side as you're coming down Main, first turn after College Ave. intersection) where you can park for a fee. We encourage you to walk, bike, take public transit or carpool as practical to reduce our travel emissions for the day. The bus will pick up in between the Trabant Student Center and parking garage. We will leave DC at 4:30pm and hope to be back to Newark by 7pm.
This event is so important that the Sierra Club is subsidizing the cost of the tickets so that everyone pays just $15. If you cannot afford the $15 bus ticket but want to go contact Stephanie and we'll work something out, or just come on Sunday morning. RSVP via this page is strongly requested, but NOT required. We want everyone to have a chance to be in DC for this historic event regardless of the ability to pay or RSVP in advance.
Questions? Call 302-468-4550 or email Stephanie.Herron@sierraclub.org
For more information, check out this site: https://dc.breakfree2016.org/
You need to bring:
Comfortable walking shoes

Water and snacks/lunch

Signs or other art!