Description
Favor de presentar su boleto impreso en la taquilla del teatro. Los asientos no son numerados. Favor de llegar con 30 minutos de anticipación. La función será presentada en español con subtítulos en ingles. Es recomendable para mayores de 16 anos, a discreción de los padres.
Burundanga la historia:

Berta (Barbara Garza) está embarazada pero no sabe si el tener al bebe sea la mejor decisión pues tiene dudas acerca de si Manel (Juan Cuspinera) es el hombre con quien debe pasar el resto de su vida. Para aclarar todas estas dudas, Silvia (Daniela Camiro) convence a Berta que la mejor solución es darle BURUNDANGA y así de una vez por todas despejar cualquier duda, sin saber que esta situación las llevaría a una serie de inesperados descubrimientos.
Burundanga, es una obra de enredos en la que las situaciones cotidianas y de interés social se satirizan de una manera muy sutil.
En complicidad con un lenguaje cotidiano y vivencias nada ajenas al común de la gente, Jordi Galcerán (escritor de El Método Gronholm, Cancún, Crédito entre otros éxitos teatrales) logra una comedia muy ligera en el que la Burundanga (nombre con el que se conoce a la Escopolamina en Colombia) sirve como catalizador evidencial de una serie de situaciones en las que los personajes de esta historia se ven envueltos y no sabrán cómo escapar.
____________________________English__________________________________

Please present your printed ticket at the box office. Seats are not numbered. Please arrive 30 minutes early. The show will be performed in Spanish with English subtitles. It is recommended for ages 16 and up at parental discretion.

Burundanga the story:

Berta (Barbara Garza) is pregnant but she does not know if having the baby is the best thing to do. She has doubts about whether or not Manel (Juan Cuspinera ) is the man of her life. To clear all these doubts , Silvia ( Daniela Camiro) convinces Berta to use BURUNDANGA as the solution to her problem. Doing this, she will, once and for all, dispel any doubts she has about her boyfriend. What they don't know, is that this will lead to a series of unexpected situations.

Burundanga is a play of entanglements in which everyday situations of social interest are satirized in a subtle way .

In complicity with everyday language and the common experiences of people , Jordi Galceran (writer of "The Gronholm Method" and "Cancun", among other theatrical wonders) achieves a very light comedy in which Burundanga (known as scopolamine in Colombia) is an evidential catalyst that unchains a series of situations from which the characters of the story will not know how to escape.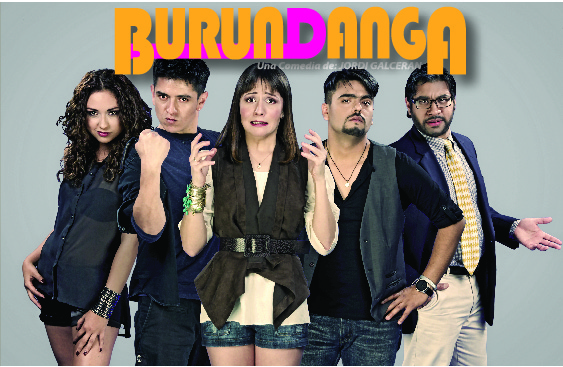 ALTA es una compañía teatral sin fines de lucro que busca producir obras de trascendencia cultural que transmitan emociones y creencias universales; emociones que sobrepasan barreras sociales, geo-políticas y religiosas basadas en la comunalidad de experiencias humanas con las que todos podemos identificarnos. Nuestro cometido es producir teatro al mejor nivel, somos representantes del teatro Latinoamericano en Austin, una ciudad diversa en todo el sentido de la palabra. Esto nos convierte en embajadores artísticos y culturales en toda el área Sur Central de los Estados Unidos, con estrategias muy ambiciosas que incluyen, entre otras cosas, trabajar con actores, directores y escritores reconocidos a nivel internacional.

ALTA forma parte del programa de compañías artísticas residentes en el Mexican American Cultural Center; además ha sido ganador del Premio a la Excelencia otorgado por la Ciudad de Austin y dicha institución.