Description
Linda Buckmaster grew up in 1960s Space Coast Florida, the daughter of a rocket engineer and one of the first children to undergo open-heart sugery. Buckmaster will read from and sign copies of her memoir, Space Heart, answer audience questions, and discuss the book with special guest Jim Ross (editor the Florida anthology of In Season).
Space Heart paints a picture of an era of endless optimism and television cowboys amid the looming Soviet threat. Combining prose poems, narrative memoir, and history, Buckmaster juxtaposes the natural world of Space Coast Florida in the 1950s and 60s with the cutting-edge technology of the early days of the space race.
Tickets not required, but RSVP is appreciated.
Seating is first come, first served, general admission.
Books for sale. Beer / wine by donation.
Support Burrow Press and our events by becoming a subscriber. 2018 subscribers recieve a copy of Space Heart, our 3 other 2018 books, and a handful of other perks.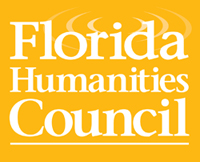 Funding for this program was provided through a grant from the Florida Humanities Council with funds from the National Endowment for the Humanities. Any views, findings, conclusions or recommendations expressed in this program do not necessarily represent those of the FHC or the NEA.