#burritupSF

Friday, November 19, 2010 from 7:00 PM to 11:00 PM (PST)
Event Details
UPDATE: I've added some SCVNGR challenges to the event! Be sure to download the app on your mobile device prior to the event to rack-up big points!
friday november 19th @ 7pm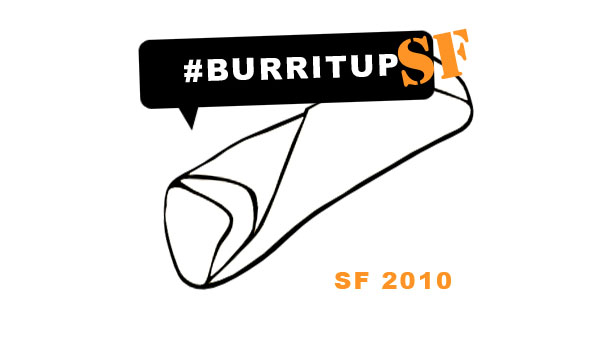 What the frak is a burritup?
Part tweet-up, part taqueria crawl. We'll be visiting 4  Mission taquerias all claiming to make the best burritos in SF to determine the twitter winner!
What do I need to do?
Register (here on eventbrite), show up, choose a burrito-buddy (or not), grab a score card (from me), and start stuffing your face.
What does it cost?
This #burritup is not a sponsored event. This means you are responsible for buying your own burritos.
Meet-up & how-to:
The #burritup will naturally take place in the burrito breeding and battling grounds of The Mission District. We'll meet in the open area near 24th Street BART (across from the Mc Donalds). You can start tweeting (#burritupsf) here. You'll be found. You may even get a twitter name tag so we know who you are.
Once the group is ready, we'll start along the Destruction Path aka the burritup route. You and your burrito buddy can split up. One will go to El Farolito, the other La Corneta. Splitting up will alleviate unnecessarily long waits. We'll reconvene outside La Corneta, assess our burritos, then head up Mission St. together to Taqueria Cancun and finally El Buen Sabor.
Again, the stops are:
La Corneta (baby burritos!)
Don't like these places? Host the next #burritup!
Wait. You expect me to eat 4 burritos?
Not unless you want to (I so want to). Again, this is where the burrito-buddy comes in handy. Sharing is caring. Most taquerias will even cut the burritos in half if you want to avoid awkward twitter germs.
It's Friday.
If you want to keep the party going, El Buen Sabor is just steps away from Elbo Room. Drinking, dancing and tweeting at this venue are encouraged but certainly not mandartory.
I like maps.
Here ya go: Map of walking tour
Share as you go! 
email your pics and vids to posterous during the event!
email post@burritupsf.posterous.com

http://burritupsf.posterous.com/
If you show up late, you should be able to find us via The Twitter.
Please register!
Hope to meet you there!

Rain or shine. Locations subject to change if need be.
Be sure to check the event again before your departure.

Can't make it? Follow us Novemer 19th on Twitter. Search #burritupsf 
Special thanks to @CMajor for passing the torch, @pistachio for the connection,
 @rodbegbie and @rockbandit for having more twitter followers than me.

Attendee List
Sort by:

Date

|

First Name

|

Last Name
When & Where

Meet between 24th St BART and El Farolito
2779 Mission St (between 23rd St & 24th St)
San Francisco, CA


Friday, November 19, 2010 from 7:00 PM to 11:00 PM (PST)
Add to my calendar
Organizer
@catchfoot
Burrito lover, foodphile.