Burns Night Celebration 2017: A Fundraiser for the Providence Athenæum
Actions and Detail Panel
Burns Night Celebration 2017: A Fundraiser for the Providence Athenæum
Wed, January 25, 2017, 6:00 PM – 8:00 PM EST
Description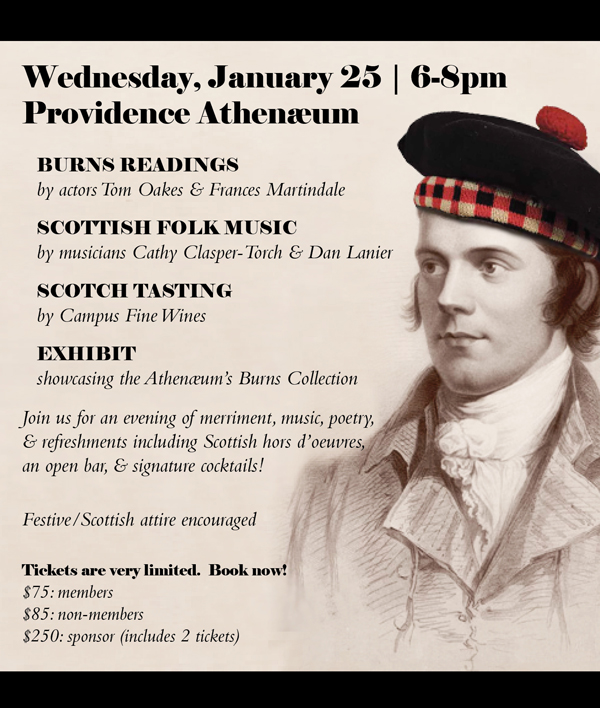 **Burns Night has reached capacity. To be added to a waitlist, please contact Danielle Kemsley at dkemsley@provath.org or 401-421-6970 x15.**
"My heart's in the Highlands, wherever I go..."


Event Chair:
Cathy Lund
Lead Event Sponsors:
Susan Jaffe Tane
Sally Strachan
Dr. Beverly Walters and Dr. George Buczko
Sponsors:
Lucien and Kristi Agniel
James and Susan Allen
Sheryl and Everett Amaral
Roy and Laura Brady
Ann Clark and Sam Dudley
Birch Coffey and Chas A. Miller III
Pamela and Albert Dahlberg
Lewis and Betty Dana
Mr. Brian Daniels and Mr. Jeff C. Davis
James DeRentis and Brett Smiley
Jane Driver and BJ Dupre
Tripp Evans and Edward Cabral
Grace and Carl Farmer
Mr. and Mrs. Michel Fleuette
Mark and Catherine Gim
Donna Cameron Gricus and Paul Gricus
Teresa and Peter Hacunda
Brian and Lyn Hayden
Jimmy and Eileen Keck
Jean Lewis Keith
Marcia and Philip Lieberman
Leslie Lampe Long
Cathy Lund and Peter Karczmar/City Kitty Veterinary Care for Cats
Patrick Luvara and Jill Wasserman
Peter and Kathryn Mandel
Irving and Kay Sheldon
Deming and Jane Sherman
Sheldon Whitehouse, United States Senator
Connie and Terry of Scotstoun


---
We are reviving our popular Burns night celebration, last held almost a decade ago. Gather at the Athenæum in the depths of winter to celebrate the birthday of Scotland's national poet Robert Burns and support the library! Come in from the cold for a festive night of music, poetry, good company, and all things Scottish. Plus a kilt competition, so look your best!
Rarely seen items from the Philbrick Rare Book Room's Burns Collection will be on view. This collection consists of over 450 18th & 19th century volumes of Burns' works donated to the library in 1924. Also on view will be a Complete Works of Robert Burns, owned and annotated by Walt Whitman and kindly loaned to the Athenæum by Susan Jaffe Tane. This extraordinary volume, containing Whitman's own notes and clippings, has not been publicly exhibited since it entered Andrew Carnegie's personal collection over a century ago.
Tickets are very limited and we expect to sell out quickly, so please act soon! If you are unable to attend, but would like to make a donation in support of the Athenæum and its programs, please click here to make a gift online.
Please contact Danielle Kemsley at 401-421-6970 x15 or dkemsley@provath.org with any questions about the event or if you would prefer to make a pledge to reserve your spots and then mail a check.