Sales Have Ended
Ticket sales have ended
COVID PROTOCOL: To be permitted to enter Burnpile, guests will need to be Fully Vaccinated (as defined below) with an FDA or WHO authorized vaccine, or provide one of the following options listed under "Non-Vaccinated Guest Protocol". Evidence of the vaccination will be required at the time of entry along with a valid state issued ID and a valid ticket for the event. Other health & safety requirements may be required in addition to the vaccine as we work in conjunction with the Buncombe County Department of Health and Human Services. "Fully vaccinated" means on the day of the performance date as shown on the valid ticket, a guest is: at least 14 days after their second dose of an FDA or WHO approved two dose COVID-19 vaccine, or at least 14 days after their single dose of an FDA or WHO approved single dose COVID-19 vaccine. Proof of vaccination must come directly from the healthcare provider that performed the vaccination. Guests may display proof on a smartphone or present a physical copy. Non-Vaccinated guest protocol negative COVID-19 PCR test performed by a medical provider within 72 hours of the performance start time. The test results must clearly show the date and time of the test. PCR tests are also available on site and will be at cost to the attendee. OR negative COVID-19 rapid antigen test taken within 6 hours of the time of entry to the festival. The test results must clearly show the date and time of the test. This test may be performed by a medical professional or by using an over-the-counter testing kit. Entry will be denied for guests who do not provide the documentation as required above and will forfeit their ticket at their own risk. Burial Beer Company will not be issuing refunds for those guests who do not follow the above listed guidelines. MASK POLICY Masks are required for all guests, regardless of vaccination status, while inside any building on property and while in line for beer. This is to keep our team and all fellow guests safe during this event and maintain our commitment to our community for safe, inclusive and collaborative places for people to gather. We do encourage all guests to socially distance where possible and to utilize sanitation stations frequently. Single use service ware and individually wrapped items will be in use throughout the event. To deter moving all of this to landfills, we will be using compostable materials and ask that you dispose of these items in their respective containers. FAQ: - Will food be available at Burnpile? Food from the chefs at Burial Forestry Camp will be available. - Food from the chefs at Burial Forestry Camp will be available. Absolutely. We will have a wide array of merch options available for purchase at the merch tent. - What is the COVID protocol? Please see above for the Burnpile 2021 COVID Protocol. - Are Pets allowed? While we love pets, no pets are allowed at Burnpile 2021. - Is this a 21+ event? Yes, Burnpile 2021 is a 21+ event. - Will there be on-site parking for the event? There will be no on-site parking. However, there will be very limited parking available in designated areas in the neighboring Ferguson Plumbing and RB's Gas parking lots. This parking is very limited. Utilizing Uber or Lyft is strongly encouraged and we will have a designated pick up spot for after the festival. - If I purchase a Concert Goer ticket can I upgrade to General Admission the day of the event? Yes, Concert Goer ticket holders may upgrade to General Admission the day of the event. Concert Goers will have access to a Burial Can and wine bar where they can purchase individual cans and pours of wine but will not have access to the full tasting experience of 50+ breweries. - Can General Admission and VIP tickets purchase individual Burial cans and pours of wine to consume during the event? Yes. In addition to having unlimited access to 50+ breweries beers, you may also purchase individual Burial cans and pours of wine to consume at the festival for an additional cost. Items at the Burial Can and Wine bar are not included in your ticket price. - Will cash be accepted at Burnpile 2021? No, Burnpile 2021 is a cashless event. - Are there opportunities to volunteer at Burnpile 2021? We love volunteers. If you would like to volunteer to work at Burnpile 2021, please email info@burialbeer.com. Volunteers must be 21+ years old. - Is a photo of a COVID 19 Vaccination Card accepted? Yes, a photo of the COVID 19 Vaccination card is accepted and must be presented with an ID to match the name on the vaccination card. - What are the VIP Exclusive Burial Beers and where do I pick them up? VIP Ticket holders will pick up the two VIP Burial beers at Burnpile. They will be available at the Burial Can + Merch Tent during the entire festival. You will need to present an ID to pick up the bottles. The two Burial beers that are only available for VIP include Too Much To Bear- A Blend of Cognac, Bourbon, and Calvados Barrel-Aged Strong Ales-500ml A Moderation That Was Within Reach Barrel-Aged Red Sour Ale with Blueberries and Cherries- 500ml
Sales Have Ended
Ticket sales have ended
COVID PROTOCOL: To be permitted to enter Burnpile, guests will need to be Fully Vaccinated (as defined below) with an FDA or WHO authorized vaccine, or provide one of the following options listed under "Non-Vaccinated Guest Protocol". Evidence of the vaccination will be required at the time of entry along with a valid state issued ID and a valid ticket for the event. Other health & safety requirements may be required in addition to the vaccine as we work in conjunction with the Buncombe County Department of Health and Human Services. "Fully vaccinated" means on the day of the performance date as shown on the valid ticket, a guest is: at least 14 days after their second dose of an FDA or WHO approved two dose COVID-19 vaccine, or at least 14 days after their single dose of an FDA or WHO approved single dose COVID-19 vaccine. Proof of vaccination must come directly from the healthcare provider that performed the vaccination. Guests may display proof on a smartphone or present a physical copy. Non-Vaccinated guest protocol negative COVID-19 PCR test performed by a medical provider within 72 hours of the performance start time. The test results must clearly show the date and time of the test. PCR tests are also available on site and will be at cost to the attendee. OR negative COVID-19 rapid antigen test taken within 6 hours of the time of entry to the festival. The test results must clearly show the date and time of the test. This test may be performed by a medical professional or by using an over-the-counter testing kit. Entry will be denied for guests who do not provide the documentation as required above and will forfeit their ticket at their own risk. Burial Beer Company will not be issuing refunds for those guests who do not follow the above listed guidelines. MASK POLICY Masks are required for all guests, regardless of vaccination status, while inside any building on property and while in line for beer. This is to keep our team and all fellow guests safe during this event and maintain our commitment to our community for safe, inclusive and collaborative places for people to gather. We do encourage all guests to socially distance where possible and to utilize sanitation stations frequently. Single use service ware and individually wrapped items will be in use throughout the event. To deter moving all of this to landfills, we will be using compostable materials and ask that you dispose of these items in their respective containers. FAQ: - Will food be available at Burnpile? Food from the chefs at Burial Forestry Camp will be available. - Food from the chefs at Burial Forestry Camp will be available. Absolutely. We will have a wide array of merch options available for purchase at the merch tent. - What is the COVID protocol? Please see above for the Burnpile 2021 COVID Protocol. - Are Pets allowed? While we love pets, no pets are allowed at Burnpile 2021. - Is this a 21+ event? Yes, Burnpile 2021 is a 21+ event. - Will there be on-site parking for the event? There will be no on-site parking. However, there will be very limited parking available in designated areas in the neighboring Ferguson Plumbing and RB's Gas parking lots. This parking is very limited. Utilizing Uber or Lyft is strongly encouraged and we will have a designated pick up spot for after the festival. - If I purchase a Concert Goer ticket can I upgrade to General Admission the day of the event? Yes, Concert Goer ticket holders may upgrade to General Admission the day of the event. Concert Goers will have access to a Burial Can and wine bar where they can purchase individual cans and pours of wine but will not have access to the full tasting experience of 50+ breweries. - Can General Admission and VIP tickets purchase individual Burial cans and pours of wine to consume during the event? Yes. In addition to having unlimited access to 50+ breweries beers, you may also purchase individual Burial cans and pours of wine to consume at the festival for an additional cost. Items at the Burial Can and Wine bar are not included in your ticket price. - Will cash be accepted at Burnpile 2021? No, Burnpile 2021 is a cashless event. - Are there opportunities to volunteer at Burnpile 2021? We love volunteers. If you would like to volunteer to work at Burnpile 2021, please email info@burialbeer.com. Volunteers must be 21+ years old. - Is a photo of a COVID 19 Vaccination Card accepted? Yes, a photo of the COVID 19 Vaccination card is accepted and must be presented with an ID to match the name on the vaccination card. - What are the VIP Exclusive Burial Beers and where do I pick them up? VIP Ticket holders will pick up the two VIP Burial beers at Burnpile. They will be available at the Burial Can + Merch Tent during the entire festival. You will need to present an ID to pick up the bottles. The two Burial beers that are only available for VIP include Too Much To Bear- A Blend of Cognac, Bourbon, and Calvados Barrel-Aged Strong Ales-500ml A Moderation That Was Within Reach Barrel-Aged Red Sour Ale with Blueberries and Cherries- 500ml
Festival includes unlimited pours from 50+ breweries, a concert with performances by Expo 70, Deserta, and Atlanta based rapper, Grip.
About this event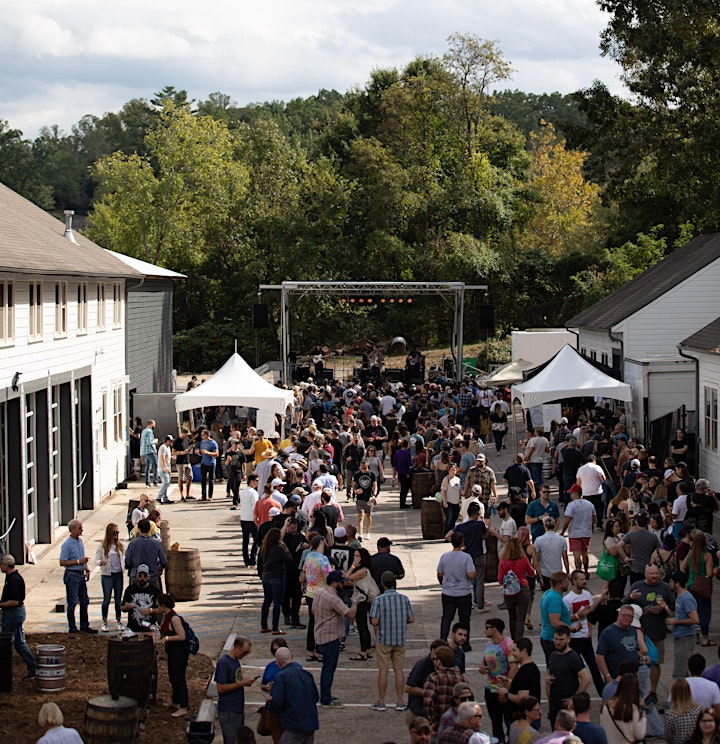 On October 9th, Burial will return to the original format of the beloved Burnpile Harvest Fest. The festival will include a tasting experience featuring beer from 50+ breweries, a full day concert with performances by Expo 70, Deserta, and Atlanta based rapper, Grip. A limited number of VIP tickets will be available, as well as General Admission and Concert Goer tickets. Tickets are now on sale. Please scroll down for our COVID Policies, Ticket Packages and FAQs.
Breweries:
18th St. Brewery
3 Sons Brewing Co
Allagash Brewing Company
Alvarado Street Brewery/Yeast of Eden
Arizona Wilderness Brewing Co.
Barrier Brewing Co.
Bearded Iris Brewing
Bellwoods Brewery
Birds Fly South Ale Project
BKS Artisan Ales
Blackberry Farm Brewery
Botanist and Barrel
Bottle Logic Brewing
Burial Beer Co.
Casita Brewing Company
Cellarmaker Brewing Company
Civil Society Brewing Co
Creature Comforts Brewing Co
The Eighth State Brewing Company
Evil Twin Brewing
Finback Brewery
Fonta Flora Brewery
Forest & Main Brewing Company
Green Cheek Beer Co.
HalfWay Crooks Beer
Heirloom Rustic Ales
Hi-Wire Brewing
Highland Park Brewery
Holy Mountain Brewing
Horus Aged Ales (VIP ONLY)
Hudson Valley Brewery
Industrial Arts Brewing Company
Interboro Spirits and Ales
J. Wakefield Brewing
Jackie O's Pub & Brewery
Jester King Brewery
Monkish Brewing Co.
Odd Colony Brewing Company
Other Half Brewing
Our Mutual Friend Brewing Co
Oxbow Brewing Company
Pen Druid Brewing
Pinthouse Pizza
Resident Culture Brewing Company
Salud Cerveceria
Southern Grist Brewing Co
Threes Brewing
Trillium Brewing
Tripping Animals Brewing
Trophy Brewing Co.
TRVE Brewing Company
Unseen Creatures Brewing & Blending
Vitamin Sea Brewing
Wayfinder Beer
WeldWerks Brewing Co.
Wunderkammer Bier
Zillicoah Beer Co.
OFF-TOPICS:
All three Off Topics will be located on the stage. We will have 1 special for VIP hour. Instead of pouring beer for everyone, we will highlight the beer for the Off Topic at the tap station for people to taste
Off Topic Schedule - All Off Topics Take Place on Stage
VIP- 12:15- Beer will be tapped at the start of the Off Topic
Who: GRIP, Justin Wright from Expo Seventy, Doug Reiser + Tim Gormley from Burial Beer Co.
Topic: Music and Craft Beer: The flow of inspiration
Beer Tapping: Burial Beer Co.+ Unseen Creatures + Expo Seventy Collab Mystic Caravan An India Pale Ale with Rice & Lychee at Tap Station 8- Thing
2:00PM- Beer will be tapped at the start of the Off Topic
Who: Amanda and Phil McLamb from Resident Culture + Doug and Jess Reiser from Burial Beer Co.
Topic: Leadership in Beer: how gender roles influence how we lead and why we love craft beer
Beer Tapping: Resident Culture FESTBIER Traditional German Festbier - 6% ABV at Tap Station 8- Pinhead
3:45PM- Beer will be tapped at the start of the Off Topic
Who: Cameron, Tara + Adam from Eighth State, Doug Reiser + Tim Gormley from Burial Beer Co.
Topic: The Making of a Stout: Adjuncting and Blending
Beer Tapping: 4 Different Stouts (all limited) from Eighth State at Tap Station 10 - Jekyll + Hyde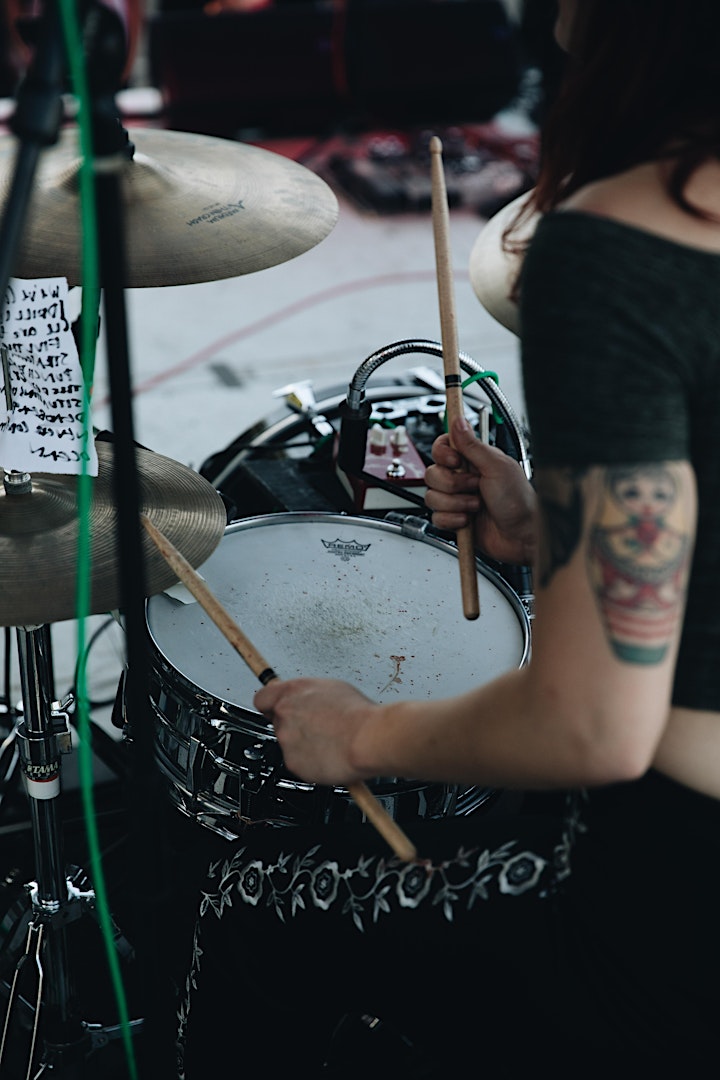 Music:
GRIP
He's been called Atlanta's Next Great Storyteller, and the name couldn't be more fitting. GRIP has consistently carved a niche for himself within Hip-Hop, starting with his breakout project Porch in 2017, where the East Atlanta native first planted the seed of being known for unclassifiable game-changing music. In 2019, GRIP released Snubnose, a project that changed it all, as his knack for creating concept projects was taken to the next level. His music reached the ears of none other than Eminem, who added the upstart to his Shady Records roster.
His upcoming release I Died For This!? presents an evolved sound, while maintaining GRIP's love of conceptual themes.
I Died For This!? is an idyllic introduction to those just learning about GRIP and a reminder for existing fans that the musician doesn't fit a cookie cutter sound and that's just the way he likes it.
DESERTA
As experimental as it is enthralling, Deserta's Black Aura My Sun applies the vapor-trailed production values and sublime dynamics of Doty's previous group projects (including post-rock band Saxon Shore and the synth-laced post-punk of Midnight Faces) to a shoegaze-y sound that splits the difference between Slowdive and Sigur Rós. Deserta expands and contracts in that environment, with chords that drift like clouds, drums that drag and dissipate, and hooks that hang in the air for what feels like forever.
"A dreamy guitar record that you'll want to turn way up." - Bob Boilen, NPR
"A modern shoegaze classic." - Rough Trade
"Likely to be one of the best shoegaze releases of the coming year." - Post-punk.com
EXPO SEVENTY
Expo Seventy is a heavy psychedelic trio which evolved out of Justin Wright's solo project Expo '70 that he conjured in 2003 while living in Los Angeles, California. Wright moved to in Kansas City, Missouri in 2005 and continues to produces music that is sought after by people all over the world. Expo '70 started out as an experimental outlet and platform for collaborative improvisations and grew into a psychedelic Krautrock-inspired trio, now known as Expo Seventy. Taking cues from obscure 70's underground music such as Tangerine Dream and Hawkwind, the music projects the listener into other worlds and allows the listener to take their own journey…if they desire.
COVID PROTOCOL:
To be permitted to enter Burnpile, guests will need to be Fully Vaccinated (as defined below) with an FDA or WHO authorized vaccine, or provide one of the following options listed under "Non-Vaccinated Guest Protocol". Evidence of the vaccination will be required at the time of entry along with a valid state issued ID and a valid ticket for the event. Other health & safety requirements may be required in addition to the vaccine as we work in conjunction with the Buncombe County Department of Health and Human Services.
"Fully vaccinated" means on the day of the performance date as shown on the valid ticket, a guest is:
at least 14 days after their second dose of an FDA or WHO approved two dose COVID-19 vaccine, or
at least 14 days after their single dose of an FDA or WHO approved single dose COVID-19 vaccine.
Proof of vaccination must come directly from the healthcare provider that performed the vaccination. Guests may display proof on a smartphone or present a physical copy.
Non-Vaccinated guest protocol
negative COVID-19 PCR test performed by a medical provider within 72 hours of the performance start time. The test results must clearly show the date and time of the test. PCR tests are also available on site and will be at cost to the attendee.
OR
negative COVID-19 rapid antigen test taken within 6 hours of the time of entry to the festival. The test results must clearly show the date and time of the test. This test may be performed by a medical professional or by using an over-the-counter testing kit.
Entry will be denied for guests who do not provide the documentation as required above and will forfeit their ticket at their own risk. Burial Beer Company will not be issuing refunds for those guests who do not follow the above listed guidelines.
MASK POLICY
Masks are required for all guests, regardless of vaccination status, while inside any building on property and while in line for beer. This is to keep our team and all fellow guests safe during this event and maintain our commitment to our community for safe, inclusive and collaborative places for people to gather.
We do encourage all guests to socially distance where possible and to utilize sanitation stations frequently.
Single use service ware and individually wrapped items will be in use throughout the event. To deter moving all of this to landfills, we will be using compostable materials and ask that you dispose of these items in their respective containers.
FAQ:
- Will food be available at Burnpile?
Food from the chefs at Burial Forestry Camp will be available.
- Food from the chefs at Burial Forestry Camp will be available.
Absolutely. We will have a wide array of merch options available for purchase at the merch tent.
- What is the COVID protocol?
Please see above for the Burnpile 2021 COVID Protocol.
- Are Pets allowed?
While we love pets, no pets are allowed at Burnpile 2021.
- Is this a 21+ event?
Yes, Burnpile 2021 is a 21+ event.
- Will there be on-site parking for the event?
There will be no on-site parking. However, there will be very limited parking available in designated areas in the neighboring Ferguson Plumbing and RB's Gas parking lots. This parking is very limited. Utilizing Uber or Lyft is strongly encouraged and we will have a designated pick up spot for after the festival.
- If I purchase a Concert Goer ticket can I upgrade to General Admission the day of the event?
Yes, Concert Goer ticket holders may upgrade to General Admission the day of the event. Concert Goers will have access to a Burial Can and wine bar where they can purchase individual cans and pours of wine but will not have access to the full tasting experience of 50+ breweries.
- Can General Admission and VIP tickets purchase individual Burial cans and pours of wine to consume during the event?
Yes. In addition to having unlimited access to 50+ breweries beers, you may also purchase individual Burial cans and pours of wine to consume at the festival for an additional cost. Items at the Burial Can and Wine bar are not included in your ticket price.
- Will cash be accepted at Burnpile 2021?
No, Burnpile 2021 is a cashless event.
- Are there opportunities to volunteer at Burnpile 2021?
We love volunteers. If you would like to volunteer to work at Burnpile 2021, please email info@burialbeer.com. Volunteers must be 21+ years old.
- Is a photo of a COVID 19 Vaccination Card accepted?
Yes, a photo of the COVID 19 Vaccination card is accepted and must be presented with an ID to match the name on the vaccination card.
- What are the VIP Exclusive Burial Beers and where do I pick them up?
VIP Ticket holders will pick up the two VIP Burial beers at Burnpile. They will be available at the Burial Can + Merch Tent during the entire festival. You will need to present an ID to pick up the bottles. The two Burial beers that are only available for VIP include
Too Much To Bear- A Blend of Cognac, Bourbon, and Calvados Barrel-Aged Strong Ales-500ml
A Moderation That Was Within Reach Barrel-Aged Red Sour Ale with Blueberries and Cherries- 500ml