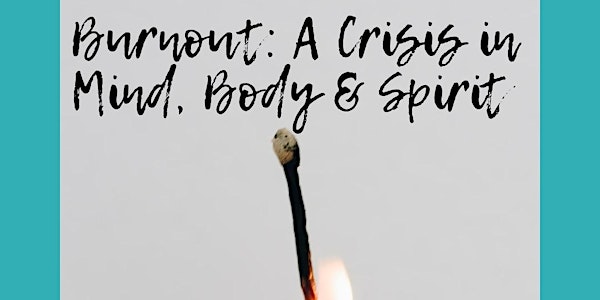 Burnout: A Crisis of Mind, Body & Spirit
A free webinar discussing the warning signs, triggers, and techniques needed to prevent burnout and build resiliency.
Refund Policy
Contact the organizer to request a refund.
Eventbrite's fee is nonrefundable.
About this event
With demands, expectations, and stress ever increasing, no one is safe from the risk of burnout. This is especially true for entrepreneurs, helping professionals, and first responders.
About this Event:
Burnout: A Crisis of Mind, Body, & Spirit
Burnout is becoming a major issue in today's world. With demands, expectations, and stress ever increasing, entrepreneurs, professionals, and first responders alike are especially at risk for burnout. While burnout can manifest itself through various signs and symptoms, it is driven by several key factors, especially chronic stress. We will look at these factors as they relate to the mind, body, and spirit and how they come together to produce burnout. Strategies to defend against burnout will be discussed, as well. At the end of the presentation, participants should be able to:
• Define burnout.
• Recognize risk factors and warning signs of burnout.
• Evaluate the effects of burnout on the mind, body, and spirit.
• Implement strategies to minimize stress and burnout risk.
About the Speaker:
Amber K. Reed, MA, QP, CPSS, NBC-HWC, CNWE
Amber K. Reed is a National Board Certified Health & Wellness Coach in private practice who recently opened Balanced Energies, LLC, which specializes in the gut-brain connection and the role stress plays in creating imbalances. She is a Qualified Professional and Certified Peer Support Specialist and has experience supporting people in their mental health recovery goals through multiple modalities, including exercise, nutrition, and stress reduction. Amber recognizes the impact social factors have on a person's beliefs, choices, and goals and strives to help others work through these confines to find true freedom within themselves. She is an Emotional Freedom Technique (EFT) and Certified HeartMath practitioner, which she uses to help individuals overcome stress and depleting emotions. In addition, she also has graduate level training in Nutrition and is a Certified Nutrition and Wellness Educator. Amber uses a holistic approach to wellness in health coaching, combining elements of mind, body, and spirit in an effort to guide and empower others to create their own path to change, their own version of wellness, and their fullest life possible.