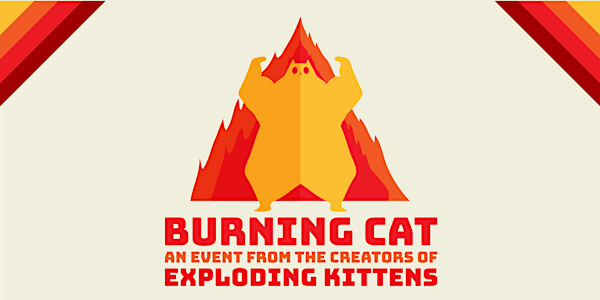 Burning Cat 2020
Burning Cat - A Convention from the Creators of Exploding Kittens and The Oatmeal
When and where
Location
Oregon Convention Center 777 NE Martin Luther King Jr Blvd Portland, OR 97232
About this event
What is this?
Burning Cat is a tabletop carnival of oversized games, comics, and two-story tall cat monsters. It's game night distilled into a weekend of creative amusements and hairy fireballs.
The Things You Can Do At Burning Cat
Play a Humongous Game of Exploding Kittens. Come play the world's largest game of Exploding Kittens with cards that are probably taller than you.
Experience the Big and Hairy Vending Machine. You could get a glittering dragon egg or you could get a dirty potato. There is no telling what kind of blessings our vending machine will bestow upon you.
Play a Massive Game of Freeze Tag. Come help us attempt to set the world record for the world's largest game of freeze tag.
No Screens. Lo-Fi Experiences. Come play games that don't involve devices or screens. Almost all of our amusements are analog and emphasize having tactile, hands-on gaming.
Play Stupid Games. Carnivalesque Challenges. These games are for warriors, not for deep thinkers.
Play Smart Games, Cards, Tabletop, and More. Play an old favorite or discover your next favorite tabletop game. Borrow a game from our massive library and we'll get a table going for you.
Step Into the Throw Throw Burrito Dodgeball Cage. This is what happens when you combine card games with dodgeball and then stick players into a caged arena full of chaos and destruction.
Meet Our Guests
Sarah Anderson - Sarah's Scribbles
Bill Amend - Foxtrot
Matthew Inman - The Oatmeal
Zach - Extra Fabulous
Mr. Joshua - Pants
The Little World of Liz Climo
The Cat Who Burns
Towering over it all will be our Burning Cat statue. She is our Goddess. Our muse. Our Catleesi. She will preside over the convention like a furry Sauron. There will be a countdown timer at her feet. When the convention ends, she will erupt with the light of a thousand stars. She will implode into something terrible and wonderful. She will transform.
She will "burn."
Refund Policy
All badges are final sale but may be transferred.
Name Change Policy
If you are unable to attend, you may change the name on your badge to someone else. You may edit your badge from your Eventbrite account. The deadline for a name change is 4/16/20.
Badge Date Change Policy
Tickets are transferable to another day when space is available and cost difference is paid and subject to a $15 transfer fee. This change can be made from your Eventbrite account. The deadline to transfer your badge is 4/16/20.
For any registration questions, please email info@burningcat.com