Event Information
Location
This event will be held at a private home in Sunnyvale, and the address will be shared in your order confirmation email.
Sunnyvale, CA
Description
Your host, April Chou was born in Mandalay, Burma's second largest city, a month after the coup d'etat of 1962 ushered in the military junta. The youngest of 10 children, she arrived in the US at the age of 15 along with two of her sisters. All of them were sponsored by her eldest sister Peggy, a doctor in Chicago. At that time, just travelling to another town within Burma required government approval, so a trip to America was a big deal. Though excited about taking a plane for the first time and travelling halfway across the globe, she left unsure if she would see her parents or her childhood friends again (her parents eventually moved to the US in 1984), or if she would ever return to Burma. Settling in Chicago with her siblings, the early years were a challenging adjustment to American life and mastering English was not easy.

April moved to the Bay Area in 1995 to work for Cisco Systems. After a long career in tech, she now pursues her interests in Ashtanga yoga, Vipassana meditation and plant-based food and nutrition, enrolling in Bauman College's Natural Chef training program in 2016. Most recently, she served in the kitchens of Vipassana centers in California as a kitchen manager and assistant chef for a 10-day meditation program and Pali workshop. You can read more about April's story on Beyond the Plate.

---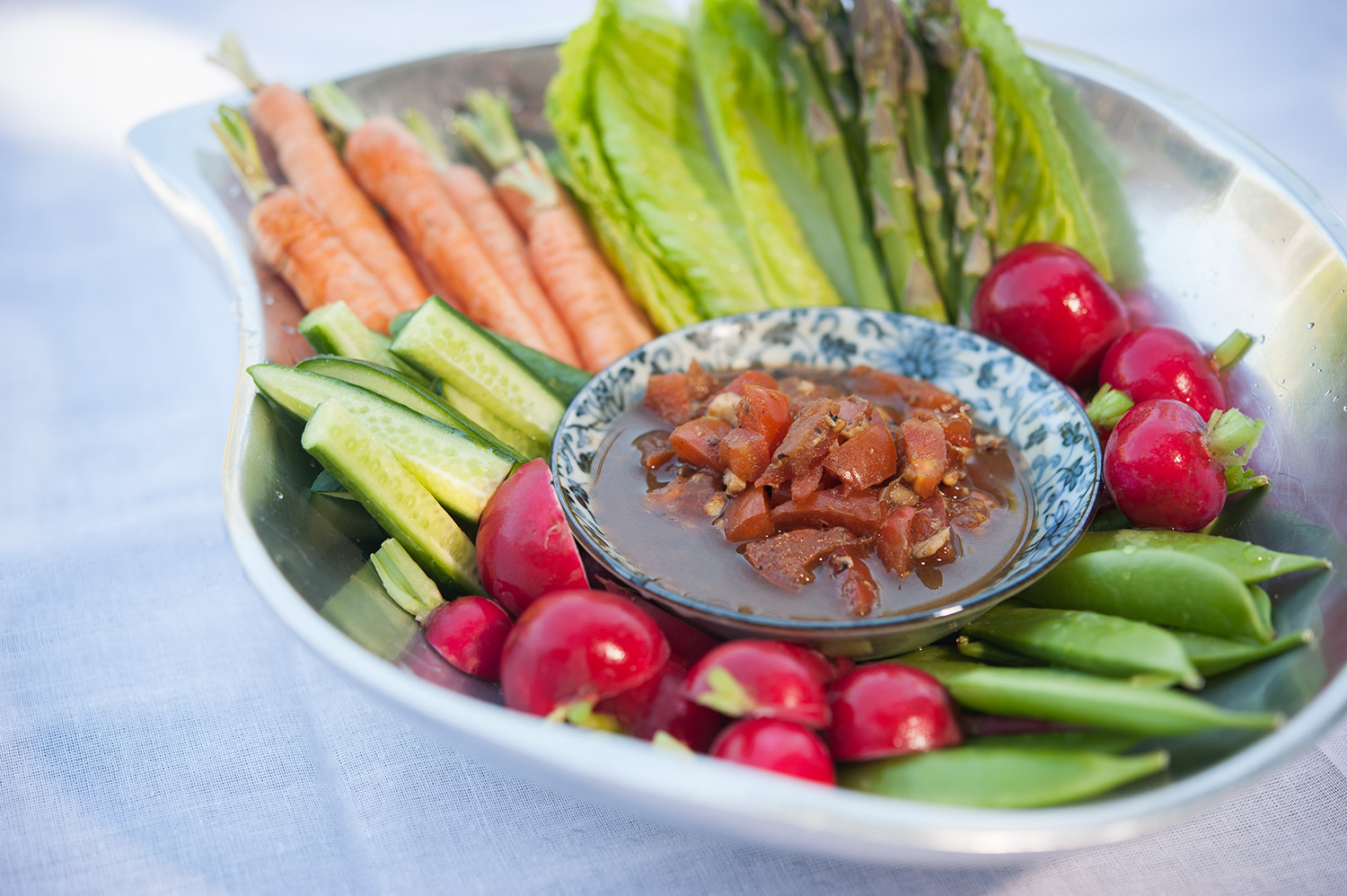 THE MENU (*Denotes non-vegetarian dishes)

Pe Kyaw (Yellow Split Pea Crisps)
Vegetable Crudites & Dipping Sauces:

*Mandalay Nga Pi Chet (Shrimp Paste Salsa)
Shan Pe Bohk (Fermented Bean Salsa)
Laphet Thoke (Pickled Tea Leaf Salad)
Ohn Htamin (Coconut Rice)
That That Lut Hsi Pyan (Vegetable Curry)
*Kyet Thar Hsi Pyan (Chicken Curry)

Kyauk kyaw (Coconut Agar Jelly)
Burmese Tea
Still or Sparkling Water (Wine or Beers are BYO)
---
CATHOLIC CHARITIES OF FORT WAYNE-SOUTH BEND
Proceeds from this lunch will go to the Indiana-based Catholic Charities of Fort Wayne-South Bend. Fort Wayne, IN is home to one of the largest Burmese communities in the United States, with more than 6,000 Burmese residents fleeing the civil war and ethnic conflicts in Burma. The organization works with the U.S. Conference of Catholic Bishops to provide services that help newly-arrived refugees and asylees adjust to life in the community. Services include pre-arrival processing, arrival services, assistance with housing, referrals for medical care, acculturation, referrals for ESL (English-as-a-second-language) classes, school enrollment for children, and other educational services as needed. Read more about what they do at: http://www.ccfwsb.org/our-services/refugee-resettlement/


FAQs
Is my ticket transferable?
Yes. If you are unable to attend an event you are welcome to pass this along to a friend who can take your place. Please send a note to admin@tapestrysuppers.org informing us of this change.

What's the refund policy?
For cancellations up to a week (7 days) prior to event date: 100% refund minus $3 cancellation fee.
For cancellations up to 3 days prior to event date: 50% refund minus cancellation fee.
No refunds for cancellations made less than 3 days prior to the event.

How can I contact the organizer with any questions?
Send an email to: admin@tapestrysuppers.org.

Date and Time
Location
This event will be held at a private home in Sunnyvale, and the address will be shared in your order confirmation email.
Sunnyvale, CA