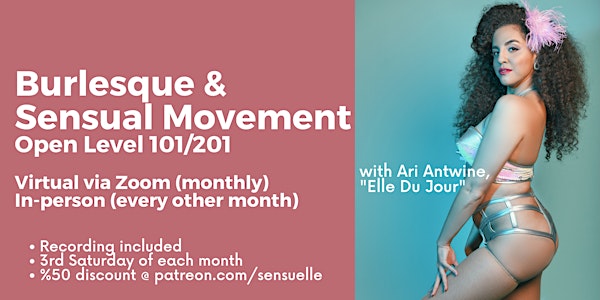 Burlesque & Sensual Movement(101-201)
A *LIVE burlesque class* via Zoom (& IRL bi-monthly) from Burlesque Artist, Elle Du Jour. Livestream option + recordings for IRL class
About this event
About
MY NEXT CLASS WILL BE IRL (livestreamed for virtual attendees):
Saturday, Dec. 17th from 11AM -12:30P
North Halstead) Chicago, IL
__________ [Please read before attending] ___________
How to join a LIVE class (IRL or Virtual)
🦋 This *LIVE burlesque class* happens online via Zoom and IRL (in-person — when available) on the 3rd Saturday of each month. You can attend class in one of two ways:
1. Virtual attendance via Zoom/ Livestream from home ($20)
Receive link to join class 1 hour before
OR
2. IRL attendance at Newport Theater in Chicago, IL ($20, in-person class dates below)
In-person class dates:
Saturday, Dec. 17th from 11AM -12:30PM @ Newport Theater | 956 W. Newport Ave, (North Halstead) Chicago, IL
NOTE: This is the SAME class whether Virtual or IRL
🦋 Virtual attendees get the option to attend from home - livestreams of the in-person class will be provided. IRL attendees attending IN-PERSON and are expected to arrive to the class venue at least 15 mins before class start time.
For questions, email me: Ari@ArielleAntwine.com
PATREON DISCOUNT
🦋 You can join the Patreon at www.patreon.com/sensuelle to get a FREE class link (every month) once you join at the BABES level OR attend the same LIVE class via Eventbrite as a non-patron for $20 (plus fees).
Discount is ONLY available for Patrons. Must be a Patron at time of class to receive class invite.
This is the same exact LIVE class; only discounted for continued support on Patreon :)
RECORDINGS
🦋 Each group (patrons & Eventbrite Attendees) will get recordings within 7 days of class. Recordings are sent to email on file and expire after 30 days. You must download the recording to keep it forever (and you'll want to!)
✨FAQ's✨
1. ✨ What is BURLESQUE?✨
Burlesque is the art of theatrical, comedic, artistic str!p tease and entertainment. This class combines "classic" burlesque principles like bumps, grinds, shimmies, & quakes with "neo' burlesque elements set to MODERN, SENUSAL MUSIC.
2. ✨Who is the instructor?✨
Your instructor for this online class is Ari Antwine, known by her burlesque moniker, Elle Du Jour. Ari/Elle (she/her) a professional dancer with over 20 years' experience in choreography of modern, jazz, & hip-hop. She has taught hundreds of students in the last 10 years and travelled the world as an international burlesque showgirl in Switzerland, London, Paris, & Berlin!.
3. ✨ GASP! Is there str!pp!ng involved?✨
No. There sill be burlesque-informed movement and points in class during which participants may take things off if they choose, at their own discretion, in their own home. You do you, boo.
4. ✨ What level class is this? I haven't danced (very often) before! ✨
This is an all-level burlesque class. No prior dance experience necessary.
If you haven't danced or don't consider yourself a dancer, this is a great place to start!
5. ✨ What should I wear to class? ✨
Something comfy! Not loose/baggy clothes. Wear what you would to any intro dance class.
No shoes required (as I like to dance barefoot or in socks) BUT be mindful of your own flooring. If you tend to slip or have carpet, wear socks, tennis shoes, grip socks, or proper shoes for your body & comfort-level.
**IRL attendees are expected to wear indoor gym shoes or dance shoes to class.
No heels necessary, unless you want. Go OFF, this is YOUR CLASS!
6. ✨ Is there anything I should know if I can't move due to accessibility? ✨
Modifications will be provided. Even for floor work classes. If you don't have access to a certain move, you will have adequate direction to create your own move(s) OR do modified choreography provided by me.
7. ✨ What do I get for coming LIVE? Can't I just watch the video recording? ✨
Sure, learning from the recording is great! But you won't get to ask questions & give feedback :( *Live also attendees get a coaching discount code*.
**For IRL attendees, you get the opportunity to learn from me in-person! Then you can catch up with the livestream recording later.
8. ✨ Can I come if I am a certain gender/expression?✨
All genders and expressions are welcome in this class.
9. ✨ What have people said about this class before? ✨
"Super fun & easy to follow!"
" I NEVER would have gotten out of my comfort zone to do this without Elle [Ari]."
"You are such a great instructor and I learned so much about being present, still, and s*xy from you! I can't thank you enough."
"You helped me find my self again. tysm"