SPECIAL BURLESQUE HOLIDAY BURN-OFF WORKSHOP! Saturday December 26 11a-1p
About this Event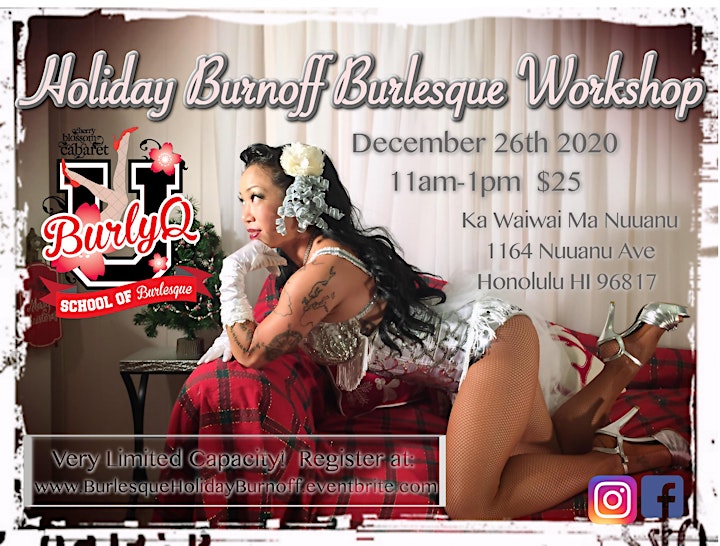 SPECIAL BURLESQUE HOLIDAY BURN-OFF WORKSHOP! Saturday December 26 11a-1p
Did you eat too many chocolates (is there such a thing as too many chocolates...?) or drink a little too much eggnog this holiday season? Its ok, we did too! Please join us for a special workshop on 12/26, the day after Christmas! This special 2 hour fun and sexy burlesque workshop will focus a little more on getting our body temperatures up, sweating it out, moving and shaking to some extra upbeat choreography, a bit of calesthenics, and a whole lot of fun! So come on down to Chinatown, and lets get silly and have a little fun!
********************
LOCATION
Our classes are held at the Loft space of Ka Waiwai ma Nuuanu. Located at 1164 Nuuanu Avenue, on the 3rd floor of the new Arts and Letters building in the heart of Chinatown Honolulu across from the Arts at Marks Garage building. There are no elevators in this building, stairs only .
********************
PARKING
Free street parking is available after 6:30pm. There is also the paid parking lot adjacent to Marks Garage directly across Nuuanu Ave, as well as the Municipal underground lot (entrance on Beretania st). See map below.
********************
COVID
Please do not come to class if you have any of the following:
-any signs or symptoms of a fever in the past 24 hours such as chills, sweats, felt "feverish" or had a temperature that is elevated for you/100.0F or greater
-currently have any of the following symptoms: Cough, Shortness of Breath or Chest Tightness, Sore Throat, Nasal Congestion/Runny Nose, Myalgia (Body Aches), Loss of Taste and/or Smell, Diarrhea, Nausea, Vomiting, Fever/Chills/Sweats
-traveled internationally or outside of state in the last 14 days, or had any close contact in the last 14 days with someone with a diagnosis of COVID-19
********************
FAQS:
WHAT SHOULD I WEAR/BRING? Please bring heels that will stay on your feet (the kind with a strap generally stays on better than pumps), that you can move in (a low heel is easier to start out in, if you are not familiar with wearing high heeled shoes), comfortable clothes to move in, and water. And of course, a good attitude and an open heart!
DO I NEED TO HAVE ANY EXPERIENCE? No, this is an all level class, so no previous experience is needed.
REFUNDS? Refunds will only be issued up to 24 hours from the start time of class. Any cancellations within 24 hours will not be refunded.
TRANSFERS? If you are unable to attend class, you may tranfer your ticket to someone else for the same class date. No makeup classes or transfers to a future class date.
********************
QUESTIONS
cherryblossomcabaret@gmail.com
www.cherryblossomcabaret.org