Burlesque Group Dance Choreography: "TETRIS!" Level 2 - Fishnet Follies
Description

BURLESQUE GROUP DANCE CHOREOGRAPHY: "TETRIS!"
(Level 2 Dancers)
Fishnet Follies does a chorus rendition of the world's most addictive game!
In this series, we will learn choreography for "TETRIS!"-- one of the most beloved Fishnet Follies acts ever! We put a "FFollies twist" on classic burlesque elements as fan dancing and Busby Berkeley-inspired chorus lines.
PERFORMANCE OPPORTUNITY: Friday, December 9th with Fishnet Follies at Hubba Hubba Revue!*
* Performance is optional and subject to instructor approval.
* Additional rehearsals and costume costs may apply.
We're going at it hard core! We only have 5 WEEKS to make it happen!
This series starts at LEVEL 2, due to a very short and rigorous"crash course" style rehearsal and costuming schedule, more advanced formations.
PREREQUISITE: Must have taken Chorus 1 or Solo 1, comfortable with taking quick directions and working in group formations.
See video of the act's debut on YouTube.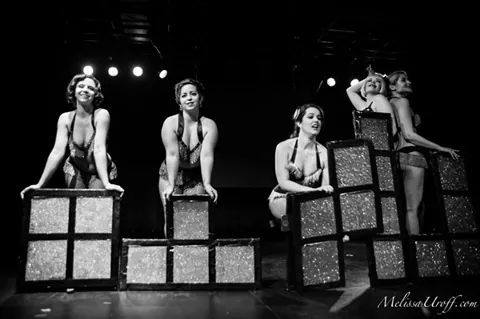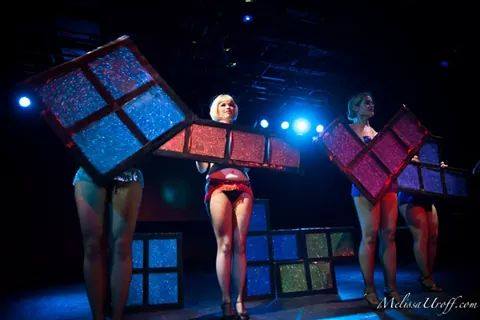 Harkening back to the charm schools of the 1950′s, we will begin each class with mild stretches and "drills" on posture, poise, and persona-- and some core work! You'll also be provided with video tutorials and other online reference materials to enhance our studio work.
Open to women of all shapes, sizes and backgrounds, 18 years and older. No prior dance experience necessary!
Led by Mynx d'Meanor.
---
SCHEDULE
Tues / NOVEMBER 8 - DECEMBER 6, 2016 / 8:40PM – 9:40PM

COST
Registration: $125.00
MORE INFORMATION
Go to www.fishnetfollies.com for more info on class policies, what to wear/bring, etc.
---
Fishnet Follies School of Classic Burlesque was voted "Best School for Showgirls" in East Bay Express 2015 and an Editor Pick in Diablo Magazine Best of the East Bay 2011:
"Pint-sized performer and Fishnet Follies leader Mynx d'Meanor keeps things fun with her goofy sense of humor and easy directions. Don't let her size fool you: This petite woman is a fiery, sensual vixen, well schooled in the art of the tease.D'Meanor focuses on the classic burlesque, with slow, elegant, and sophisticated moves. Along with teaching the choreography of two popular Fishnet Follies dance numbers, she coaches students on proper posture—creating long lean lines by emphasizing your body's best assets through pinup-inspired poses—and how to move evocatively with a deliberate, sensuous grace." - DIABLO MAGAZINE

---