Burlesque Group Choreography: Charleston Chorus & Feather Boas! - Level 2
Actions and Detail Panel
Burlesque Group Choreography: Charleston Chorus & Feather Boas! - Level 2
Tue, Feb 14, 2017, 7:30 PM – Tue, Mar 7, 2017, 8:30 PM PST
Description
*** TAKE ADVANTAGE OF OUR NEW YEAR SPECIAL: "DYNAMIC DUO" DISCOUNT! ***
Perfect for girlfriends who want to try these classes together! Grab your BFF, partner-in-crime, mother, daughter, sister or accountability buddy and join us! Registration for 1 @ full price, and your friend gets hers @ 50% off!

Burlesque Group Choreography: CHARLESTON Chorus Line & Feather Boas!
Level 2: Refinement
Music: "Everybody Loves My Baby" by Vince Giordano & The Nighthawks
Feathers will fly in this high-energy Jazz Age routine! We'll learn the Charleston, jazz steps, and feather boa work in Busby Berkeley-inspired chorus line formations. Very cute and sassy Flapper girl styling!
In this series, we will rehearse, refine, and polish the routine! We will also begin preparing our costumes in anticipation of Level 3 for a stage-ready performance at the next Student Showcase (The Garter Room presents "Class Acts").
PREREQUISITE: Must have completed "Charleston" Level 1 or instructor approval.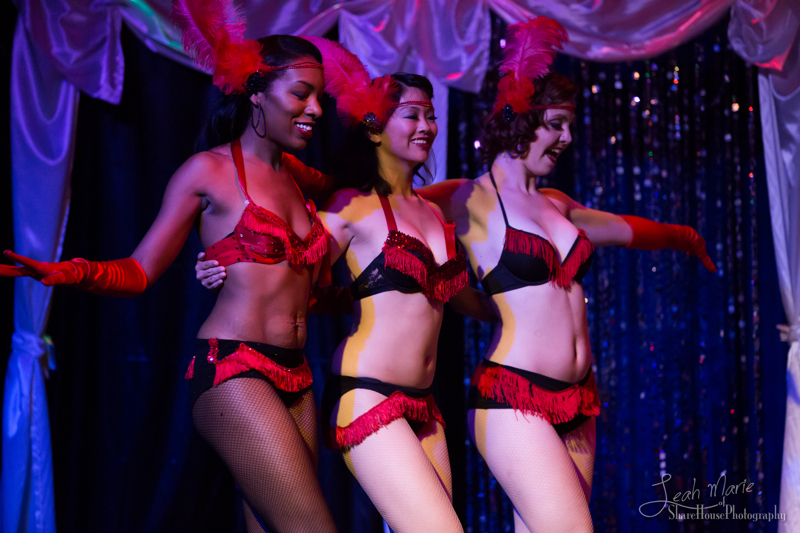 Harkening back to the charm schools of the 1950′s, we will begin each class with mild stretches and "drills" on posture, poise, and persona-- and some core work! You'll also be provided with video tutorials and other online reference materials to enhance our studio work.
Open to women of all shapes, sizes and backgrounds, 18 years and older. No prior dance experience necessary!
Led by Mynx d'Meanor.
UP NEXT:
Level 3 (Performance Preparation / Staging) - March
Performance Opportunity - The Garter Room "Class Acts" Showcase - April 6, 2017
---
SCHEDULE
Tue / FEBRUARY 14, 2017 - MARCH 7, 2017 @ 7:30PM – 8:30PM

COST
Series: $100.00
MORE INFORMATION
Go to www.fishnetfollies.com for more info on class policies, what to wear/bring, etc.
---
Fishnet Follies School of Classic Burlesque was voted "Best School for Showgirls" in East Bay Express 2015 and an Editor Pick in Diablo Magazine Best of the East Bay 2011:
"Pint-sized performer and Fishnet Follies leader Mynx d'Meanor keeps things fun with her goofy sense of humor and easy directions. Don't let her size fool you: This petite woman is a fiery, sensual vixen, well schooled in the art of the tease.D'Meanor focuses on the classic burlesque, with slow, elegant, and sophisticated moves. Along with teaching the choreography of two popular Fishnet Follies dance numbers, she coaches students on proper posture—creating long lean lines by emphasizing your body's best assets through pinup-inspired poses—and how to move evocatively with a deliberate, sensuous grace." - DIABLO MAGAZINE

---