Burlesque Dance Workshop: "Mermaids" Reverse Strip Crash Course (2Parts) -...
Description



Burlesque Dance Workshop:"Mermaids" Reverse Strip Crash Course (2Parts)
Tuesdays, September 3rd & September 10th @ 7:30PM - 8:30PM (2 weeks)
In this 2-part series, we're going to learn the "Mermaids" group act, crash course style!
Our most NEKKID group act to date!
Borne from the combination of our "Sexy Floorwork" & "Sensual Movement" workshops earlier this spring... With "Mermaids", we asked ourselves: what would The Little Mermaid's sisters get up to if they were granted a night out of the ocean, consequence-free?
MUSIC: "I Can't Hear You" by The Dead Weather
This is a REVERSE STRIP act, with the bulk of the choreography danced in nude-illusion pasties and g-string/thongs. Sizzling slink, languid lines, intoxicating eyes, slow grind, self-love...
Wear comfortable, form-fitting clothes.
Open to all shapes, sizes and backgrounds, 18 years and older. No prior dance experience necessary!
STUDENTS MAY BRING (OPTIONAL):
Dance socks / "Foot Undies"
Knee pads
Mermaid tail (slip-on)
PREREQUISITE: Please be mindful of any injuries and/or physical limitations you may have and work within your comfort level. Mynx will do her best to accommodate all levels and make modifications as needed.
Led by Mynx d'Meanor.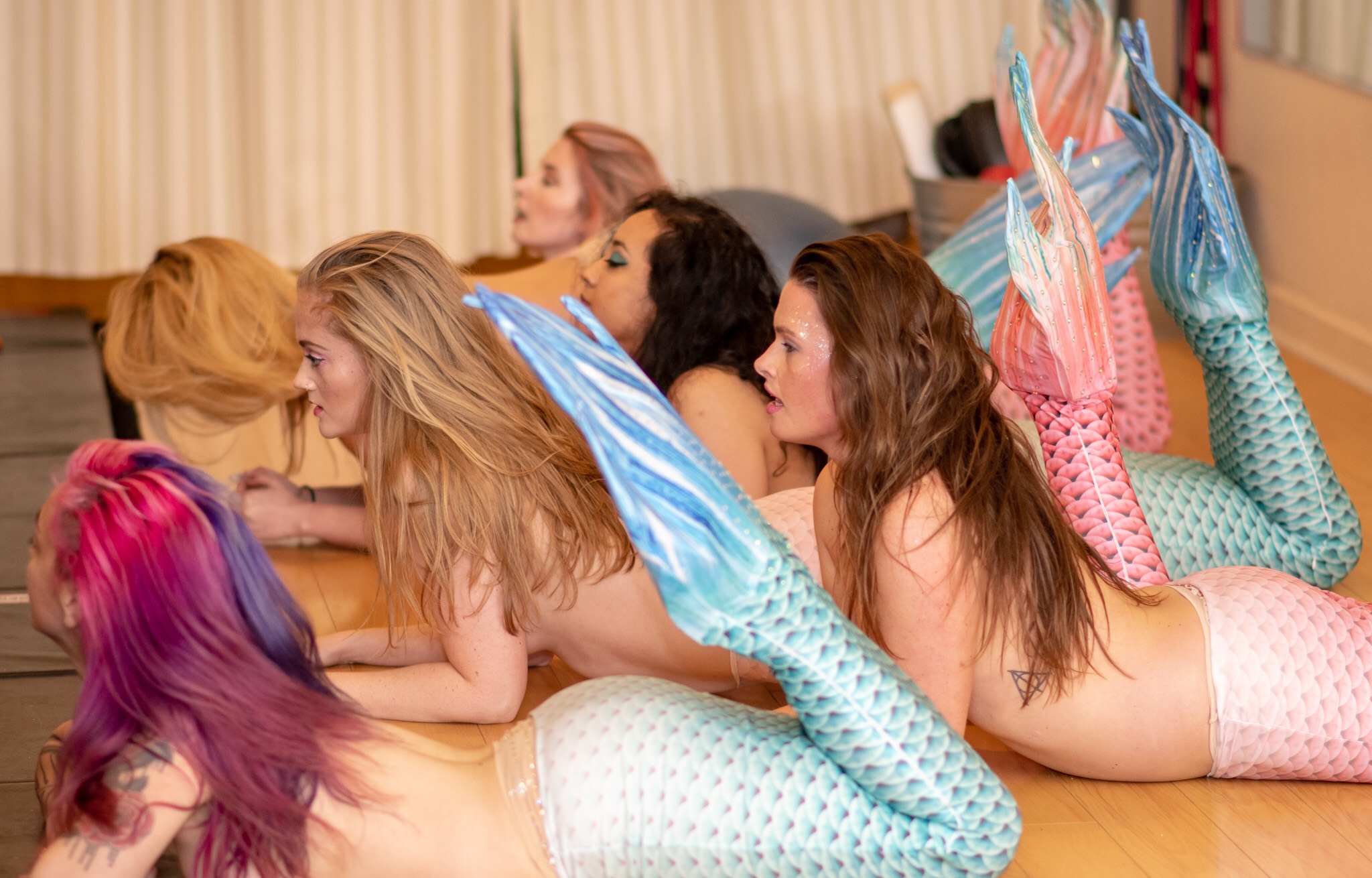 Join us in the studio!
---
SCHEDULE
Tuesdays / SEPTEMBER 3 & 10, 2019 @ 7:30PM – 8:30PM
COST
2-Part Workshop Registration: $50 / Cash Drop-In: $60
Part 1 ONLY (September 3, 2019): $25 / Cash Drop-In: $30
Dynamic Duo Discount: $75
* *Perfect for friends who want to try these classes together! Grab your BFF, partner-in-crime, parent, offspring, sibling, or accountability buddy and join us!
MORE INFORMATION
Go to www.fishnetfollies.com for more info on class policies, what to wear/bring, etc.
---
ABOUT
Creator, director, "King/Queen Maker"-- MYNX D'MEANOR is the fforce behind Fishnet Follies. Mynx creates theatrical, Busby Berkeley-inspired choreography, presented in innovative ways that are relevant to today's audiences. A lifelong dancing dork, she specializes in teaching everyday people how to incorporate burlesque dance and influences into their daily lives. Since 2009, over a thousand women and men have attended her addictive and transformative classes and consider Mynx their "burlesque mama".
Fishnet Follies School of Classic Burlesque was voted "Best School for Showgirls" in East Bay Express 2015 and an Editor Pick in Diablo Magazine Best of the East Bay 2011:
"Pint-sized performer and Fishnet Follies leader Mynx d'Meanor keeps things fun with her goofy sense of humor and easy directions. Don't let her size fool you: This petite woman is a fiery, sensual vixen, well schooled in the art of the tease. D'Meanor focuses on the classic burlesque, with slow, elegant, and sophisticated moves. Along with teaching the choreography of two popular Fishnet Follies dance numbers, she coaches students on proper posture—creating long lean lines by emphasizing your body's best assets through pinup-inspired poses—and how to move evocatively with a deliberate, sensuous grace." - DIABLO MAGAZINE

---