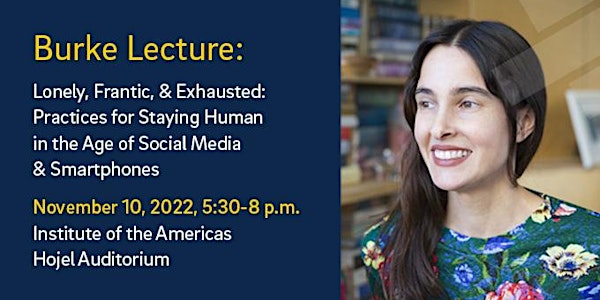 Burke Lecture: Lonely, Frantic, & Exhausted: Practices for Staying Human
Burke Lecture: Lonely, Frantic, & Exhausted: Practices for Staying Human in the Age of Social Media & Smartphones
When and where
Location
Institute of the Americas - Hojel Auditorium 10111 North Torrey Pines Road San Diego, CA 92037
About this event
We all feel it: the pull of our devices, the urge to tap those screens, then tap them again (and again). Renowned author and researcher Donna Freitas joins us Thursday, November 10, 2022 from 6-8 p.m. for "Lonely, Frantic, & Exhausted: Practices for Staying Human in the Age of Social Media & Smartphones," to talk about her research on social media and smartphones and how our devices have changed the way we live, think, relate, and feel about ourselves—and even how we understand what it means to be human.
We'll consider what it might look like to rest, slow down, focus and just be—toward the end of our own happiness, our emotional well-being, and for the benefit of our relationships and communities. Come prepared to put your phone away for the duration. Doors will open at 5:30 p.m. for refreshments.
RSVP today. Capacity is limited.