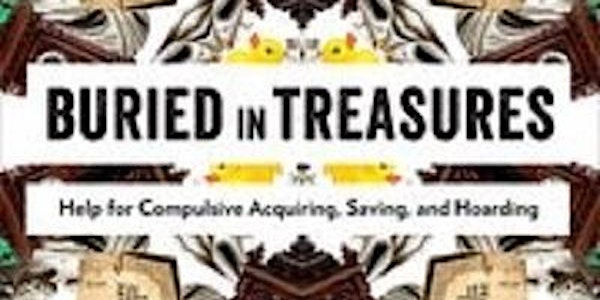 Buried in Treasures - Help for People with Hoarding Issues- FREE Consult
A work group for people that are ready to clear their clutter and work on their issues of disorganization and hoarding. You are not alone!
When and where
Location
Malmö Main St. Malmö Sweden
About this event
217 days 4 hours

Mobile eTicket
Hoarding is a complex issue. It can stop you from living your life to the fullest. It can limit your ability to have friends over - because you are embarrassed by the clutter.
Hoarding can limit your ability to use your home. It can harm your relationship with family and friends.
Learn how to STOP the behavior and move on with your life. Learn how the "Buried in Treasures" class can start you on the path to a new, less cluttered life.
EMAIL for a FREE CONSULTATION with an Advanced Hoarding Specialist who understands the complexities of hoarding and who is respectful of your right to live with your "stuff". Learn how you can start making changes and get your life back.
Once your email is received you will receive a date/time for your consultation - no charge! It's the best 30 minutes that could make real changes to your life.
email TODAY for a FREE CONSULTATION ! >>>>> kefconsulting@gmail.com
(all correspondance is in English)
*******************************************************************************
>>>> another option - a class to get you started on changing your life >>>
BURIED IN TREASURES WORKSHOP - a Virtual Class
A Group to Address Hoarding Behavior
The Buried in Treasures Workshop is about more than clutter...
• Overcoming challenges
• Increasing motivation
• Reducing acquiring
• Prioritizing and celebrating choices
Self-Help & Empowerment For Finders and Keepers
Is clutter getting in the way of how you want to live your life?
Are you feeling overwhelmed with too many possessions?
Are you embarrassed to have people over?
This program offers a 16-week course that is based on the book 'Buried In Treasures'. Join us for this group created by and for people who are ready to live a less - cluttered life!
The Buried in Treasures group is for people who would like to learn tips on how to de-clutter and stop over-acquiring with people who know what it's like. Each week we will have a discussion around a specific skill, followed by the completion of challenging and rewarding exercises. Individual progress, challenges, successes, and goals are also monitored throughout the sixteen weeks.
Participants are expected to commit to attending all the sessions as well as to participate actively.
A Buried in Treasures Group is forming >>>> this will be a VIRTUAL CLASS
**** ANYONE - ANYWHERE can participate - either by phone or computer
Sessions start: Wednesday, February 15, 2023 - from 5:00 pm – 7:00 pm - in Sweden
(9:00 am - 11:00 am Mountain Time in the USA)
*** REGISTER TODAY - there is limited availability.
This group offers a judgment-free environment for people ready to make a change in their life.
Early Registration and Acceptance is required. Please email fcr a registration form and acceptance into the class.
Call or email for more information. ** There is a fee for the class.
(440) 666 – 9326 or kefconsulting@gmail.com
**** Virtual Class available – by phone and/or computer (ZOOM) - call /email for Starting Date / Time and to be put on a Waiting List for future classes