Location
Graduate East Lansing
133 Evergreen Avenue
East Lansing, MI 48823
April 7, 2022 | 4:00 p.m. - 8:00 p.m. | Graduate East Lansing
About this event
Join us in-person for the fourth annual Burgess New Venture Challenge on April 7, 2022, from 4:00 p.m. - 8:00 p.m. at the Graduate East Lansing! The Burgess New Venture Challenge, hosted by the Burgess Institute for Entrepreneurship & Innovation at Michigan State University, is the premier pitch competition for student venturers.
For nearly two centuries, Spartans have ventured to feed a hungry world, fight cancer, invent new technologies, and kindle the imaginations of learners around the globe. We empowered our Spartan venturers to harness the power of the entrepreneurial mindset, work together, and leverage their team's strengths to create a winning startup.
On Thursday, April 7, fifteen student semifinalists will have the chance to compete for a share of nearly $44,000 in funding. Register now for the opportunity to meet and network with our student venturers, fellow entrepreneurs, investors, and innovators across the Spartan nation.
Event Agenda
4:00 p.m. - 6:00 p.m. — Semifinalist Showcase & People's Choice Award Voting
6:00 p.m. - 6:30 p.m. — Networking
6:30 p.m. - 8:00 p.m. — Finalist Pitches & Award Ceremony
Location
Burgess New Venture Challenge 2022 is held at the Graduate East Lansing (133 Evergreen Ave, East Lansing, MI 48823).
Parking Information
Parking at the Charles Street Ramp (121 Charles St., East Lansing, MI 48823), is on us! Upon arrival at the Graduate East Lansing, we'll provide you with a parking validation at registration. If you wish to self-park in Downtown East Lansing, please view the Downtown East Lansing Parking Guide below.
Valet Parking is also available at the Graduate East Lansing for an additional charge.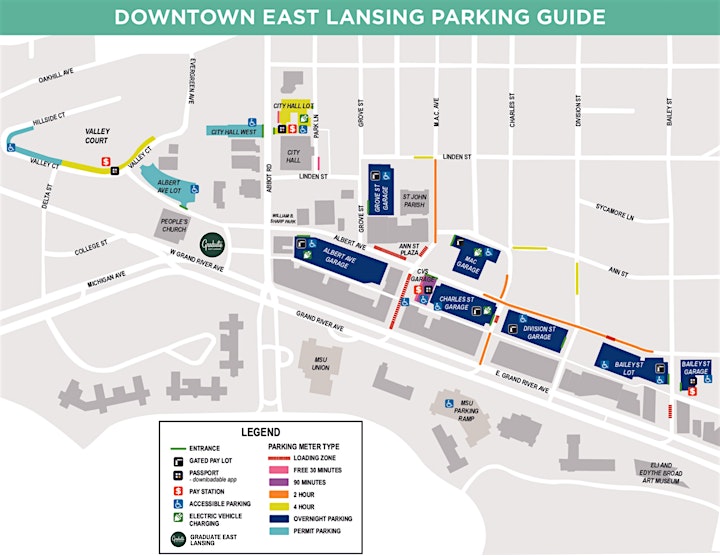 Sponsors
The 2022 Burgess New Venture Challenge is proudly sponsored by: