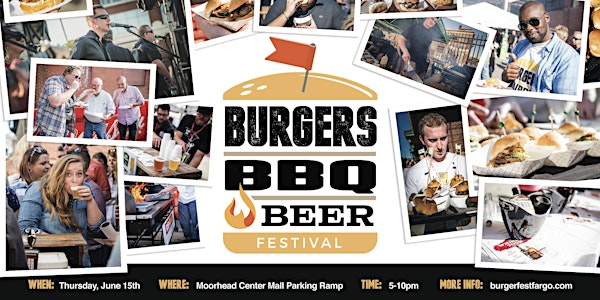 Burgers, BBQ & Beer Festival with Post Traumatic Funk Syndrome Concert
When and where
Location
Moorhead Center Mall Parking Ramp and Rooftop 510 Center Avenue Moorhead, MN 56560
Refund Policy
Contact the organizer to request a refund.
Description
All-you-can-eat burgers. Delicious BBQ. Tons of beer from 5-7pm. These are just some of the things that you'll be able to enjoy at the Burgers, BBQ and Beer Festival
Doors open at 5 pm. Beer and burger sampling goes from 5-7 pm. (All sampling will end at 7 pm so arrive early to enjoy all the delicious burgers and beers.)
* Please note that this is a 21+ event.
---
What you get with a ticket:
Admittance to the event with all-you-can-eat and tons of beer sampling from 5-7 pm and a live concert from Post Traumatic Funk Syndrome on the top of the Moorhead Mall Parking Ramp from 7:30-10 p.m.

BURGERS

Burger sliders from participating restaurants: Crave Burger, Fargo Billards, Frank's Lounge, Herd and Horns, J.C. Chumley's, Mick's Office O'Leary's, The Brew, Labby's, Boiler Room and more.
A ballot to vote for the best burger in the fourth annual Burger Battle.
BEER

There will be sampling provided by DS Beverages and Drekker Brewing. This year, beer sampling tents will be staggered between burger tents to alleviate long lines. There will also be several cash bars around the event.
We are working with Fargo Frozen Beer to sell delicious frozen beer. With this, you are able to add a frozen beer smoothie on top of your beer. This is the perfect treat for a warm day.
BBQ

Access to the Big Green Egg BBQ tent with BBQ tastings
Cooking lessons from NDSU's BBQ Bootcamp.
BAND

Access to the dance starting around 7:30 p.m. with some funktastic tunes from Post Traumatic Funk Syndrome.
COOL STUFF
Vintage Cars parked throughout the event
Photo Booth
Tons of Yard Games-
LOCATION:
At Fargo Monthly, we believe in trying something new and different. That's why, this year, we are moving across the river into Moorhead and are converting the Moorhead Mall Parking Ramp and Rooftop into one of the coolest venues you've ever been to. With a gorgeous backdrop of the Red River, ample parking and plenty of space, the Moorhead Mall Parking Ramp is going to be rocking.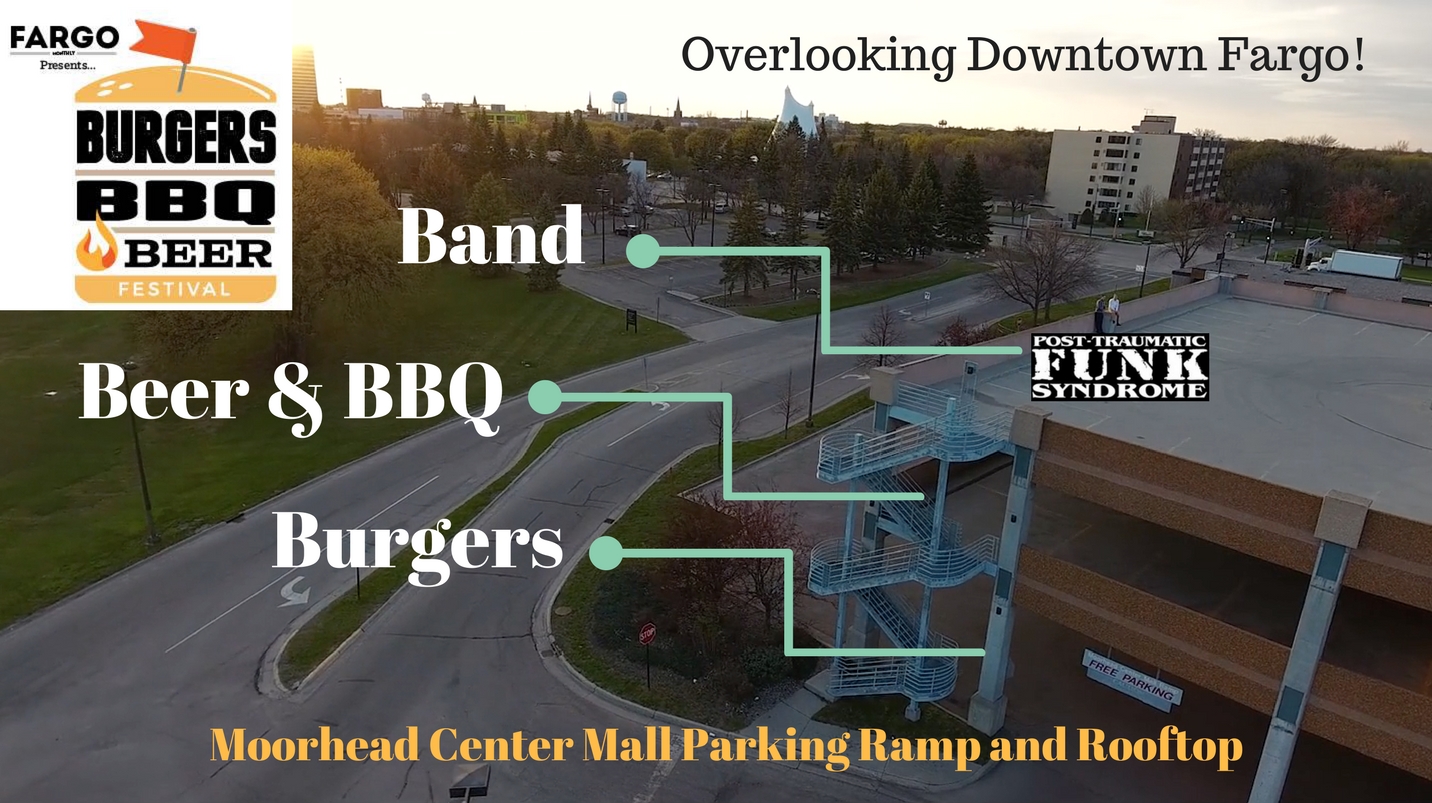 For more information, go to burgerfestfargo.com
---
This is a 21+ event
Doors open at 5 pm. Beer and burger sampling goes from 5-7 pm. (All sampling will end at 7 pm so arrive early to enjoy all the delicious burgers and beers.)
Post Traumatic Funk Syndrome will perform around 7:30 p.m. on the top level of the Moorhead City Mall Parking Ramp.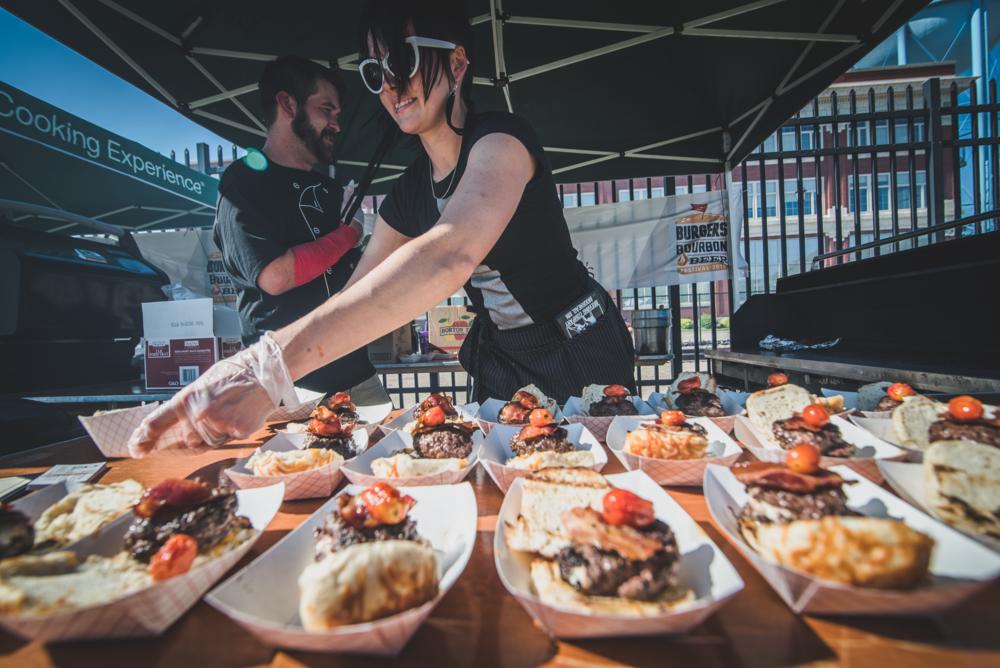 FAQs-
What is the schedule for the event?
The event will go from 5-10 p.m. Burgers and beer sampling will take place from 5-7 p.m. All sampling and food will end at 7 so make sure you arrive early. Post Traumatic Funk Syndrome will start at 7:30 and will be rocking out until 10 p.m.
Wait, I thought this was the Burgers, Bourbon and Beer Festival?
While we loved the original format of the event, we're very excited to be able to add BBQ. We believe that adding more food options will allow for more restaurants to be involved and provide another tasty option for our attendees.
Can I buy tickets at the door?
Tickets will be available for purchase at the door for $40 but there is a chance that the event will sell out so make sure you get ticket early.
Where is the festival located?
The BBB Fest will be held in the parking ramp of the Moorhead Center Mall at 510 Center Ave, Moorhead. This is a brand new location for the BBB Fest and we are so excited to utilize its space and celebrate the fourth year of the festival. Just wait until you see what we turn this space into. You can find directions to the mall here.
Can I come early if I just have the dance ticket?
You will be able to come to the BBB Fest starting at 5. However, you will not be able to enjoy the sliders and samples. There will be cash bars with a variety of beers for you to enjoy a cold one, though.
Are there ID requirements or an age limit to enter the event?
This is a 21 plus event. You must be 21 to purchase a ticket and IDs will be checked upon entrance to the event.
What is the refund policy? Tickets are non-refundable
Is there a reschedule date if it rains?
One of the perks of having this event at a parking ramp is that there is plenty of cover. We will be partying rain or shine!
Where should I park?
The Moorhead Center Mall offers plenty of parking around the mall so you will not struggle to find a parking spot the day of the event. You can park in any of the parking lots around the mall and it is a short walk to the parking ramp. Remember, be safe and designate a sober driver or plan ahead to get home safely. You can get directions to the Moorhead Center Mall here.
You can even catch a ride to the mall on the Link FM through MATBUS. This bus route connects downtown Moorhead and Fargo and is free to use. It runs from 7 a.m. to 7 p.m. Monday through Friday. Learn more here.
Should I bring lawn chairs or blankets?
We will provide picnic tables and plenty of other seating for you at the event so please do not bring any seating to the event.
Can I go to just the dance and not the event?
Yes! We have tickets for the dance with Post Traumatic Funk Syndrome on sale for $5.
Does my event ticket get me into the dance?
Every regular admission ticket to the festival will admit you for the entire night of festivities, which includes the dance.
How will I receive my ticket and should I bring the printed ticket to the event?
Tickets will be sent via e-mail. Please print this out and bring the day of the event. This will get you into the event.
What is Fargo Monthly?
Fargo Monthly is a monthly magazine published in Fargo, North Dakota by Spotlight Media. Their mission is to be Fargo-Moorhead and its surrounding areas' leisure and entertainment guide. They strive to enhance the quality of life for the people of the Red River Valley by getting them excited about their community and all it has to offer.
If you have any other questions, email kelsey@spotlightmediafargo.com.