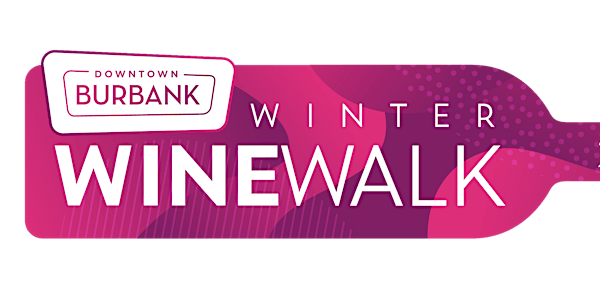 Burbank Winter Wine Walk! Nov. 16th 4pm-7pm
When and where
Location
301 N San Fernando Blvd 301 North San Fernando Boulevard Burbank, CA 91502
Description
ALMOST Sold Out! BUY NOW If You Want To Go!!!


The Social Event Of The Year is coming back to Downtown Burbank On Saturday, November 16th!
The Burbank Winter Wine Walk will be a great kickoff to the Holiday Season with a FREE Holiday Street Fair, Live Entertainment and Snow Fall At The Main Stage! The Street Fair is FREE to the Public and ALL Ages Welcome!
Santa's VIP Holiday Lounge! Santa's VIP guests will overlook Downtown Burbank! Wine, Champagne, Craft Beer, and Food catered by Chef Jason Collis from Plated Events will be available for sampling in Santa's VIP Holiday Lounge. Santa's VIP Holiday Lounge Is THE BEST way to enjoy Burbank Winter Wine Walk. VIP Guests are also able to enter any of the 30 General Admission tasting locations throughout Downtown Burbank. The VIP Lounge is a 21+ area. Grab Your Tickets Sip and Enjoy The View! Our VIP guests will check in at the Burbank Town Center at the intersection of Magnolia St and San Fernando Blvd. and Take The Escalators to the lounge!
At 4pm The Wine Walk will get started! You MUST be 21+ to join the wine walk. Your ticket will get you samples from Wineries and Breweries in your favorite Downtown businesses. Each guest will receive a tasting cup and a map of the participating tasting sites in Downtown Burbank. Each tasting site will have a designated area set up for Wine Walk guests to sample the amazing wines or beers! Wine tasting will end at 7:00 pm.
As you stroll through Downtown, you will be surrounded by a winter holiday ambiance of live entertainment, beautiful holiday lighting and snowfall from 6:45 pm-8 pm at the Main Stage!
The event is throughout downtown Burbank on San Fernando Blvd.
If you are participating in the wine walk please check in at your designated check-in location ( chosen upon purchase and listed on your ticket ) *Check-in starts at 3pm and ends at 5:45pm SHARP!*
All Wine Walkers must check in at their designated check-in location.
VIP Check In: Santa VIP Lounge Check in is located right next to Five Guys Burgers At The Town Center Mall 201 E Magnolia Blvd, Burbank, CA 91502 Behind the Main Stage.
AMC Walkway Check In Location: E. Palm Ave & N. San Fernando Blvd
Kabuki Check In Location: 201 N San Fernando Blvd, Burbank, CA 91502.
All Wine Walkers must check in at their designated check-in location.
*Check-in starts at 3pm and ends at 5:45pm SHARP!* If You Miss Your Check In No Refunds Will Be Granded.
Please bring your printed out EVENTBRITE ticket to check in to enter the event. Check in before the Wine Walk starts and optimize your tasting experience!
Disclaimer: Management reserves the right to revoke the license granted by a ticket, you must be 21 years of age or older with a valid ID to consume alcohol. This is a rain or shine event and there are no refunds. In the unlikely chance of a Thunder, Wind or Lightning Storm, Fire or the event gets canceled due to safety concerns there will be no refunds.