BURAI -Standing All Alone-

Multiple Dates
Event Details
Tickets are sold out for today's
performance!! (5/11 Sunday)
Thank you so much!!!!! 


Those who have the tickets, and coming
to the show, please come to the theater
  by 1:45pm! The seating is first come,
first serve. It's a street parking, so please
check the street signs!! Some streets
requires a permit!!
Enjoy the show!!!

BURAI -Standing All Alone-
"There were men who risked their lives..."
Looking for a unique theatre? Interested in Japanese Katana, Samurai, Kimono, Geisha, Sword Fight, or all of the above? If so, this is the place to be!
BURAI -Standing All Alone-
 an original scripted drama, is a Japanese Samurai Play performed in English.
Check Our Trailer!!!!
https://www.youtube.com/watch?v=kGO9kbEqZKk&feature=youtu.be
by On Stage Los Angeles!!!!

http://onstagelosangeles.blogspot.com/2014/04/burai-standing-all-alone.html
"There once was a young man who had never held a sword before.
Now it is time for him to face his destiny..."
We will take you to Japan in the 1840s, where samurais still existed. Experience the authentic sword fighting right in front of your eyes.
Time travel with us and witness the world of BURAI!
Door opens one hour before the show starts.
Come early to enjoy delicious FREE Asahi Beer, FREE Ramune Soda, FREE Snack, and FREE Maedaen's tea leaf to take home!!
(First come first serve, so don't miss it!)
All costumes are provided by "Suehiro Kimono Agency" that won the 5th place in the costume category in Miss Universe2013!!!
Sword Fights are choreographed by Keiya Tabuchi who is one of the best choreographers in the world!!! (Credits include:Last Samurai, 13 Assasins, Bloody Monday, Power Rangers and more)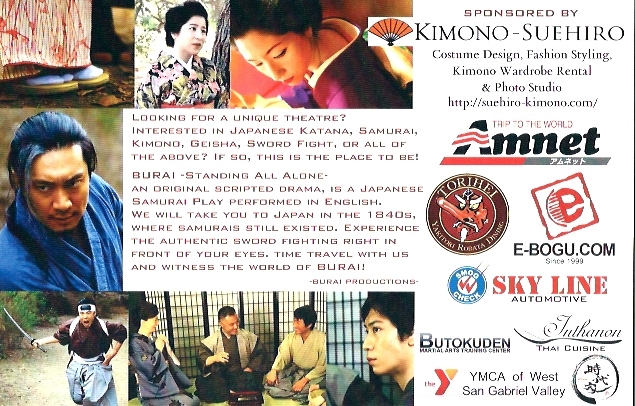 Check our facebook!

https://www.facebook.com/buraistandingallalone
For More Information: 323.799.6110
At:Theatre Theater
5041 W. Pico Blvd,
Los Angeles, CA 90019
April 25th (Fri)   8pm
April 26th (Sat)  8pm
April 27th (Sun) 2pm
May  2nd  (Fri)   8pm
May  3rd  (Sat)  8pm
May  4th  (Sun) 2pm
May  9th  (Fri)   8pm
May 10th (Sat)  8pm
May 11th (Sun) 2pm
Tickets at the Door:$25
Online Pre-sale (Here at Eventbrite): $20 + Fees
Seating is first come first served!

*Performed in ENGLISH
Writer, Director, Producer:     Naoki Fujiyama
Assistant Director:                 Masa Kanome
Assistant Producer:                Kohki Watabe
Sword Fight Choreographer:   Keiya Tabuchi

Light and Sound:                   Mai Kobayashi
Music:                                   Mali Matsuda
Costume Designer:                Sueko Oshimoto
Assistant Costume Designer/
Photographer:                       Kentaro Terauchi
Hair&Make Up Supervisor:      Akiko Matsumoto
Camera:                               Doug Ito, Tatsuya Suzuki

Set Designer:                        Naomi Kasahara
Organizer:                             Kyoko Okazaki
CAST
Masa Kanome
Takuma Anzai
Richard Lee
Hiro Matsunaga
Toshiya Agata
Eiji Inoue
Toshi Toda
Mie Aso
Nobuo Inubushi
Steve Huang
Moeko Yamazaki
Miho Ando
Akiko Katagiri
Yuu Asakura
Tatsuya Shirato
Ryota Tatsumi
Mika Santoh

Where

Theatre Theater
5041 West Pico Boulevard
Los Angeles, CA 90019


Multiple Dates
Add to my calendar
Organizer
BURAI PRODUCTIONS
Founded by Naoki Fujiyama who is a writer/director/actor.
BURAI -Standing All Alone-