About this Event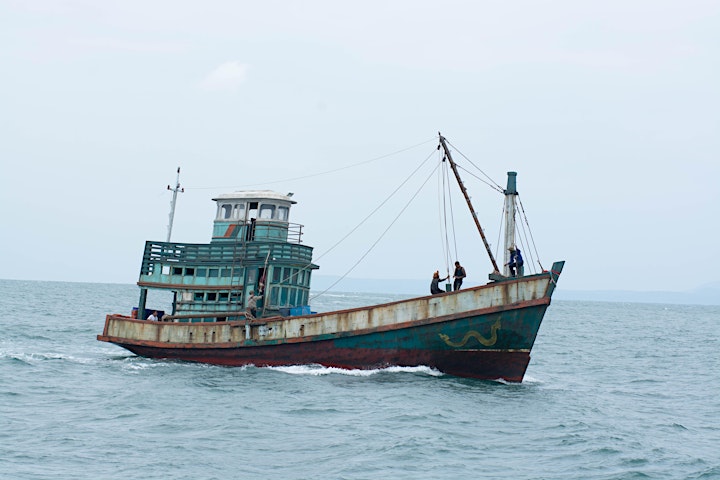 *เลื่อนอ่านภาษาไทยด้านล่าง
14-year-old Chakra from Cambodia secretly leaves home in search of a better life. After a gruelling journey across the border, he finally arrives in Thailand, where he and other young men are sold to a broker and enslaved on a fishing trawler. As months go by, trapped at sea and forced to work with little to no rest, the workers begin to lose any hope, and then any humanity.
The film draws on real life accounts of victims of modern slavery, in particular survivors who have been trapped on boats in the South China Sea – a common practice within the multi-billion-dollar fishing industry in Thailand that supplies seafood to the rest of the world. Despite its crucial significance to the ongoing debate, the film has not been screened in Thailand before.
Following the film screening, a panel of experts will discuss human rights violations in the fishing sector and efforts by governments, NGOs, employers, trade unions, and others to end these abuses. Confirmed speakers include:
1. Ms. Suthasinee Kaewleklai, Coordinator for the Migrant Workers Rights Network (MWRM) in Thailand
(https://www.solidaritycenter.org/thailand-migrant-rights-leader-wins-human-rights-award/)
2. Ms. Ussama Kaewpradap, Organizing Operation Coordinator for the International Transport Workers' Federation (ITF)'s Fishers' Rights Network
(https://www.itfglobal.org/fr/node/1782)
3. Mr. Prum Vannak, former slave labourer on the Thai fishing fleet and author of the graphic novel 'The Dead Eye and the Deep Blue Sea'
https://www.abc.net.au/news/2019-08-10/vannak-prum-account-of-modern-slavery-and-escape/11376990).
The panel is moderated by Mr. Phil Robertson, Deputy Director of Human Rights Watch's Asia Division
https://www.hrw.org/about/people/phil-robertson
Presented by: Heinrich Böll Stiftung Southeast Asia, Goethe-Institut Thailand, Alliance Française de Bangkok
Director: Rodd Rathjen
Duration: 93 Mins. Language: Khmer + Thai with English Subtitles
--
การฉายภาพยนตร์ "Buoyancy" (2019) และงานเสวนา
13 ธันวาคม 2562 เวลา 18.00 น. ที่สมาคมฝรั่งเศสกรุงเทพฯ (Alliance Française)
เรื่องราวของ "จักรา" เด็กหนุ่มวัย 14 ปีจากกัมพูชาที่หนีจากบ้านเกิดของตนเพื่อหวังจะพบกับชีวิตใหม่ที่ดีขึ้น หลังการเดินทางข้ามพรมแดนอันแสนทรหด เขาได้ข้ามมายังฝั่งไทยและถูกนายหน้าขายให้ไปเป็นแรงงานทาสในเรือประมงพร้อมกับเด็กหนุ่มคนอื่นๆ เวลาล่วงเลยผ่านไป เขาติดอยู่ในทะเล ถูกบังคับให้ทำงานหนักจนแทบไม่ได้พัก คนงานในเรือต่างเริ่มหมดหวังพร้อมๆ กับมนุษย์ธรรมที่ค่อยๆ หมดลงไปทุกที
ภาพยนตร์เรื่องนี้ถ่ายทอดเรื่องราวจากชีวิตจริงของเหยื่อการค้าทาสสมัยใหม่ ซึ่งบางส่วนเป็นผู้รอดชีวิตที่เคยติดอยู่ในเรือในน่านน้ำทะเลจีนใต้ นี่เป็นสิ่งที่เกิดขึ้นอยู่อย่างดาษดื่นในอุตสาหกรรมประมงไทยที่มีมูลค่าหลายพันล้านดอลลาห์และผลิตอาหารทะเลหล่อเลี้ยงคนทั้งโลก เนื่องจากประเด็นดังกล่าวเป็นประเด็นที่มีการถกเถียงกันอย่างมาก ภาพยนตร์เรื่องนี้จึงยังไม่เคยฉายมาก่อนในประเทศไทย
หลังจบการฉายภาพยนตร์จะมีการเสวนาโดยผู้เชี่ยวชาญต่างๆ ที่จะมีแลกเปลี่ยนมุมมองกันในประเด็นสิทธิมนุษย์ชนในอุตสาหกรรมประมงและการค้าทาสสมัยใหม่
จัดกิจกรรมโดย มูลนิธิไฮน์ริค เบิลล์ สำนักงานภูมิภาคเอเชียตะวันออกเฉียงใต้ สถาบันเกอเธ่ ประเทศไทย และสมาคมฝรั่งเศสกรุงเทพ
กำกับการแสดง: Rodd Rathjen
ความยาว: 93 นาที
ภาษา: กัมพูชา/ไทย พร้อมคำบรรยายภาษาอังกฤษ